Téléchargement, hébergement
Playlists, nouveauté techno électro en streaming gratuit : Gkoot - Site de musique électronique
ojdb
» VIEW ALL FEATURED POSTS Featured Items lizb on 04/16/2014 at 09:45AM Free Music Archive Receives NEA Arts in Media Grant to Support "Re:Invent:Media" National Endowment for the Arts (NEA) Acting Chairman Joan Shigekawa announced today that WFMU's Free Music Archive is one of 886 non-profit organizations nationwide to receive an NEA Arts in Media grant. The FMA is recommended for a $75,000 grant to support the Re:Invent:Media Project. Re:Invent:Media is a four-part project that will broaden access to the FMA's rich and diverse audio library, strengthen public understanding of music in the contemporary digital setting, and foster creativity through hands-on engagement with the arts:
913 lecturas En la actualidad sigue vigente este tema, que se ha prestado a mucho debate. Por supuesto que desde Musicalibre tenemos buenas discrepancias respecto sobre todo al tema de "derechos", pero para tratar de ser imparciales nos pareció justo presentaros una muy buena referencia y análisis de la misma que nos presenta Wikipedia. puedes acceder a este artículo, ¡PINCHANDO AQUÍ!
altf4 (.wav files) bishdu (.wav files) biteat (.wav files) digital_bastard (.wav files)
Hip-hopdomain
NINRemixes.com - 0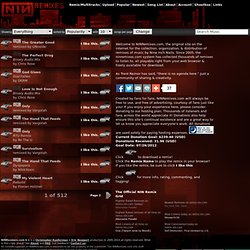 Welcome to NINRemixes.com, the original site on the internet for the collection, organization, & distribution of remixes of music by Nine Inch Nails. Since 2005, the ninremixes.com system has collected thousands of remixes to listen to, all playable right from your web browser & freely available for download. As Trent Reznor has said, "there is no agenda here." Just a community of sharing & creativity.
Écouter de la musique libre gratuitement, la télécharger dans le format que vous préférez, acheter des albums où 100% du prix revient à l'artiste, recopier et rediffuser comme bon vous semble... Altermusique rétablit l'égalité des droits entre artiste et public ! Diffuser votre musique sur le net en quelques clics, intégrer vos albums sur votre site, les vendre directement au public sans intermédiaire, remixer en toute liberté, ne pas se prendre la tête avec les contrats, pas d'exclusivité...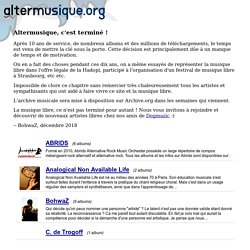 Creative Commons is a nonprofit organization dedicated to making it easier for people to share and build upon the work of others, consistent with the rules of copyright. CC provides free licenses and other legal tools to mark a creative work with the freedom the creator wants it to carry.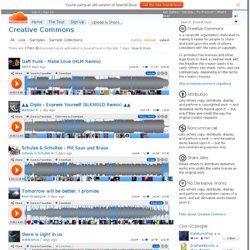 alma music
Dewey Music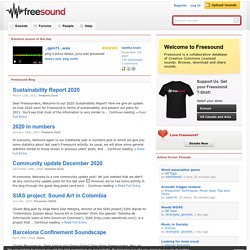 Latest News Issues with HTTPS March 7th, 2014groma Recently (about a month ago) we have added https to our web server. This was a requirement for the new v2 API, but it also allows us to browse the page securely. You can tell if you are using https … Continue reading →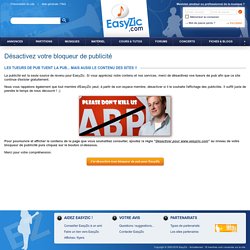 Bienvenue sur EasyZic, communauté de musiciens sur internet. Le but premier de ce site est de favoriser les contacts entre acteurs de la musique, qu'ils soient amateurs ou professionnels. C'est un lieu de rencontre et d'échange, auquel quiconque peut contribuer. Vous êtes musiciens ?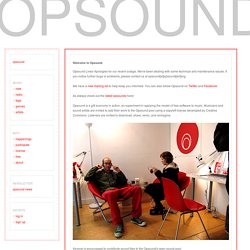 Opsound Lives! Apologies for our recent outage. We've been dealing with some technical and maintenance issues.
ccMixter is made possible by YOU. By supporting us with even the most modest contribution, you help us continue to create free music for the world. ccMixter.org artists freely contribute their music and talents to the collective for co-creation. ccMixter.org is operated by volunteers. ccMixter is free of ads and free to listen. And, you can freely use our creations in your videos, remixes and apps as long as you Attribute.