Musicians & Bands
eno brian
Santiago Molina
Cyril Effala
VinSaint - Entre Rêves Et : HARMONY dans la Musique & dans l'Humanité! One love... - Artiste My Major Company
Rhema Marvanne Official Site - 7 Year Old Gospel Singing Sensation
This year I've been able to release my own guitar, go on tour with Taylor, play three nights at Madison Square Garden & see "I See Fire" - a song with no radio or TV support go into the charts. Then to top it all off with two nominations at the Grammys is amazing, so happy! It's crazy to think that I started this touring this record over 2 ½ years ago in Southampton playing to only 200 people. 451 sold out shows at last count! All of this wouldn't be possible without the support of you guys, so a massive thank you to all & I hope you all enjoy the Holiday season & have an awesome New Year. Time for a rest, the real fun starts next year. Ed x
Ed Sheeran
The Cranberries - Roses (écoute intégrale) - Musique - Culture
Alors qu'on commençait doucement à oublier leurs millions d'albums vendus, les Irlandais décident de se rappeler à notre bon souvenir en interrompant dix années de silence (en excluant les deux escapades solo de Dolores). En 2010, on pouvait déjà les apercevoir lors d'une tournée mondiale dont le succès les a vraisemblablement rassurés sur leur niveau de popularité. Produit par leur complice Stephen Street, ce sixième album sonne comme un paisible retour aux sources intégralement consacré aux ballades (le très beau Waiting In Walthamstow) et à la voix unique de O'Riordan. Une résurrection qui ravira les fans des premières heures.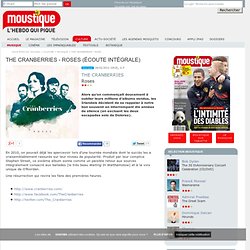 Molotov
2009: Program Guide
Ingrid Michaelson : News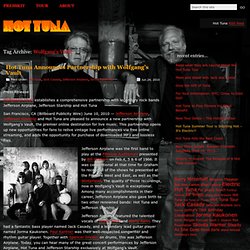 Press Release Wolfgang's Vault establishes a comprehensive partnership with legendary rock bands Jefferson Airplane, Jefferson Starship and Hot Tuna San Francisco, CA (Billboard Publicity Wire) June 10, 2010 — Jefferson Airplane, Jefferson Starship and Hot Tuna are pleased to announce a new partnership with Wolfgang's Vault, the premier online destination for live music. This partnership opens up new opportunities for fans to relive vintage live performances via free online streaming, and adds the opportunity for purchase of downloaded MP3 and lossless files. Jefferson Airplane was the first band to play at the Fillmore Auditorium presented by Bill Graham on Feb 4, 5 & 6 of 1966.
Wolfgang's Vault
Mylo Xyloto
Hagen Rether - Termine
Bongo Botrako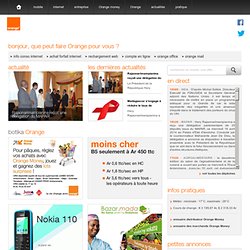 11h00 - METEO : Le service de la météorologie prévoit des foyers orageux cet après midi sur Bongolava et Itasy. Possibilité d'averses orageuses sur Antananarivo, mais aussi les régions de la SAVA et de la DIANA. 10h00 - GIROFLE : La Direction régionale du développement rural d'Analanjirofo estime que la production de girofle a fortement baissé dans la région, passant de 10.000 tonnes à 500 tonnes en 2013. 09h00 - LEGISLATIVES : Président de la plateforme de soutien à Andry Rajoelina (MAPAR), Maharante Jean de Dieu indique qu'on obtenant près de 53 sièges, c'est le MAPAR qui pourrait présenter exclusivement le nom du futur Premier Ministre. 08h00 - CONCERT : Jour J pour le concert de Maître Gims au Coliseum d'Antsonjombe. Les portes sont ouvertes dès 08H00, et les animations commenceront à 10H00 avec notamment un méga Zumba.
Madagascar - Olombelo Ricky
Por Kepa Arbizu. El mero hecho de que los Crazy Horse y Neil Young vuelvan a grabar, no lo hacen desde el conceptual "Greendale" realizado en el año 2003, es ya de por sí una noticia reseñable, ya que estamos ante uno de los grupos, que al margen de su calidad, poseedores de un sonido más particular y que lo han constituido como todo un emblema. Otro punto digno de mención , por sorprendente, es la forma con la que han tomado la decisión de volver. "Americana" se trata de un disco compuesto por versiones de canciones tradicionales del folk americano, un reto complicado que a priori podía pasar por un mero entretenimiento y sin visos de contar con una gran trascendencia pero que a la postre, viendo el resultado final, ha resultado algo muy diferente.
"Americana", Neil Young & Crazy Horse: Cabalgando por la música popular norteamericana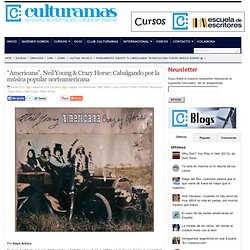 Diana Krall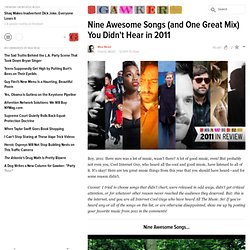 When we are in musically barren times such as these it is the job of critics to illustrate the failings in music and point a way forward. It is not the job of critics to cheerlead mediocrity. In cinema the French new wave was born out of the ferocious attacks that critics like Truffaut launched against bland post-war cinema.
Nine Awesome Songs (and One Great Mix) You Didnt Hear in 2011
George Barnett , Musician, Writer and Director
par Camille Renard Réalisation : Lionel Quantin Oum Kalsoum, mosaïque Ysabel Saïah Baudis©Radio France
OUM KALSOUM, une vie une oeuvre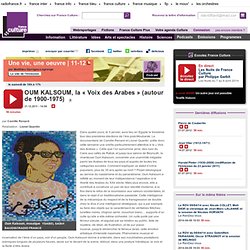 BobMarley.com | The Official Site of Bob Marley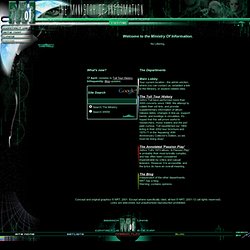 The Tull Tour History Jethro Tull have performed more than 3000 concerts since 1968. We attempt to collate their set lists, and provide supplementary information of album release dates, changes in line-up, support bands, and bootlegs in circulation. It's hoped that this will prove useful to researchers, music traders and the just plain curious. Tull republished our 1969 listing in their 2002 tour brochure and 1970-71 in the 'Aqualung' 40th Anniversary Collector's Edition, so we must be doing okay!
Jethro Tull Tour History, annotated Passion Play and blog, at the Ministry Of Information
Beirut
La notizia era praticamente ufficiosa da diverso tempo, almeno dalla scorsa estate, quando Kjartan non prese parte al tour di Valtari. Una piccola speranza che fosse solo una scelta legata al tour c'era, visto che comunque era stato parte della creazione di Valtari. Ora, invece, che il nuovo album non lo vede protagonista nelle prime registrazioni, la notizia sembrava farsi ineluttabile. E questa sera sono stati proprio i Sigur, nella sessione di intervista con i fan su reddit.com, a dirlo Un fan: "Kjartan has left the band, is that true?" WeAreSigurRos: "Yes he has left the band.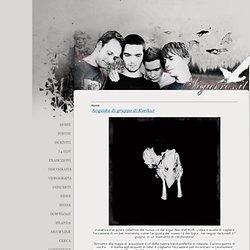 Sigur Ros - La Community Italiana - Home