Music
Eden Radio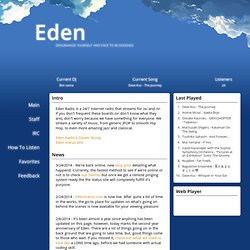 Intro Eden Radio is a 24/7 internet radio that streams for /a/ and /v/. If you don't frequent these boards (or don't know what they are), don't worry because we have something for everyone. We stream a variety of music, from shitty weeaboo to glorious video games to even more glorious jazz/classical. You might want to join the IRC channel if you want to get in on the circlejerk (we have intelligent discussions all the time).
Radio V2 :: Your BEST source for Anime and japanese music!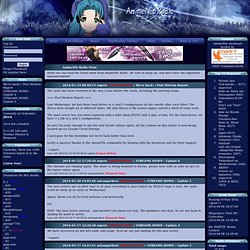 The radio has been restored to the way it was before the crash, including the missing songs. === Post Mortem Report === Last Wednesday, we had three hard drives in a raid 5 configuration all die shortly after each other. The drives were bought all at different times. My only theory is the power supply caused a short of some sorts. The main server has also been replaced with a Intel Atom D525G with 4 gigs of ram.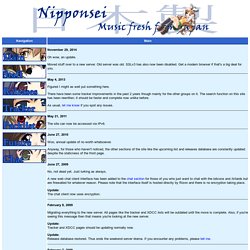 May 4, 2013 Figured I might as well put something here. There have been some tracker improvements in the past 2 years though mainly for the other groups on it. The search function on this site has been rewritten; it should be faster and complete now unlike before.
Nipponsei - Music Fresh From Japan
T.M.Revolution
「GEISHA BOY -ANIME SONG EXPERIENCE-」絶賛発売中!T.M.Revolution×水樹奈々の大ヒット曲「Preserved Roses」はアルバム初収録! この夏、北米ボルチモアにて行われたOTAKON 2013で会場限定発売されていた、 アニメコラボレーション楽曲コンパイルアルバム「GEISHA BOY -ANIME SONG EXPERIENCE-」が日本でも遂にリリース!!