Music
Kid plays instrument awesomely EPIC MUST WATCH. This Guy Is A God With A Ukulele. 5 Years Time on Vimeo. Octobass on Vimeo. Top 10 Strangest Musical Instruments. When most of us think of a musical instrument, we might think of a guitar, a piano or even a set of drums.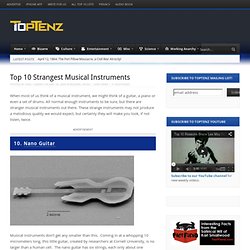 All normal enough instruments to be sure, but there are stranger musical instruments out there. These strange instruments may not produce a melodious quality we would expect, but certainly they will make you look, if not listen, twice. 10. Nano Guitar Musical instruments don't get any smaller than this. America by West Side Story (Original Broadway Cast) | Theater GEEK | LaShnike | 8tracks. The Most Overused Rhyme in Music [VIDEO] Who Am I - Casting Crowns. Vloud. Classical Barbie Girl - CollegeHumor video. "Flight of the Bumblebee on 101 Bottles!" on The Cool, The Fad(s), And The Cuddly. Weird Al Yankovic Was the Valedictorian of His Class in High School.
Today I Found Out Weird Al Yankovic was the valedictorian of his class at Lynwood High School, which is just outside of Los Angeles.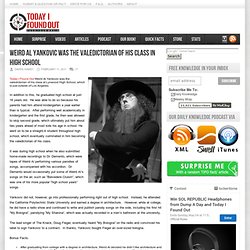 In addition to this, he graduated high school at just 16 years old. He was able to do so because his parents had him attend kindergarten a year earlier than is typical. FAO Schwarz - Big Piano - une vidéo Music. PS22 CHORUS 2009 "Viva La Vida" by COLDPLAY. Elton Johns Improvisation. MULTIPLY (IN A MINOR KEY) by Jamie Lidell - happy playlist. Trent Reznor: 'I steal music too' Wants to offer $4 dollar album downloads at a bitrate of your choice, and blames the record industry for its own problems by having ripped off customers for so many years.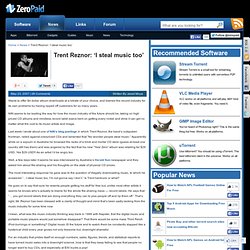 NIN seems to be leading the way for how the music industry of the future should be, taking on high priced CD albums and mindless record label execs bent on getting every nickel and dime it can get no matter what the cost to its music artists and image. Last week I wrote about one of NIN's blog postings in which Trent Reznor, the band's outspoken frontman, railed against overpriced CDs and lamented that "No wonder people steal music." Apparently while on a sojourn in Australia he browsed the racks of a brick and mortar CD store (guess at least one country still has them) and was angered by the fact that his new "Year Zero" album was retailing for $29 USD.
Country Internet Radio: Listen to Streaming Country Music Online. 4335 - And Gamer Girls get their own song. The New Internet-Friendly OK Go Music Video Is Here. The Music Time Machine. Halloween Light Show 2010 HD - This is Halloween ( Marilyn Manson ) Tennessee ernie ford - sixteen tons - une vidéo Music. Cole Gerst presents Mayer Hawthorne's "Your easy lovin' ain't pleasin' nothin'" Julien Neel - The Incredible One-Man Barbershop Quartet. One of the aspects of the Internet I personally appreciate the most, and that I think makes the Internet such an endlessly fascinating place, is how easy it allows for talented people to display their talents and how much more open and democratized the process for discovering talented people has become.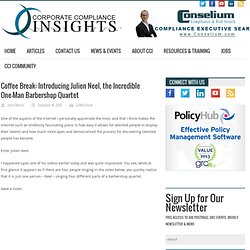 Enter Julien Neel. I happened upon one of his videos earlier today and was quite impressed. You are a pirate! (do what you want cause a pirate is free...) - flash. Dion And The Belmonts - Runaround sue. The Piano - Amazing Short - Animation by Aidan Gibbons, Music by Yann Tiersen. Blue Skies" live at Le Petit Theatre. Amazing One-Man-Band Street Performer in Croatia (Cigo Man Band) uWall.tv | Listen to a Wall of Music.
Tziporela - 'Supermarket', by ציפורלה Ensemble and Adam Sanderson. Manfred mann - Do wah diddy. WHERE IS MY MIND (THE PIXIES COVER) by Maxence Cyrin. Arto tuncboyaciyan coke bottle. DiegoStocco - Bassoforte. Fuck you" Sign language performance. Vulture Attempts to Figure Out Who Each Song on the Taylor Swift Album Is About. Back in September, Vulture — armed only with a track list and the knowledge that Taylor Swift never, ever makes up anything up for her tales of young love and heartbreak — tried to guess what each song on Swift's new album, Speak Now, was about.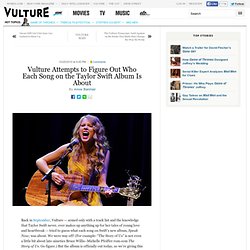 We were way off! (For example: "The Story of Us" is not even a little bit about late-nineties Bruce Willis–Michelle Pfeiffer rom-com The Story of Us. Go figure.) Amazing street beatbox and voice loop performance. Balloon guitar and box. Soul-Toons Ep. I. North Dakota Bois (California Gurls Parody) They Are Weird: Pale kid raps fast.
Lets dance a little - simple blueprint. Choir / bike flashmob Central Station Brussels. "Family Man" Pure Beauty. In Bb 2.0 - a collaborative music/spoken word project. Songs You Used To Love.
---