The Pixies
Pixies
The Pixies are an American alternative rock band formed in Boston, Massachusetts, in 1986.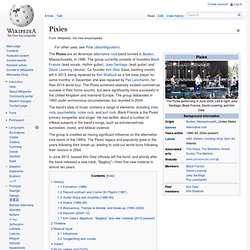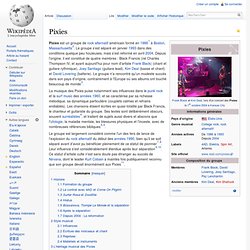 Pixies
Un article de Wikipédia, l'encyclopédie libre. Pixies est un groupe de rock alternatif américain formé en 1986[1] à Boston, Massachusetts[2].
The Pixies' initial six years of existence blew a breath of fresh air through both the independent and national charts.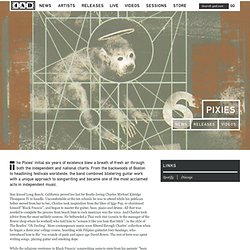 Pixies
The Pixies - Gigantic
The Pixies - Caribou
The Pixies - Wave Of Mutilation
The Pixies- Monkey Gone to Heaven
The Pixies - In Heaven
The Pixies - Into The White
The Pixies - Where is my mind 1988 live
The Pixies - Hey
The Pixies - The Happening
The Pixies - Bone Machine
The Pixies - Gouge Away
The Pixies - Break my body