The Pixies
Pixies. The Pixies are an American alternative rock band formed in Boston, Massachusetts, in 1986.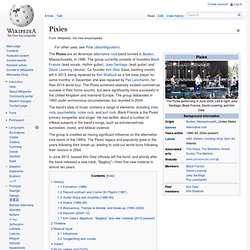 The group currently consists of founders Black Francis (lead vocals, rhythm guitar), Joey Santiago (lead guitar) and David Lovering (drums). Co-founder Kim Deal (bass, backing vocals) left in 2013, being replaced by Kim Shattuck as a live bass player for some months; in December she was replaced by Paz Lenchantin, for their 2014 world tour. The Pixies achieved relatively modest commercial success in their home country, but were significantly more successful in the United Kingdom and mainland Europe.
Pixies. Un article de Wikipédia, l'encyclopédie libre.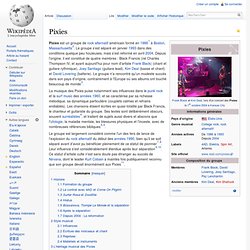 Pixies est un groupe de rock alternatif américain formé en 1986[1] à Boston, Massachusetts[2]. Le groupe s'est séparé en janvier 1993 dans des conditions quelque peu houleuses, mais s'est reformé en avril 2004. Depuis l'origine, il est constitué de quatre membres : Black Francis (né Charles Thompson IV, et ayant aujourd'hui pour nom d'artiste Frank Black) (chant et guitare rythmique), Joey Santiago (guitare lead), Kim Deal (basse et chant) et David Lovering (batterie). Le groupe n'a rencontré qu'un modeste succès dans son pays d'origine, contrairement à l'Europe où ses albums ont touché beaucoup de monde[3]. La musique des Pixies puise notamment ses influences dans le punk rock et la surf music des années 1960, et se caractérise par sa richesse mélodique, sa dynamique particulière (couplets calmes et refrains endiablés). Pixies. The Pixies' initial six years of existence blew a breath of fresh air through both the independent and national charts.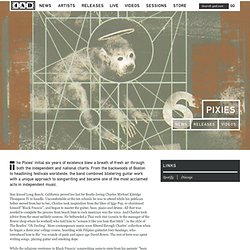 From the backwoods of Boston to headlining festivals worldwide, the band combined blistering guitar work with a unique approach to songwriting and became one of the most acclaimed acts in independent music. Sun-kissed Long Beach, California proved too hot for Beatle-loving Charles Michael Kitridge Thompson IV to handle. Uncomfortable at the ten schools he was to attend while his publican father moved from bar to bar, Charles took inspiration from the likes of Iggy Pop, re-christened himself "Black Francis", and began to master the guitar, bass, piano and drums.
The Pixies - Gigantic. The Pixies - Caribou. The Pixies - Wave Of Mutilation. The Pixies- Monkey Gone to Heaven. The Pixies - In Heaven. The Pixies - Into The White. The Pixies - Where is my mind 1988 live. The Pixies - Hey. The Pixies - The Happening. The Pixies - Bone Machine. The Pixies - Gouge Away. The Pixies - Break my body.
---