Serge Gainsbourg
LE PACHA - REQUIEM POUR UN CON - GAINSBOURG - Victor Kiswell Archives. Gainsbourg, Serge Gainsbourg: Gainsbourg Auteur, Gainsbourg Compositeur, Gainsbourg Acteur et Chanteur Français. Serge Gainsbourg. Un article de Wikipédia, l'encyclopédie libre.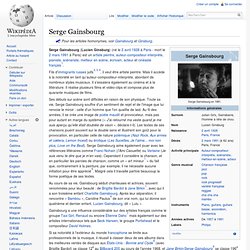 Serge Gainsbourg Serge Gainsbourg en 1981. Serge Gainsbourg (Lucien Ginsburg) (né le à Paris - mort le à Paris) est un artiste peintre, auteur-compositeur-interprète, pianiste, scénariste, metteur en scène, écrivain, acteur et cinéaste français[1]. Fils d'immigrants russes juifs[2],[3],[4], il veut être artiste peintre. Mais il accède à la notoriété en tant qu'auteur-compositeur-interprète, abordant de nombreux styles musicaux. J. Birkin & S. Gainsbourg - Je t'aime. Serge Gainsbourg Mon Légionnaire. Gainsbourg - Aux enfants de la chance 1988 (LIVE) Serge Gainsbourg - Love On The Beat. Serge Gainsbourg - Lemon Incest. Serge Gainsbourg Elisa 1969 Song. Serge Gainsbourg - La Javanaise (inédit)
Serge Gainsbourg la chanson de Prévert. Gainsbourg - Le poinçonneur des Lilas 1958. Gainsbourg, The initials BB. Gainsbourg - Bloody Jack 1968. Gainsbourg - Negative Bleus 1965. Gainsbourg - Vieille Canaille 1985 (LIVE) Gainsbourg - Couleur Café 1988 (LIVE) Gainsbourg - Qui est in, qui est out 1966.
---