Linkin Park
Linkin Park. History Early years (1996–2000) Linkin Park was founded by three high school friends; Mike Shinoda, Rob Bourdon, and Brad Delson.[15] The three attended Agoura High School in Agoura Hills, California, an affluent suburb of Los Angeles.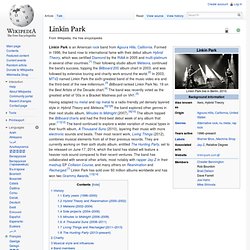 After graduating from high school, the three began to take their musical interests more seriously, recruiting Joe Hahn, Dave "Phoenix" Farrell, and Mark Wakefield to perform in their band, Xero. Though limited in resources, the band began recording and producing songs within Shinoda's makeshift bedroom studio in 1996, resulting in a 4-track demo tape, entitled as Xero.[15][16] Tensions and frustration within the band grew however after they failed to land a record deal.[15] The lack of success and stalemate in progress prompted Wakefield, at that time the band's vocalist, to leave the band in search of other projects.[15][16] Farrell also left to tour with Tasty Snax and other bands.[17][18]
Linkin Park. Un article de Wikipédia, l'encyclopédie libre.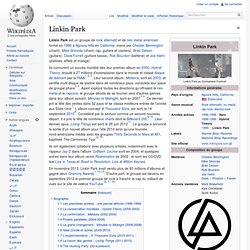 Linkin Park Linkin Park au Sonisphere Festival Ils ont également collaboré avec plusieurs artistes, notamment avec le rappeur Jay-Z dans l'album Collision Course sorti en 2004, et quelques autres dans leur album remix Reanimation de 2002 ; et sorti les CD/DVD live Live in Texas et Road to Revolution: Live at Milton Keynes. En novembre 2013, Linkin Park avait vendu plus de 60 millions d'albums et gagné deux Grammy Awards[1],[14],[15]. D'autre part, le groupe est devenu en septembre 2012 le premier groupe de rock à franchir le cap du milliard de vues sur le site de vidéos YouTube[16],[17],[18]. LinkinPark.com. Linkin Park - Intro/Don't Stay.
Linkin Park - Runaway. Linkin Park - Wish. Linkin Park - A Place For My Head. Linkin Park - Papercut. Linkin Park - From The Inside. Linkin Park - Crawling. Linkin Park - Breaking The Habit. Linkin Park - Numb. Linkin Park - Faint. Linkin Park - In The End. Linkin Park - Pts.OF.Athrty. Linkin Park - Bleed It Out. Linkin Park - One Step Closer. Linkin Park - Leave Out All The Rest. Linkin Park - Somewhere I Belong.
---