Eurythmics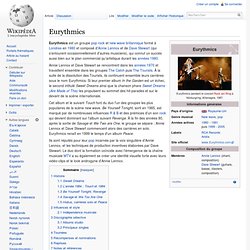 Un article de Wikipédia, l'encyclopédie libre. Eurythmics Eurythmics pendant le concert Rock am Ring à Nürburgring, Allemagne, 1987. Cet album et le suivant Touch font du duo l'un des groupes les plus populaires de la scène new wave. Be Yourself Tonight, sorti en 1985, est marqué par de nombreuses influences R & B et des prémices d'un son rock qui devient dominant sur l'album suivant Revenge.
Eurythmics
Eurythmics - I Saved The World Today
Eurythmics - Sexcrime. année 80
Eurythmics Love Is A Stranger
Eurythmics - Here Comes the Rain Again (live)
Eurythmics - When tomorrow comes
Eurythmics - There Must Be An Angel
The Ultimate Eurythmics, Annie Lennox, Dave Stewart Website - The home of everything Dave Stewart, Annie Lennox, Eurythmics and Tourists related.
Dave Stewart And Annie Lennox have finished their first day of rehearsals As Monday draws nearer for the first live performance from Eurythmics for 8 years, Annie has arrived in LA and Dave has just posted that they are sounding magical after the first day of rehearsals. Still no clues as to the song they are performing though! Here's the feature in the Daily Mail of Annie arriving in LA earlier in the week Read more: http://www.dailymail.co.uk/tvshowbiz/article-2543924/Annie-Lennox-arrives-LA-husband-Dr-Mitch-Besser-ahead-Eurythmics-reunion-performance-Grammy-awards.html#ixzz2rIa2r2RM...