Nina Simone
nina simone-montreux 1976 - how it feels to be free
Nina Simone - Live At Montreux 1976 3de 5
Nina Simone - Live At Montreux 1976
Nina Simone - Live At Montreux 1976 1 de 5
NINA SIMONE on DAVID BOWIE, JANIS JOPLIN and singing STARS( Live at Montreux, 1976)
Nina Simone Sinnerman
Nina Simone - Live At Montreux 1976 avi 5de5
Madame Nina Simone: La légende (TV 1992
Nina Simone
American singer, songwriter, pianist. Born: 21 February 1933 in Tryon, North Carolina, USA. Died: 21 April 2003 in Carry-le-Rouet, Bouches-du-Rhône, France (aged 70). Nina was giving piano recitals after playing at her local church at an early age.
Nina Simone Discography at Discogs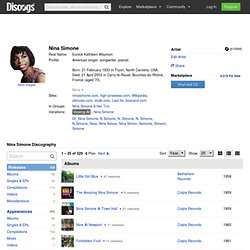 Playlist: The Very Best Of Nina Simone by Nina Simone on Spotify
Home Again - Michael Kiwanuka
Nina Simone, de son vrai nom Eunice Kathleen Waymon, née le 22 février 1933 à Tryon (Caroline du Nord) USA, décédée le 21 avril 2003 à Carry-le-Rouet (Bouches-du-Rhône) France, était une pianiste et chanteuse américaine. Elle avait choisi la première partie de son pseudonyme en raison d'un amant latino américain qu'elle affectionnait énormement et qui l'appellait « niña » (fille en espagnol) et la seconde partie de son pseudonyme en hommage à Simone Signoret. Son père et sa mère descendaient d'anciens esclaves.
Nina Simone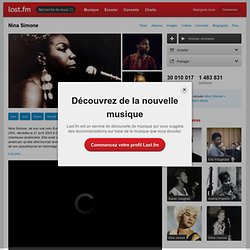 NINA SIMONE LYRICS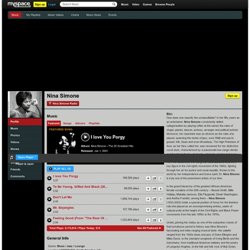 Bio: How does one classify the unclassifiable? In her fifty years as an entertainer, Nina Simone consistently defied categorization by playing (often at the same) the roles of singer, pianist, dancer, actress, arranger and political activist. Moreover, her repertoire was as diverse as the roles she played, spanning the styles of jazz, soul, R&B and pop to gospel, folk, blues and even Broadway. The High Priestess of Soul, as her fans called her, was renowned for her distinctive vocal style, characterized by a passionate low-range vibrato and theatrical display of shouts, whispers, moans and even silence.
Nina Simone
Nina Simone
Un article de Wikipédia, l'encyclopédie libre. Nina Simone Nina Simone en 1965.
Nina Simone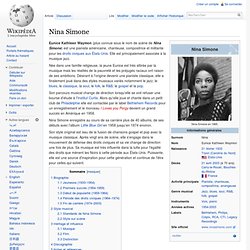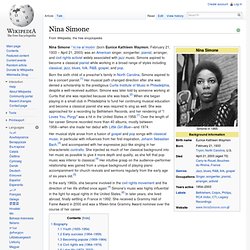 Nina Simone /ˈniːnə sɨˈmoʊn/ (born Eunice Kathleen Waymon; February 21, 1933 – April 21, 2003) was an American singer, songwriter, pianist, arranger, and civil rights activist widely associated with jazz music. Simone aspired to become a classical pianist while working in a broad range of styles including classical, jazz, blues, folk, R&B, gospel, and pop. Her musical style arose from a fusion of gospel and pop songs with classical music, in particular with influences from her first inspiration, Johann Sebastian Bach,[3] and accompanied with her expressive jazz-like singing in her characteristic contralto. She injected as much of her classical background into her music as possible to give it more depth and quality, as she felt that pop music was inferior to classical.[4] Her intuitive grasp on the audience–performer relationship was gained from a unique background of playing piano accompaniment for church revivals and sermons regularly from the early age of six years old.[5]
Nina Simone
Nina Simone
Nina Simone
Genre : Musique actuelle date de naissance :21 Février 1933 date de décès :21 Avril 2003 Biographie Nina Simone Sixième d'une famille de huit enfants, Eunice Kathleen Wayman joue dès son plus jeune âge du piano et chante dans la chorale de la paroisse avec ses soeurs.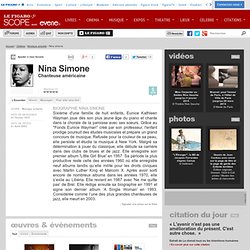 Nina SIMONE : Biographie de Nina SIMONE