Software and Plugs
Article Details :  |  Sugar Bytes Download. -- ixi software -- Software. Glitch | Illformed. Glitch 2 Glitch 2 is now available for Windows, Mac and Linux!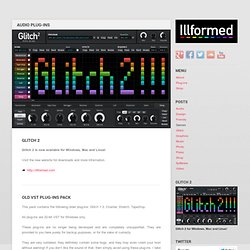 Visit the new website for downloads and more information. Roberson Audio » Prophanity. The Roberson Audio Synthesizers interpretation of the Sequential Circuits Prophet 5 synthesizer.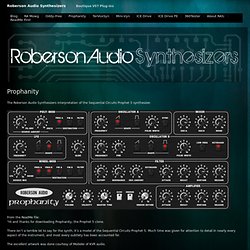 From the ReadMe file: "Hi and thanks for downloading Prophanity, the Prophet 5 clone. There isn't a terrible lot to say for the synth, it's a model of the Sequential Circuits Prophet 5. Much time was given for attention to detail in nearly every aspect of the instrument, and most every subtlety has been accounted for. The excellent artwork was done courtesy of Modeler of KVR audio. iZotope, Inc - Audio Signal Processing Hardware, Software, Plug-ins, Technology Licensing. Third Cog Software - Apps - List. VST to RTAS Adapter v2.0. Version 2 of our award winning VST to RTAS Adapter is the easiest and best way to enable your VST effects plugins* and VST Instruments* in Pro Tools 7.x and 8.x TDM, LE and M-Powered.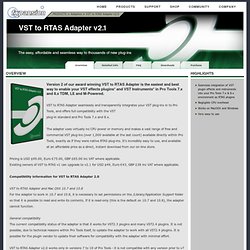 VST to RTAS Adapter seamlessly and transparently integrates your VST plug-ins in to Pro Tools, and offers full compatibility with the VST plug-in standard and Pro Tools 7.x and 8.x. The adapter uses virtually no CPU power or memory and makes a vast range of free and commercial VST plug-ins (over 1,000 available at the last count) available directly within Pro Tools, exactly as if they were native RTAS plug-ins. It's incredibly easy to use, and available at an affordable price as a direct, instant download from our on-line store. Free software ports. The Cheeze Machine: A Pad Synthesizer This plugin emulates the classic string ensemble sound, made popular by such classic synths as the Crumar Performer or the Arp Solina.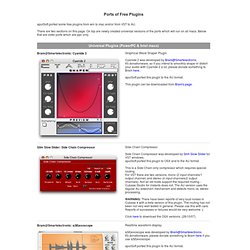 Cheeze Machine generates sound by feeding a simple, saw-like waveform, into a chorus ensemble emulator, a 6-stage phaser, and a reverb. Cheeze Machine was developed by Big Tick for win VST. Click here to donate something for the development effort put into Cheeze Machine. apulSoft ported this plugin to OSX and to the AU format.
---