Music Lessons
Hi This pearltree is to help people wanting to study music. Not everyone can afford Lessons. If you can add any new information that would be great. Note: I have a different pearl for singing lessons, incase you were wondering. Happy Pearling timepeaces Feb 29
+ Amp, Cabinet, Corpus Arpeggiator, Auto Filter, Auto Pan, Beat Repeat, Chord, Chorus, Compressor, Corpus, Dynamic Tube, EQ Eight, EQ Three, Erosion, External Audio Effect, Filter Delay, Flanger, Frequency Shifter, Gate, Glue, Grain Delay, Limiter, Looper, Multi-band Dynamics, Note Length, Overdrive, Phaser, Ping Pong Delay, Pitch, Random, Redux, Resonators, Reverb, Saturator, Scale, Simple Delay, Spectrum, Utility, Velocity, Vinyl Distortion, Vocoder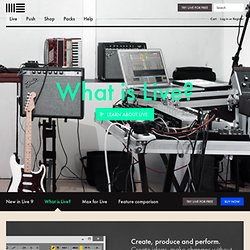 44 Blues Guitar Lesson by Corey Harris
This is the current homepage for Music Education Blog Carnival… Submit your article or post to the next Music Education Blog Carnival today! Do you want to be an upcoming host of this carnival? -Find out how!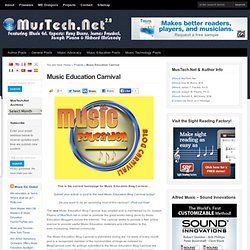 Music Education Carnival | MusTech.Net: Music Education, Music Technology, & Education!
REAKTOR - NI User Forums
Incredible Blues Piano Tricks - PlayBluesPiano.com
Vanheckis' cs80 site
Linndrum : LINNDRUM
Forum Index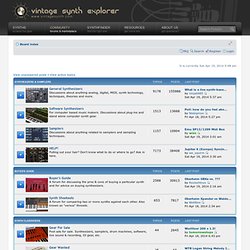 It is currently Wed Jan 15, 2014 10:49 pm View unanswered posts • View active topics General Synthesizers Discussions about anything analog, digital, MIDI, synth technology, techniques, theories and more. 8965 Topics 150782 Posts Last post Korg MS-20 Mini by cl516 Wed Jan 15, 2014 10:32 pm Software Synthesizers For computer based music makers. Discussions about plug-ins and stand alone computer synth gear. 1479 Topics 13438 Posts Last post 10 things I wish Software... by silikon Wed Jan 15, 2014 9:33 pm Samplers Discussions about anything related to samplers and sampling techniques. 1132 Topics 10667 Posts Last post tips for cool samples by Idk Probly Wed Jan 15, 2014 8:49 pm HELP! Pulling out your hair?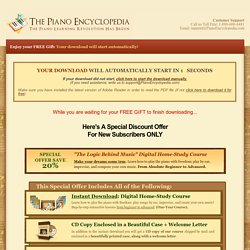 pianoencyclopedia
While you are waiting for your FREE GIFT to finish downloading... Here's A Special Discount Offer For New Subscribers ONLY In addition to the instant download you will get a shipped by mail and enclosed in a . Meet other students online, ask questions, enjoy video galleries, and access Exclusive content and events at The Piano Encyclopedia's Community. bonus!
classic piano method : how to play piano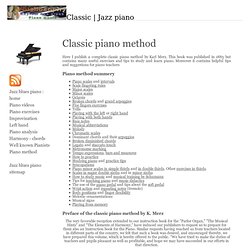 Here I publish a complete classic piano method by Karl Merz. This book was published in 1885 but contains many useful exercises and tips to study and learn piano. Moreover it contains helpful tips and suggestions for piano teachers Piano method summery Preface of the classic piano method by K.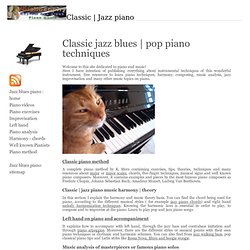 blues jazz piano : learn techniques
Welcome to this site dedicated to piano and music! Here I have intention of publishing everything about instrumental techniques of this wonderful instrument, free resources to learn piano techniques, harmony, composing, music analysis, jazz improvisation and many other music topics on piano. Classic piano method A complete piano method by K. Merz containing exercises, tips, theories, techniques and many resources about major or minor scales, chords, five-finger techniques, musical signs and well known piano composers. Moreover, it contains examples and pieces by the most famous piano composers as Frederic Chopin, Johann Sebastian Bach, Amadeus Mozart, Ludwig Van Beethoven.
The Virtual Piano is an online piano, so you can play piano online and learn piano online - and a perfect tool for songwriters or singers - or anyone who wants to accompany a singer. It allows you to immediately play chord progressions on it, while simultaneously showing you how to play the same chords on the piano. It's a visual way of learning how to play the piano, so you can learn the piano without using the traditional, tedious method of learning to read notes on a staff - Not that there's anything wrong with that - it just takes way too long before you are actually playing something you like. If you want the easiest, fastest way to learn keyboard, so you can play any song on the piano keyboard now -and learn music - the Virtual piano will help you achieve that goal. Learn Piano by ear.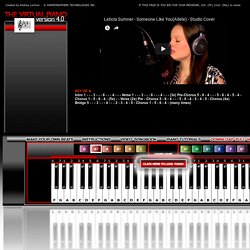 Get A Grip-pedal steel lesson
FREE Lap Steel Guitar Lesson: Blues Riff
Lap Steel Guitar Lesson: Cold Cold Heart
Lap Steel Lesson - Playing Chord Melodies
Ocean Lullaby" Steel Guitar lesson
Deep River Blues Guitar Lesson - Part 2
Deep River Blues Guitar Lesson - Part 1
How to Play) Ludwig van Beethoven - Für Elise (Bagatelle No. 25 in A Minor) on Piano (100%)