U : Music Label
United Interests
Underwater Peoples is proud to announce the upcoming release of "No Matter What", the debut EP from Evan Ønly. Drawing its inspiration from classic "future vintage" synth pop pioneers such as Pet Shop Boys, La Roux, and David Bowie's "Let's Dance", the "No Matter What" EP is a highly-evolved synth rock record. Produced by Ice Choir's Kurt Feldman at the pristine Winter Station, these six songs are personal anthems turned psychological pop. (more…) UP is proud to present the 8th installment of our mixtape series, "Time Has Run Out", an hour-long sonic jammer compiled by Lexington, Kentucky's Robert Beatty.
Underwater Peoples Records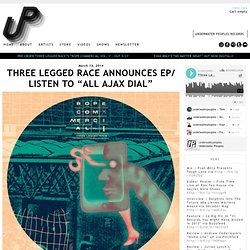 Uncanny Valley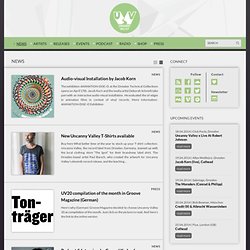 Winter Sale at our shop: up to 70% discount! We started a Winter Sale to make room for fresh upcoming records. Get up to 70 % off on our available wax at Bandcamp until January 31st 2014: http://shop.uncannyvalley.de/ UV019+ / Cuthead – Resteessen When we selected music for Cuthead's Everlasting Sunday EP we had to leave out several great tracks due to the limited space on the record.
20 October 2013 We have lots of brilliant releases coming up over the next few weeks and before Christmas. Here's a lasso of listening from ' split LP (out October 28), 's second long player 'Clapper Is Still' (due November 11) and 's debut album (out November 18). All three of those are available in the for pre-order right now. Another split LP, from Ravioli Me Away and Dog Chocolate, will be joining them by the end of the year.
UPSET THE RHYTHM | Home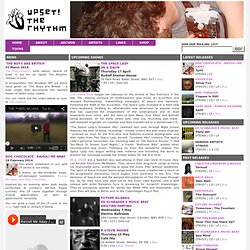 Universal Music Brasil
Undergroove Records - News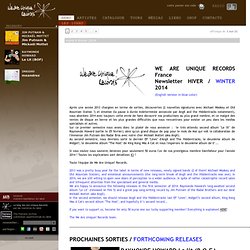 Unique records index
FAM#7 - TOULOUSE - 17 au 30 NOVEMBRE 2013 La 7ème édition du FAM, événement porté par la FLIM (Fédération des Labels Indépendants de Midi-Pyrénées) se déroulera du 17 au 30 Novembre 2013. Au programme, quatre soirées concerts avec une douzaine d'artistes français et internationaux (My Imaginary Loves, Lovers, House Of Wolves, Alone With Everybody, Old Mountain Station, Angil & The Hiddentracks...).
Redirect by ulimit.com
Redirect by ulimit.com
Universal Music
Umusic - The official home of Universal Music UK
Posted on 11 octobre 2013 UNDERDOG RECORDS VINYL COLLECTION IS AVAILABLE! SUPPORT US! Lire la suite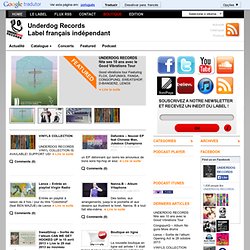 Underdog Records, label français indépendant