T : Music Label
Index. Twosyllable records. White Noise. Trouble and Bass | Heavy Bass Champions of the World. Welcome to Tzadik. Type | A record label. Two Gentlemen. Index. TVT Records. Twinfizz. TRES RECORDS | HOME. Tricatel.com. TRITONE RECORDS. Try harder. Top 5 records. | touchmusic.org.uk | Touch | - TOT OU TARD - Tot ou Tard. Track & Field | Music rocks. Transgressive : Home. TRENDKILL ENTERTAINMENT | PR AGENCY. Tomlab. THE FORRESTERS. Time Bomb Recordings. THIRSTY EAR RECORDINGS. Home | This Is Fake DIY Records. Thrill Jockey Records. TIGERSUSHI RECORDS & FURS. Thick records :: chicago punk rock.
Third Culture Records | The Finest Bay Area Music + More. The Record Machine. This video gives you an idea of what this year has been like for Making Movies.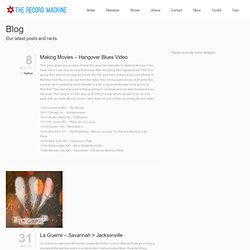 They have had a busy year as a band already. After recording their Aguardiente 7"/EP this spring they went on to open for bands like Fun and Neon Indian at our own Middle of the Map Fest. As you can see from the video they have played shows of all sizes this summer be it something more intimate or even a big amphitheater show put on by Red Bull. The Social Registry | modern music. antiquated ideals. Tapete Records: HOME. Tee Pee Records - Home. :: tell-all records :: san francisco, ca. Tenderversion. The Militia Group. Terrascope. Talitres - Stranded Horse new album "Humbling Tides". Temporary Residence Limited. Too Pure Singles Club: It's back! New and improved... Touch and Go / Quarterstick Records. The Home of SKiN GRAFT Records & Comics. Telarc International: Home of Classical, Jazz, Blues, and Pop/Rock.
Since 1977, Telarc International has been the creative home to some of the most prestigious entities in classical, jazz and blues.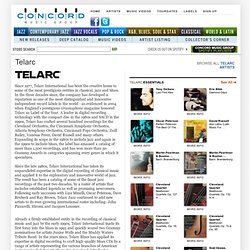 In the three decades since, the company has developed a reputation as one of the most distinguished and innovative independent record labels in the world - as evidenced in 2004 when England's prestigious Gramophone magazine honored Telarc as Label of the Year. A leader in digital recording technology with the compact disc in the 1980s and SACD in the 1990s, Telarc has crafted several hundred recordings for the Cleveland Orchestra, the Cincinnati Symphony Orchestra, Atlanta Symphony Orchestra, Cincinnati Pops Orchestra, Zuill Bailey, Vanessa Perez, David Russell and many others. Expanding its scope in the 1980s to include jazz and again in the 1990s to include blues, the label has amassed a catalog of more than 1,500 recordings, and has won more than 50 Grammy Awards in categories spanning every genre in which it specializes.
Third Side Records.
---