T : Music Label
Index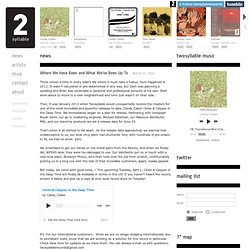 News Heads Up World, "Ceres & Calypso In The Deep Time" Out June 25 Heads Up World, "Ceres & Calypso In The Deep Time" Out June 25 May 22, 2013
twosyllable records
Latest News: August 22, 2011 Jail Weddings are premiering the 5th video from Love Is Lawless for their good ol' desperation anthem "Somebody Lonely", filmed at the Highland Park Legion Hall and features an all-star cast of typical L.A. incest. Keep those peepers peeled! Read More... More News
White Noise Trouble and Bass | Heavy Bass Champions of the World
Two Gentlemen
index
Vende música y video en todo el mundo La mayor red digital y física a nivel global Utiliza nuestra plataforma basada en tecnología de vanguardia Codificación y envíos gestionados internamente, paneles intuitivos y productos de nueva generación Connecta con fans y consumidores Marketing, promoción, servicios y herramientas de publicidad Identifica las tendencias de ventas y marketing Análisis de negocio y de la actividad diaria de ventas Vende música y video en todo el mundo La mayor red digital y física a nivel global Utiliza nuestra plataforma basada en tecnología de vanguardia Codificación y envíos gestionados internamente, paneles intuitivos y productos de nueva generación Connecta con fans y consumidores Marketing, promoción, servicios y herramientas de publicidad Identifica las tendencias de ventas y marketing Análisis de negocio y de la actividad diaria de ventas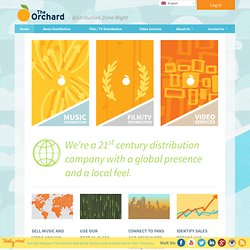 Twinfizz
TRES RECORDS | HOME
Tricatel.com
TRITONE RECORDS
try harder
top 5 records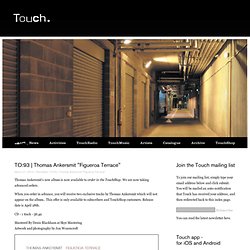 BJ Nilsen's new album is now available to order in the TouchShop. 'Eye of the Microphone' was recorded and mixed in London, 2012-13. You will receive a free download of Nilsen's recent performance at Café Oto with this album, when purchased in the TouchShop. We are now taking advanced orders. Release date is December 16th.
| touchmusic.org.uk | Touch |
Lisa LeBlanc - Premier album - le 25 mars (info du 25/03/2013) « Moi, Lisa LeBlanc, je joue du folk trash. Je suis une Acadienne qui roule ses « r », qui aime se moquer d'elle-même, qui écrit des textes sans trop de froufrous et qui est tannée de chanter des chansons de fi-filles !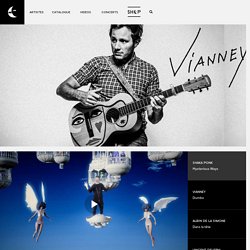 Nicki Minaj releases her long awaited second album 'Pink Friday: Roman Reloaded' today (April 2) in another busy week for new releases. Lostprophets also return with their fifth studio album 'Weapons', while there are also new albums out from The Futureheads, Killing Joke, Orbital, Labrinth, All The Young and East 17. Blur's Graham Coxon all returns with his latest solo offering 'A+E'. Florence And The Machine release their latest single 'Never Let Me Go' today, while there also new tracks out from Steel Panther, Laura Marling, Tribes and Jessie Ware. Singles released today: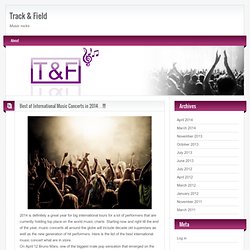 Track & Field | Music rocks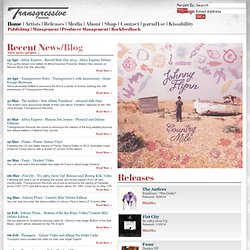 Transgressive : Home
10-Jan - Transgressive News - Transgressive Nominated for UK Label of the Year at The Fly Awards 2014 Transgressive has been nominated for UK Label of the Year at this year's The Fly awards. Read More » 18-Dec - Transgressive News - 2013: Year in Review A look back on Transgressive's 2013... Read More »
TRENDKILL ENTERTAINMENT | PR AGENCY
tomlab
Singer/songwriter Anthony Bautovich from The Orange Humble Band delivers a diverse collection of roots driven pop with his power pop/alt.country outfit The Forresters. Lovingly mixed by Wayne Connolly and featuring a loose assembly of fine Australian players who have all given to the sound of this record, the album 'Skindeep' has been receiving it's fair share of attention. Here's what some reviewers are saying about the record..... '...It's a luscious mixture of pop, rock, r'n'b, and country, tantalising and exploratory. It never rests on it's laurels: the songs develop and change as they progress, new elements continually introduced, new echoes from rock's rich tapestry setting off gentle footfalls down the passageways of memory. Bautovich's voice is strong, expressive and rides the genres effortlessly..."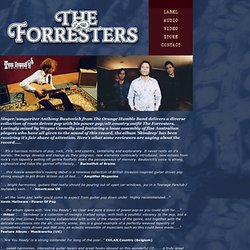 THE FORRESTERS
Time Bomb Recordings
THIRSTY EAR RECORDINGS
Out Now Greg Ward : Phonic Juggernaut "Greg Ward's Phonic Juggernaut" is a consummation of the marriage of jazz improvisation and composition, an unrestrained exploration of the saxophone as a voice all its own.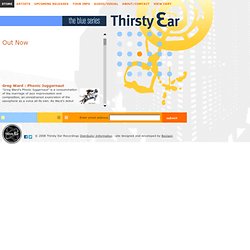 Home | This Is Fake DIY Records
TIGERSUSHI RECORDS & FURS
thick records :: chicago punk rock
Third Culture Records | The Finest Bay Area Music + More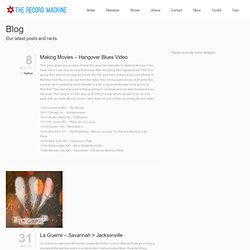 The Record Machine
This video gives you an idea of what this year has been like for Making Movies. They have had a busy year as a band already. After recording their Aguardiente 7"/EP this spring they went on to open for bands like Fun and Neon Indian at our own Middle of the Map Fest. As you can see from the video they have played shows of all sizes this summer be it something more intimate or even a big amphitheater show put on by Red Bull.
The Social Registry | modern music. antiquated ideals
Tapete Records: HOME
Tee Pee Records - Home
From the Ages is also available to order via iTunes. "EARTHLESS "From the Ages" (Tee Pee) is the first album in six years by the San Diego psychedelic band Earthless, who make songs in long chunks of episodic form via wah-wah pedal, riff and groove; they're expert practitioners of an outdated art. Oct. 8." - THE NEW YORK TIMES "To describe EARTHLESS' music is a bit like describing a dream. In fact, there's nothing altogether straightforward about the band's sound except, well, that they fucking rock. Yeah, let's go with that description: Fucking-rock." - SAN DIEGO CITYBEAT
:: tell-all records :: san francisco, ca
Tenderversion
The Militia Group
Terrascope
Talitres - Stranded Horse new album "Humbling Tides"
Temporary Residence Limited
Too Pure Singles Club: It's back! New and improved...
Touch and Go / Quarterstick Records
The Home of SKiN GRAFT Records & Comics
Telarc International: Home of Classical, Jazz, Blues, and Pop/Rock
Third Side Records