S : Music Label
Small Stone Recordings
Stand out records
Tera Melos start their tour with The Dillinger Escape Plan and Vattnet Viskar on April 27th through May 10th. They have also added a bunch of their own shows starting May 11th. Heck, we might even still add a few more soon.. . Click HERE See all Tera Melos Shows and updates DILLINGER ESCAPE PLAN // TERA MELOS // VATTNET VISKAR Apr 27, 2014 - Scottsdale, AZ @ Pub Rock Live Apr 28, 2014 - Albuquerque, NM @ Launchpad Apr 29, 2014 - Denver, CO @ Marquis Theater May 1, 2014 - Dallas, TX @ Trees May 2, 2014 - Houston, TX @ Fitzgerald's May 3, 2014 - Austin, TX @ The Mohawk May 4, 2014 - Oklahoma City, OK @ Conservatory May 5, 2014 - Little Rock, AR @ Juanita's Cafe And Bar May 6, 2014 - New Orleans, LA @ One Eyed Jacks May 7, 2014 - Atlanta, GA @ The Masquerade May 9, 2014 - Amityville, NY @ Revolution Bar & Music May 10, 2014 - Hartford, CT @ Webster Theatre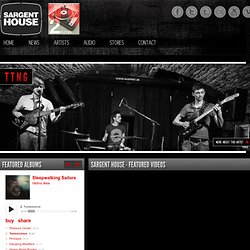 Sargent House 2011
Welcome to the Acquia Cloud This is the default content page for an Acquia Dev Cloud or Managed Cloud web site. If you are an Acquia customer, you can manage your Acquia-hosted site via the Acquia Network web site. Use its management console to import your existing Drupal content or to install a Drupal distribution. To visit the Acquia Network management console: Log in to your Acquia Network dashboard Select your site Click on the Dev Cloud or Managed Cloud link on the left site of the page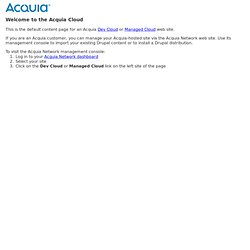 News | Sire Records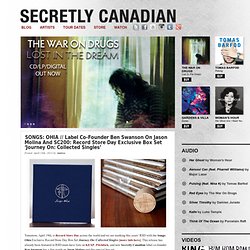 Posted: January 8th, 2014 by Andrew In 2001 we took the time to carefully reassemble and properly re-release thirteen Nikki Sudden (Swell Maps) albums on compact disc including remastering, original artwork, and liner notes. On January 21st, our sister label Numero Group plans to release four of the previously unreleased titles on vinyl: Waiting on Egypt, The Bible Belt, with Jacobites Jacobites' and Robespierre's Velvet Basement. In honor of the first proper vinyl re-release of those four albums, we teamed up with Numero and are offering an insane deal which includes four more CD versions for only $65 (plus freight).
:: Secretly Canadian
The STREET SOUNDS RADIO SHOW is back with a Christmas Special, this Friday 7.00pm to 10.00pm on CruiseFM! (Dated December 17th, 2013) Andy Smith and Morgan Khan 'the dynamic duo', return to the airwaves with a 3 hour extravaganza of great music, mayhem and wonderful presents! This will be a Street Sounds family request show, so get your requests in, but please no George Michael. Just add your dedication, shout-out or request in the comments box below, or email morgan@streetsounds.co, or Txt: 07794 592706.
Street Sounds - Home Page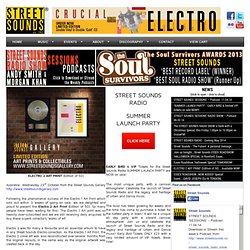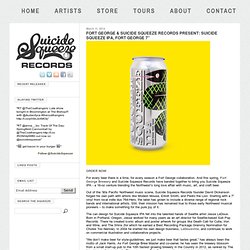 For every beer there is a time, for every season a Fort George collaboration. And this spring, Fort George Brewery and Suicide Squeeze Records have banded together to bring you Suicide Squeeze IPA - a 16-oz venture blending the Northwest's long love affair with music, art, and craft beer. Out of the '90s Pacific Northwest music scene, Suicide Squeeze Records founder David Dickenson forged his own path with artists like Modest Mouse, Elliott Smith, and Pedro the Lion. Starting with a 7" vinyl from local indie duo 764-Hero, the label has grown to include a diverse range of regional rock bands and international artists. Still, their mission has remained true to those early Northwest musical pioneers – to make something for the pure joy of it. The can design for Suicide Squeeze IPA fell into the talented hands of Seattle artist Jesse LeDoux.
Suicide Squeeze Records
:::: Sublevel ::::
Swedish Diva Records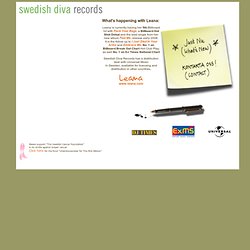 Leana is currently having her 5th Billboard hit with Pack Your Bags, a Billboard Hot Shot Debut and the lead single from her new album Feel Me, release early 2008. It is the follow up to I Just Died In Your Arms and Embrace Me, No. 1 on Billboard Break Out Chart Hot Club Play, as well No. 1 on DJ Times National Chart Swedish Diva Records has a distribution deal with Universal Music in Sweden; available for licensing and distribution in other countries. www.leana.com
Susie Tallman & Friends now on Amazon Instant Video AND iTunes Movies! We are pleased to announce that our HD DVD, Come On, Let's Go! is now available on Amazon Instant Video AND iTunes Movies! Here is the trailer for this fun collection. Thanks for listening . . . and watching! Best Christmas Albums for Kids and Their Parents
Susie Tallman & Rock Me Baby Records - Music for Children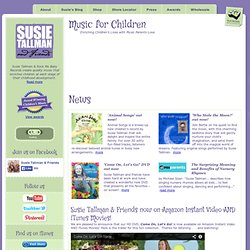 Soundohm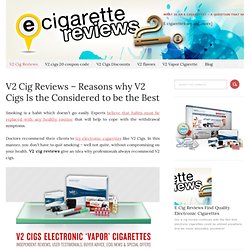 Smoking is a habit which doesn't go easily. Experts believe that smoking habit must be replaced with any healthy routine that will help to cope with the withdrawal symptoms. Doctors recommend their clients to try electronic cigarettes like V2 Cigs. In this manner, you don't have to quit smoking, without compromising on your health. V2 cig reviews give an idea why professionals always recommend V2 cigs.
The Still Label
Square Dogs
The Silver Sprocket Bicycle Club
Stolen Recordings
The Storyboard Label
Static Recital
Sunday Best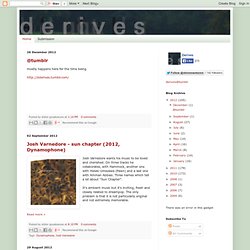 sundays in spring: echoes for the sensitive heart
I recently reviewed the "Believe you me" EP by Drops, solo project of Liam Hennessy, writing that it sounded close to an American indie influenced version of Umber, solo project of Alex Steward, both from Nottingham, UK. We are now one step further with a purely American instrumental solo project. Pastoral is Zachary Thachet, from Huntington Beach, California and his debut EP sounds as warm, as positive, as euphoric than the two others, even more.
Online Music: Your independent source for indie, rare, new, import CDs, LPs and reviews.
Superball Music - Welcome to Superball Music
superglider records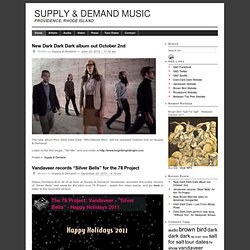 Supply & Demand
New Dark Dark Dark album out October 2nd Written by Supply & Demand on June 25, 2012 – 11:24 am The new album from Dark Dark Dark, "Who Needs Who", will be released October 2nd on Supply & Demand! Listen to the first single, "Tell Me", and pre-order at http://www.brightbrightbright.com Vandaveer records "Silver Bells" for the 78 Project Written by Supply & Demand on December 20, 2011 – 4:16 pm
Surface Noise Records sur Myspace
To pay tribute to Glen Campbell's legacy, Surfdog Records is offering a Very Special Limited Edition Box Set -- only 1000 made. Surfdog is very proud to announce that our special tribute to the legendary Glen Campbell, celebrating a lifetime of hits and his unforgettable contributions to the world of music! In honor of this musical legend, this extraordinary Box Set includes: A beautifully bound tri-fold hardcover. An authentic HAND-SIGNED lithograph of exclusive painting of Glen's portrait. 2 CD's jam-packed with Glen's most renowned hits, including "Rhinestone Cowboy," "Southern Nights," and "Wichita Lineman." As well as fan favorites, career gems and early works uncovered and only available in this box set.
HOME | Surfdog Records
SWIM SLOWLY
Loverly Ukraine Sympathizer
Rudimentary Peni's Archaic was originally released in June 2004 on ten inch vinyl and CD. Some tracks are written by Grant and some by Nick whilst others are co-written by both members. Archaic deals more with personal experience than the majority of the bands previous releases. The twelve songs on the album cover a variety of, shall we say, darker topics including mortality, despair, cremation, and the closing of the British national health service. The brevity of the lyrics (often a single line) is matched by the pummelling harshness of the guitar riffs, which hammer away as if pouring salt into an open wound.
Transmissions from Southern
New from Southern Lord - Misantropic - "Insomnia" LP Available Now! - Available NOW!
spa.RK. best electronics in town
First edition in Barcelona of the worldwide event Record Store Day. For the occasion, a lot of Barcelona labels - from spa.RK, Discotinu, Foehn on the electronica side till all the indie labels in the city such as Snap Snap Club, Astrohúngaro, B-Core, La Gàbia, Galleta, Canada, Bankrobbe, Producciones Doradas and many more - in an event that will take place in all the independent record stores of the city: B-Core, Paradiso, Luchador, Wah Wah, Surco… Dj sessions, beers, live, special and limited releases, a download compilation of all the labels… spa.RK will be having a showcase in Paradiso featuring BRUNA dj, BRADIEN djs and special price for all the records. April 21st, smells to music spring in Barcelona.
Sophiane || production - tour - edition - studio
Sober&Gentle
SOFT ABUSE
Soma Records :: One of the world's leading electronic dance music labels
Sonic Cathedral – The Website That Celebrates Itself
Sony Music France
Bad Taste Records - Online Store
slumberland records home
Independent Record Label – Smalltown America
Smalltown Supersound
secret city records | home
:: Secretly Canadian
Shifty Disco
Signature Sounds
Silkwormtributerecord.com
Silverthree Sound Recordings
Sally Forth Records / home
Sao Bento Music » Kind of rocking since a bit ago
Satellite Of Love
Scientific Laboratories
Sacred Bones Records — New York, NY, NYC | Zola Jesus Stridulum, Valusia, Gary War, Blank Dogs, Moon Duo, Factums, 13th Chime, Cultural Decay, The Pink Noise & more
SABOTEUR RECORDS
sabotage records
Sub Pop Records
Spinefarm Records
Storyville Records
Severn Records
SHITKATAPULT ::: NEWS ::: SPECIAL MUSICK FOR SPECIAL PEOPLE
Saddle Creek Records
Sarah Records and Shinkansen Recordings
Shanachie Entertainment
Stax Museum of American soul music artists records exhibits merchandise in Memphis
++ Stony Plain Records: Canada's Roots, Rock, Country, Folk & Blues Label ++
Smithsonian Folkways - The nonprofit record label of the Smithsonian Institution
SLAM DISQUES
Smells Like Records | A Record Label
Soul Jazz Records
Str8line Records
Sun Studio