S : Music Label
Small Stone Recordings
Stand out records
Sargent House 2011
News | Sire Records
:: Secretly Canadian
Street Sounds - Home Page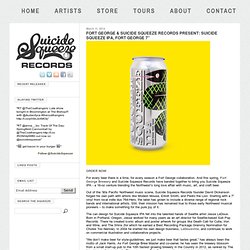 Julianna Barwick returns with two new haunting compositions. "Pacing" features Barwick's voice and layered harmonies, "but it's a bit of a diversion from the vocal loop-based songs I tend to make" says Barwick.
Suicide Squeeze Records
:::: Sublevel ::::
Swedish Diva Records
Susie Tallman & Rock Me Baby Records - Music for Children
Soundohm
The Still Label
Square Dogs
The Silver Sprocket Bicycle Club
Stolen Recordings
The Storyboard Label
Static Recital
Sunday Best
sundays in spring: echoes for the sensitive heart
Online Music: Your independent source for indie, rare, new, import CDs, LPs and reviews.
Superball Music - Welcome to Superball Music
superglider records
Supply & Demand
Surface Noise Records sur Myspace
HOME | Surfdog Records
SWIM SLOWLY
Loverly Ukraine Sympathizer
Transmissions from Southern
New from Southern Lord - Misantropic - "Insomnia" LP Available Now! - Available NOW!
spa.RK. best electronics in town
Sophiane || production - tour - edition - studio
Sober&Gentle
SOFT ABUSE
Soma Records :: One of the world's leading electronic dance music labels
Sonic Cathedral – The Website That Celebrates Itself
Sony Music France
Bad Taste Records - Online Store
slumberland records home
Independent Record Label – Smalltown America
Smalltown Supersound
secret city records | home
:: Secretly Canadian
Shifty Disco
Signature Sounds
Silkwormtributerecord.com
Silverthree Sound Recordings
Sally Forth Records / home
Sao Bento Music » Kind of rocking since a bit ago
Satellite Of Love
Scientific Laboratories
Sacred Bones Records — New York, NY, NYC | Zola Jesus Stridulum, Valusia, Gary War, Blank Dogs, Moon Duo, Factums, 13th Chime, Cultural Decay, The Pink Noise & more
SABOTEUR RECORDS
sabotage records
Sub Pop Records
Spinefarm Records
Storyville Records
Severn Records
SHITKATAPULT ::: NEWS ::: SPECIAL MUSICK FOR SPECIAL PEOPLE
Saddle Creek Records
Sarah Records and Shinkansen Recordings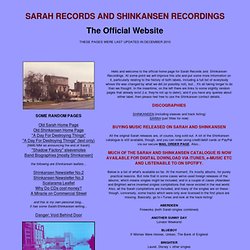 Hello and welcome to the official home page for Sarah Records and Shinkansen Recordings.
Shanachie Entertainment
Stax Museum of American soul music artists records exhibits merchandise in Memphis
++ Stony Plain Records: Canada's Roots, Rock, Country, Folk & Blues Label ++
New Jersey native Rory Block is often hailed as one of the highly regarded blues musicians of her generation.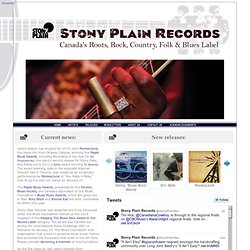 Smithsonian Folkways - The nonprofit record label of the Smithsonian Institution
SLAM DISQUES
Smells Like Records | A Record Label
Soul Jazz Records
Str8line Records
Sun Studio