S : Music Label
Small Stone Recordings. Stand out records. Sargent House 2011. News | Sire Records. :: Secretly Canadian. Street Sounds - Home Page. Suicide Squeeze Records. For every beer there is a time, for every season a Fort George collaboration.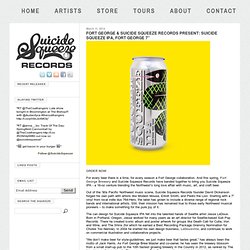 And this spring, Fort George Brewery and Suicide Squeeze Records have banded together to bring you Suicide Squeeze IPA - a 16-oz venture blending the Northwest's long love affair with music, art, and craft beer. Out of the '90s Pacific Northwest music scene, Suicide Squeeze Records founder David Dickenson forged his own path with artists like Modest Mouse, Elliott Smith, and Pedro the Lion. Starting with a 7" vinyl from local indie duo 764-Hero, the label has grown to include a diverse range of regional rock bands and international artists.
Still, their mission has remained true to those early Northwest musical pioneers – to make something for the pure joy of it. The can design for Suicide Squeeze IPA fell into the talented hands of Seattle artist Jesse LeDoux. :::: Sublevel :::: Swedish Diva Records. Susie Tallman & Rock Me Baby Records - Music for Children. Soundohm. The Still Label. Square Dogs. The Silver Sprocket Bicycle Club. Stolen Recordings. The Storyboard Label. Static Recital. Sunday Best. Sundays in spring: echoes for the sensitive heart. Online Music: Your independent source for indie, rare, new, import CDs, LPs and reviews. Superball Music - Welcome to Superball Music. Superglider records. Supply & Demand. Surface Noise Records sur Myspace. HOME | Surfdog Records. SWIM SLOWLY. Loverly Ukraine Sympathizer. Transmissions from Southern. New from Southern Lord - Misantropic - "Insomnia" LP Available Now! - Available NOW!
Spa.RK. best electronics in town. Sophiane || production - tour - edition - studio. Sober&Gentle. SOFT ABUSE. Soma Records :: One of the world's leading electronic dance music labels. Sonic Cathedral – The Website That Celebrates Itself. Sony Music France. Bad Taste Records - Online Store. Slumberland records home. Independent Record Label – Smalltown America. Smalltown Supersound. Secret city records | home. :: Secretly Canadian. Shifty Disco.
Signature Sounds. Silkwormtributerecord.com. Silverthree Sound Recordings. Sally Forth Records / home. Sao Bento Music » Kind of rocking since a bit ago. Satellite Of Love. Scientific Laboratories. Sacred Bones Records — New York, NY, NYC | Zola Jesus Stridulum, Valusia, Gary War, Blank Dogs, Moon Duo, Factums, 13th Chime, Cultural Decay, The Pink Noise & more. SABOTEUR RECORDS. Sabotage records. Sub Pop Records. Spinefarm Records. Storyville Records. Severn Records. SHITKATAPULT ::: NEWS ::: SPECIAL MUSICK FOR SPECIAL PEOPLE. Saddle Creek Records. Sarah Records and Shinkansen Recordings. Hello and welcome to the official home page for Sarah Records and Shinkansen Recordings.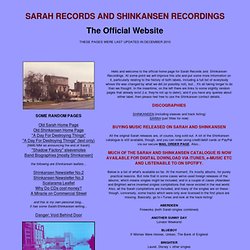 At some point we will improve this site and put some more information on it, particularly relating to the history of both labels, including a full list of everybody whose life was changed by what we did (or possibly not), but... it's all taking longer to do than we thought. In the meantime, on the left there are links to some slightly random pages that already exist (i.e. they're not up to date!)
, and if you have any queries about either label, then please feel free to use the Shinkansen contact details. SHINKANSEN (including sleeves and track listing) SARAH (just titles for now) Shanachie Entertainment. Stax Museum of American soul music artists records exhibits merchandise in Memphis. ++ Stony Plain Records: Canada's Roots, Rock, Country, Folk & Blues Label ++ New Jersey native Rory Block is often hailed as one of the highly regarded blues musicians of her generation.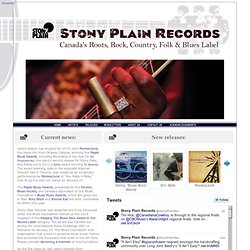 At the age of 15, Block set off on a cross-country hitchhiking road trip to the West Coast (via the South). Along the way she learned more than a few lessons in playing the blues. Her travels took her to meet many of blues' founding fathers. As a performer, she played as many as 250 shows a year during the late 1970s and early 1980s, recording 22 albums and receiving four W.C. Smithsonian Folkways - The nonprofit record label of the Smithsonian Institution. SLAM DISQUES. Smells Like Records | A Record Label. Soul Jazz Records. Str8line Records. Sun Studio.
---