I : Music Label
Areal records. Interscope Records | Interscope.com. Mercury. IDEM ::: site officiel ::: dub electro rock. Ivy League | News. The brand new video for The Rubens' single 'Don't Ever Want To Be Found' was directed by Andrew Lancaster and shot on Super 8 film in the band's hometown of Menangle in rural New South Wales.
The clip's director had this to say about the process: "Being The Rubens' first clip, I wanted the video for 'Don't Ever Want To Be Found' to have a lot of raw energy and a home grown feel. In The Nursery Home Page. Independiente. Institubes. Ipecac Recordings. Island. [ intr.version ] Welcome to Indelible records, Indie music Producer. In The Red Records. Important Records. I M P E R I A L. Illegal Art. The Keystone Cutups - DVD People Like Us & Ergo Phizmiz - Moon "This work explores the relationships between early silent-comedy and early avant-garde cinema.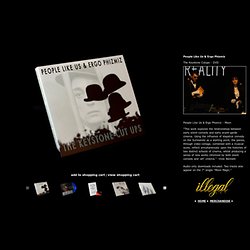 Using the influence of slapstick comedy on the Surrealists as a starting point, the pieces, through video-collage, combined with a musical score, reflect simultaneously upon the histories of two distinct schools of cinema, whilst producing a series of new works informed by both silent comedy and 'art' cinema. " -Vicki Bennett Audio-only downloads included.
Ici, d'ailleurs... le site. I wish i was unpopular. Interscope Records | Interscope.com. IFRAN le label.
---