E : Music Label
ENRAGE PRODUCTION ### LABEL ROCK INDEPENDANT ###
ensemble 770, online record label
www.energiserecords.com
- EQVILIBRIVM -
...E.L.P ! RECORDS
"Classic songwriting skills, smooth sultry vocals, and the ability to whip up a storm with a fiery slide guitar. Very few can boast this set of trump cards, but it just happens to be the hand dealt to Australian singer, songwriter and guitarist Kara Grainger, who exhibits an effortlessly seductive and modern take on roots, blues and soul music." - Americanaroots.com "As a vocalist, Grainger has a throaty register that distinctly recalls Bonnie Raitt" – Austin Music Source "What an amazing talent she is. The Australian born singer/songwriter has been cranking out her soulful blend of blues and folk for several years and is just now starting to receive some long overdue acclaim here in the States... She plays with passion and grace...This is someone you're going to hear a lot about." - Vinylpile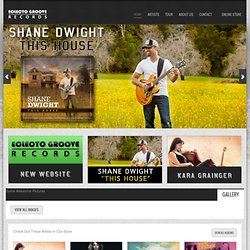 :::::::::: ECLECTO GROOVE RECORDS :::::::::::
::Elefant Records::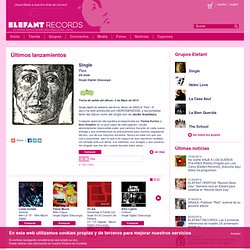 Single Rea ER-D040Single Digital (Descarga)
Crystal Math Music Group
Earwigmusic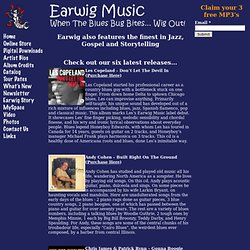 Grady Champion - Back In Mississippi Live at the 930 Blues Cafe (Purchase Here) Grady Champion, grew up on a farm in Canton, Mississippi. He released his debut album, Goin' Back Home in 1998, drawing ever-larger crowds to blues clubs around Florida and Mississippi before signing with Shanachie Records, for which he did two albums, in 1999 and 2001. From the inception of his career as a blues performer, Champion has sought to tackle new lyrical themes with his original compositions. He is a charismatic performer, poised to bust out worldwide, with the international release on the Earwig Music label, of his cd Back in Mississippi Live. David Whiteis of the Chicago Reader had this to say about Grady in 1999, "…His greatest strength is his voice, a tough, raspy mix of youthful swagger and wounded weariness … He's one of the most eloquent blues songwriters coming up today, making music that combines emotional depth and unrestrained celebration …"
Echokammer
ecmrecords
Ecstatic Peace! Home
Egone (éditions)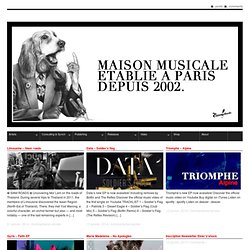 Limousine's new EP is now avalaible! Including remixes by Joakim and Polo & Pan Discover this EP on Youtube TRACKLIST 1 – Boonghusa 2 – Luk thung 3 – Boonghusa (Polo & Pan Remix) 4 – Boonghusa (Joakim Remix) Buy digital on iTunes Listen on Spotify Listen on Deezer Data's new EP is now avalaible! Including remixes by Bottin and The Reflex Discover the official music video of the first single on Youtube TRACKLIST 1 – Soldier's Flag 2 – Patriots 3 – Desert Eagle 4 – Soldier's Flag (Club Mix) 5 – Soldier's Flag (Bottin Remix) 6 – Soldier's Flag (The Reflex Revision) […] Triomphe's new Single is now avalaible! Discover the official music video on Youtube Buy digital on iTunes
EKLEROSHOCK | Home
Electro-Fi Records
Elektra Records | Official Website: Photos, Blog, Videos, Interactive, Music and more. - Elektra.com
Emergence Music - News
Grace Jones to Release Remastered 'Nightclubbing' Album released on April 28 internationally (April 29 in US) is re-mastered for first time and available in variety of formats ... The Chainsmokers, Republic Records, And Dim Mak Records Take a "#SELFIE" On Tour Across the United States Now The scorching New York City electronic dance music duo of Andrew Taggart and Alex Pall is... Wilko Johnson and Roger Daltrey to Release 'Going Back Home' Album Released on Chess Records March 24 Internationally Wilko Johnson , legendary guitarist with Canvey Island pub rock pioneers...
EMOLUTION records
enemy forces recordings
Equal Vision Records
Ancient Astronauts The Orion Nebula Remixes Kabanjak and Dogu, aka Ancient Astronauts, hailing from Cologne/Germany are back with a heavy load of remixes on The Orion Nebula Remixes, out on April 10, 2012. After the release of internationally critically acclaimed album Into Bass And Time (their second album for ESL Music) they joined forces with some of their favorite producers and remixers, which resulted in a roster full of quality remixes. The selection of fine reinterpretations starts with a funked up boom bap remix of Oblivion feat. Azeem & DJ Zeph by Chicago based producer Maker (from the group Qwel & Maker), which is full of Indian influences and features fat rocking drums.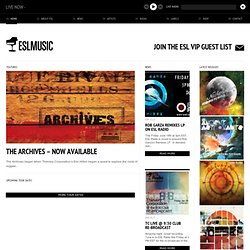 ESL Music
ESP-Disk'
ever records
Everloving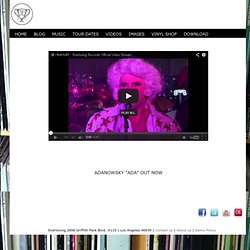 The Entrance Band Face The Sun The Entrance Band's long awaited new album is finaly due out November 19th on Beyond Beyond is Beyond. Since 2009's self titled album on Ecstactic Peace! the band has been growing in legend and a few eps have been circulating but there hasn't been a full fledged new album and tour in some time.
expanding records
Index of /frvsens
News | Eglantine Records | DIY indie music label
The Ex