B : Music Label
Base009.com. BANTER MEDIA & MANAGEMENT. Banned production. Band Together Records. .:. Banazan Records .:. Banana bread records )) Learn the Sitar, Tabla, harmonium, dholak, Raga theory, tanpura, veena, Hindustani Sangeet and other elements of Indian Music theory and Practice. Based On Bass :: Urban Drums - SF Ragga Jungle Turntablism, Dubplate Culture - BasedONBass.com // SFRaggaJungle.com // San Francisco. Bastet Recordings. Buckyball Music. Blue Earth Records - Nashville music video production company and independent record label - music video production, promotion, company, production services in Nashville for independent artists, musicians, companies, budget, bands, music video director in. BLISS/AQUAMARINE - ALTERNATIVE, UNDERGROUND AND INDIE MUSIC. Blind Pig Records. BLACK EYE RECORDS - WHERE THA HIP HOP IS HOT !! - Home. BandMinusLabel - The Worlds BEST Unsigned & Independent Label Bands & Artists. Bartleby Records - Bartleby Records. B.y_records | label musical belge indépendant et éclectique basé à Bruxelles, Belgique.
BTV//notching our guitars//two thousand eleven//from the future. Burningheart.com. BMC Records Official Website. Buback Tontrager Downloads at Trackitdown. Brume Records. Brilliante Records. Brille. Breakinbeats.co.uk. Brassland | Home. Bpitchcontrol. Boxson - Un label MVS Records ! Rimbaut (Rimbaut) Victory (The Dukes) Croisille (Nicole Croisille) La Route (Evie)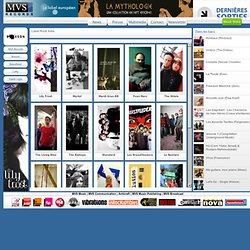 Border community recordings. Jean-Jacques BIRGÉ. Broke & Hungry Records. Brennus Music : label heavy mélodique français. BLUESIAC : le blues (en) fr. Blues Express® Records. Bar/None Records. Beggars Group. Bonus Tracks Records - HEARTBREAK HOTEL, THE PARISIANS, YAROL, PARIS CALLING, THE MANTIS... B o u c h e r i e   P r o d u c t i o n s. Big Dada Official Site. Bluesweb.com | Dixiefrog. Better Looking Records - Home. BASEMENT. BELLA UNION. Badman Recording Co. | an Independent label and production company in Portland, Oregon. Bedroom Community. Betacorn - Music Production - Record Label. Best Before Records: News. Banquet. Because Music. BCore Disc | Label & Mailorder | Indie/Punk/Hardcore.
Barsuk records home. Bad Afro Records. Bad Taste Records. Boompa | Listen to your Boompa! Boomboomtchak ! Records. Bone Voyage Recording Company. Blue Note Records. Welcome to Blow Up! Home to Blow Up Records, Blow Up Club, Blow Up Songs & The Blow Up Metro Club Venue. Bloodshot Records. Label bleu - Indigo- Bleu electric. Blanco Y Negro Music - Main.
---