Music Retail Related
West L.A. Music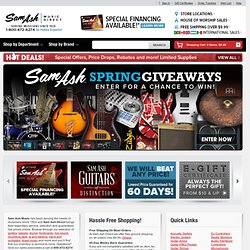 Sam Ash Music has been serving the needs of musicians since 1924 and Sam Ash Direct brings their legendary service, selection and guaranteed low prices online. Browse through our selection of guitars, basses, drums, keyboards, live sound, recording gear, dj and lighting, band and orchestra, sheet music and more and you'll find that our inventory is second to none. Questions? Give our sales associates a call at 800-472-6274 between 9AM and 11PM EST or chat with them online. They're musicians just like you and standing by to help you find the product that best suits your needs.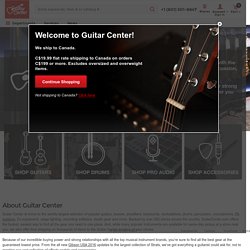 Guitar Center is home to the world's largest selection of popular guitars, basses, amplifiers, keyboards, workstations, drums, percussion, microphones, PA systems, DJ equipment, stage lighting, recording software, studio gear and more. Backed by over 250 stores across the country, GuitarCenter.com offers the fastest, easiest way to find all the gear you need in one place. And, while many popular instruments are available for same-day pickup at a store near you, we also offer free shipping on thousands of items to the Guitar Center location of your choice. Because of our incredible buying power and strong relationships with all the top musical instrument brands, you're sure to find all the best gear at the guaranteed lowest price. From the Gibson Les Paul to the Fender Stratocaster, we've got everything a guitarist could ask for, not to mention our vast collection of effects pedals and accessories.
BC Cases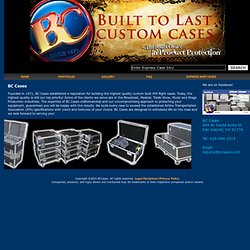 Founded in 1971, BC Cases established a reputation for building the highest quality custom built ATA flight cases. Today, the highest quality is still our top priority! Some of the clients we serve are in the Broadcast, Medical, Trade Show, Music and Stage Production industries. The expertise of BC Cases craftsmenship and our uncompromising approach to protecting your equipment, guarantees you will be happy with the results.
Odyssey Gear