Musées Pennsylvania Museums
The Palmer Museum of Art at Penn State University
The Everhart Museum of Natural History, Science & Art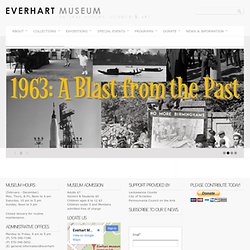 (February - December) Mon, Thurs, & Fri, Noon to 4 pm Saturday, 10 am to 5 pm Sunday, Noon to 5 pm Closed January for routine maintenance. Monday to Friday, 9 am to 5 pm (P) 570-346-7186 (F) 570-346-0652 (E) general.information@everhart-museum.org CLOSED FOR THESE HOLIDAYS Easter, July 4th, Thanksgiving, Christmas Day, New Years Day
Reading Public Museum: General
College - the Freedman Gallery
Nancy Sarangoulis, the Gallery's collections manager, was selected for a five-week residency program with Raghurajpur International Art/Craft Exchange in Orissa, India. The program ran from Oct. 11-Nov. 20, 2012. Read more about Nancy's experience in the current issue of The Reporter. Erin Riley-Lopez, curator of the Freedman Gallery, recently contributed an article to the popular Art 21 Blog, check it out here. In May 2012, the Freedman Gallery loaned six artworks by Leonid to the Moscow Museum of Modern Art in Russia for the exhibition Leonid Sokov: Point of View. In addition, the Zimmerli Art Museum, Rutgers University, has borrowed four more of our works by Sokov.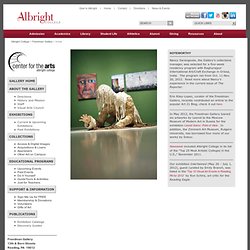 Splash
The Mattress Factory Art Museum
Frick Art & Historical Center | Welcome
Carnegie Museum of Art
Woodmere Art Museum
Rosenbach Museum and Library
Rodin Museum
In the galleries or along the garden paths, this tranquil oasis on Philadelphia's renowned Benjamin Franklin Parkway is one of the world's great places in which to experience the work of celebrated French sculptor Auguste Rodin. Anytime is a perfect time to visit. Planning Your Visit >> Open to the public in 1929, this remarkable ensemble of architecture, landscape, and sculpture, designed by architect Paul Cret and landscape architect Jacques Gréber, is now restored to its original splendor. We invite you to experience Rodin's art in the galleries and gardens, ever-changing with the seasons. About the Museum >>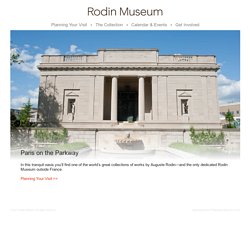 Philadelphia Art Alliance - Contemporary Craft and Design
Home | Pennsylvania Academy of the Fine Arts | Museum and School | 1805
National Liberty Museum
The Galleries at Moore - THE GALLERIES AT MOORE
La Salle University : Art Museum
ICA: Institute of Contemporary Art, Philadelphia
Fabric Workshop and Museum
Arthur Ross Gallery
2600 Benjamin Franklin Parkway, Philadelphia, PA 19130 215-763-8100 Tuesday–Sunday: 10:00 a.m.–5:00 p.m. Wednesday & Friday: Main building open until 8:45 p.m. Closed Monday except for some holidays Explore upcoming events, including performances, films, tours, lectures, and classes. Save programs, set reminders for yourself, or let your family and friends know about Museum happenings with My Calendar.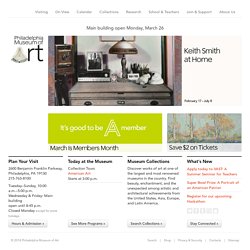 The Barnes Foundation
Welcome to Lancaster Museum of Art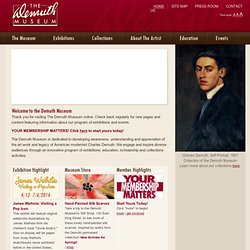 Thank you for visiting The Demuth Museum online. Check back regularly for new pages and content featuring information about our program of exhibitions and events. YOUR MEMBERSHIP MATTERS! Click here to start yours today! The Demuth Museum is dedicated to developing awareness, understanding and appreciation of the art work and legacy of American modernist Charles Demuth.
The Demuth Museum - Home
SAMA - Home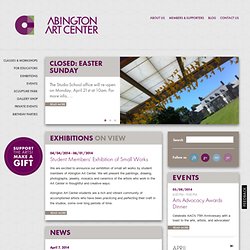 We are excited to announce our exhibition of small art works by student members of Abington Art Center. We will present the paintings, drawing, photographs, jewelry, mosaics and ceramics of the artists who work in the Art Center in thoughtful and creative ways. Abington Art Center students are a rich and vibrant community of accomplished artists who have been practicing and perfecting their craft in the studios, some over long periods of time.
Abington Art Center
News We are very pleased that Roy Young, Curator of Education at the Frank Lloyd Wright-designed Fallingwater in southern PA, is teaching a course in Museum and Community Partnering for Juniata College during the Fall semester, 2013. In the course, students learn to identify a unique quality or attribute of the Museum's Collection and combine this with a need in the Huntingdon community, to create an equitable partnership with a local organization. The student will develop a relationship with their chosen organization, develop programming, and produce a budget; the finished product will be a fully-realized community-based educational outreach project highlighting the resources of the Juniata College Museum of Art. "Minna Citron: The Uncharted Course from Realism to Abstraction", an exhibition developed by JCMA curator Jennifer Streb in collaboration with the artist's granddaughter, Christiane H.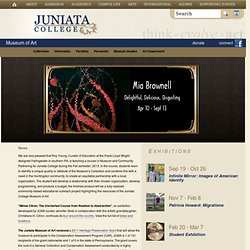 College - Museum of Art
Welcome to The State Museum of Pennsylvania
In the event of a weather emergency, please call 717-787-4980 for the latest update on the Museum's status. Adjacent to Pennsylvania's State Capitol building in Harrisburg, The State Museum offers exhibits and exquisite collections interpreting the state's fascinating heritage. From the dawn of geologic time, to the Native American experience, colonial and revolutionary beginnings, and a pivotal Civil War battleground through the Commonwealth's vast industrial age,The State Museum demonstrates that Pennsylvania's story is America's story. The State Museum of Pennsylvania is open Wednesday - Saturday 9:00 AM - 5:00 PM Sunday 12:00 Noon - 5:00 PM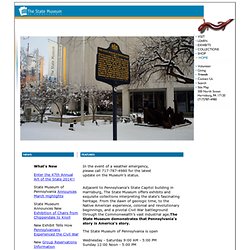 Westmoreland Museum of American Art - Take a fascinating look at American history through the eyes of great American artists.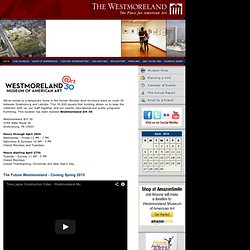 We've moved to a temporary home in the former Stickley-Audi furniture store on route 30 between Greensburg and Latrobe. This 30,000 square foot building allows us to keep the collection with us, our staff together, and our events, educational and public programs humming. This location has been dubbed Westmoreland @rt 30. Westmoreland @rt 30 4764 State Route 30 Greensburg, PA 15601
Erie Art Museum
James A. Michener Art Museum: Doylestown, Bucks County
Named for the late philanthropists Philip and Muriel Berman, the Berman Museum of Art at Ursinus College is regarded as one of the nation's finest small college art museums. The museum program is fully accredited by the American Association of Museums and houses over 4,000 paintings, prints, drawings, sculpture, decorative, and cultural objects representing a broad array of art historical genres. In addition, a spectacular collection of large-scale outdoor sculpture is integrated throughout the living and learning environment of the 170-acre campus, making it an ideal place to study, stroll and contemplate. Since opening in 1989, the museum has offered a diversity of exhibitions and programming which have educated, influenced, and served as a cultural resource for the community in the Tri-state region. With over 30,000 visitors annually, the Berman Museum has enriched the fabric of the community and redefined liberal learning at Ursinus College.
Berman Museum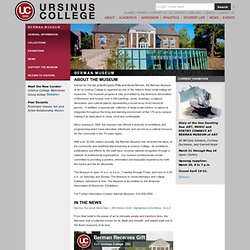 University :: Art Collection & Gallery
Brandywine River Museum - N. C. Wyeth, Andrew Wyeth, Jamie Wyeth, Wyeth, American illustration
Glencairn Museum - Home
Suzanne H. Arnold Art Gallery - Home Page
Allentown Art Museum