1994 Group
1994 group website
Following our last HE Briefing on support for high-cost subjects , the 1994 Group have produced a briefing on the decline in the number of students studying part-time (PT). This Briefing stems from concerns that the number of students studying part-time has dropped significantly in the past few years. The recent HEFCE report on the " Impact of the 2012 reforms " states that: "Since 2010-11, part-time undergraduate entrants have fallen by 105,000 (40 per cent), while on postgraduate programmes the fall was 25,000 (27 per cent)."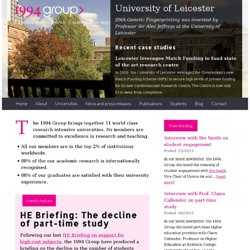 The University of York
University of Surrey
University of Exeter
The School of Oriental and African Studies (SOAS) - University of London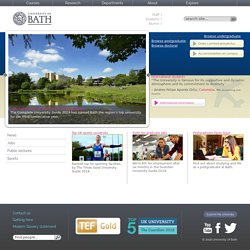 Tell us about your experience on a mobile device University of the Year for Student Experience We've been awarded 'University of the Year for Student Experience' by The Times and The Sunday Times Good University Guide 2014. Find the right programme for you: Order a printed prospectus Browse undergraduate Browse postgraduate Accommodation on campus
University of Bath - The Sunday Times University of the Year 2011-12
Birkbeck
Welcome to the University of East Anglia
The University of East Anglia (UEA) is the number one university in the UK for student satisfaction in the 2013 Times Higher Education Student Experience Survey. An internationally renowned university based on a distinctive and attractive campus, in the historic city of Norwich, we pride ourselves on the excellent academic, social and cultural facilities which we offer to over 15,000 students. UEA is ranked in the top 1% of HE institutions in the world and is a leading member of the Norwich Research Park, one of Europe's biggest concentrations of researchers in the fields of environment, health and plant science.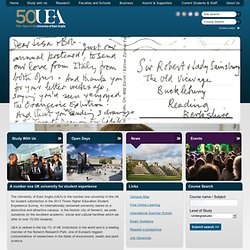 Home
University of Essex
Three reasons to choose Essex Live and learn Being an Essex student offers a unique experience of living and learning, sending you on an unforgettable journey that will shape your future. World-class experience You will learn in a modern, challenging and stimulating environment of world-class research and high-quality teaching by top academics who are leaders in their fields.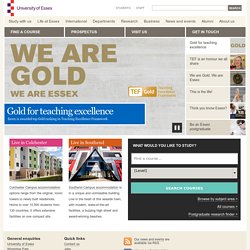 A world top 100 University
University of St Andrews - Scotland's first university, founded 1413
Study at Reading Join the top 1% When you become a student with us, you will be joining an institution that is in the top 1% of the world's universities, according to the Times Higher Education World University Rankings 2013. Find out about studying at Reading Life at Reading Life on our award-winning campus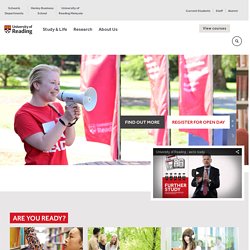 Queen Mary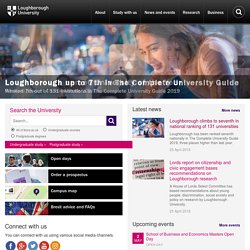 Loughborough University
Accessibility | Privacy | Cookies | Getting in touch | How to find us Loughborough University Leicestershire, UK LE11 3TU +44 (0)1509 222222 Welcome to Loughborough University Information for... Search the University Features
Royal Holloway, University of London home
University of Leicester
Welcome to Lancaster University