Movies
Cannes 2014 - Seleção Oficial 2014: filmes em competição - Cinemax. Academy Award for Best Documentary Feature. The Academy Award for Documentary Feature is an award for documentary films.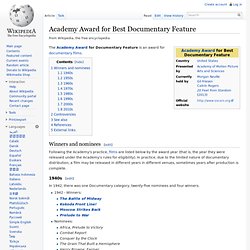 Winners and nominees[edit] Following the Academy's practice, films are listed below by the award year (that is, the year they were released under the Academy's rules for eligibility). 22 TV shows to watch in 2014. Best Romance Movies For Guys - Films. Not that we like to conform to gender stereotypes but typically, guys aren't drawn to films which have the word 'romantic' in the description.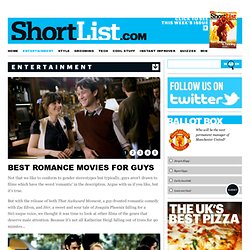 Argue with us if you like, but it's true. But with the release of both That Awkward Moment, a guy-fronted romantic comedy with Zac Efron, and Her, a sweet and sour tale of Joaquin Phoenix falling for a Siri-esque voice, we thought it was time to look at other films of the genre that deserve male attention. The 13 Best Movies You Didn't See in 2013 | Underwire. Look.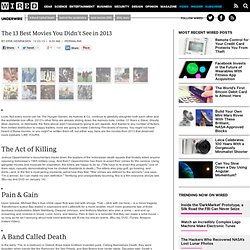 Not every movie can be The Hunger Games. As Katniss & Co. continue to gleefully slaughter both each other and the worldwide box office, 2013's other films are already sliding down the memory hole. Unlike 12 Years a Slave, Gravity, Blue Jasmine, or Nebraska, the films above aren't necessarily going to win awards. Books Vs Films: The Infographic - Entertainment. We're going to be bold: films will never, ever be a patch on the power of the imagination filtered through the pages of a book.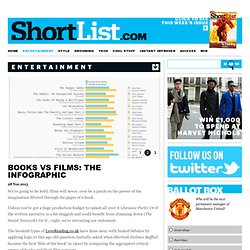 Unless you've got a huge production budget to splash all over it (Jurassic Park). Or if the written narrative is a bit sluggish and could benefit from slimming down (The Social Network). Totally Fucked Up: Films That Disturb and Offend list. I don't know why, but I'm attracted to films that are messed up and disturbing/sickening.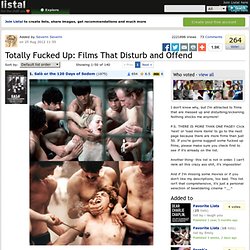 Nothing shocks me anymore! P.S. THERE IS MORE THAN ONE PAGE!! Cult Movies - Top 10 List - Top Ten List - Top 10 Films About Nonconformists - Nonconformity Quotes - Nonconformist Quotes - Nonconformists in Film - Barfly. Top 10 Films About Nonconformists "This is a world where everybody's gotta do something.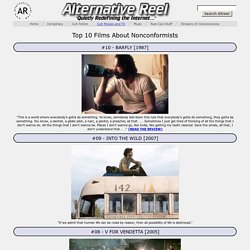 Ya know, somebody laid down this rule that everybody's gotta do something, they gotta be something. You know, a dentist, a glider pilot, a narc, a janitor, a preacher, all that . . . Sometimes I just get tired of thinking of all the things that I don't wanna do. All the things that I don't wanna be. THE BEST DOCUMENTARY FILMS MOVIES EVER ! - a list by panerai. 50 Best Movies Of 2012. The 30 Best Films of the Decade - Part 3. We're all in that humanistic mode of evaluating our lives – coming up on the end of the year and the last time a zero will be the third digit on our calendars.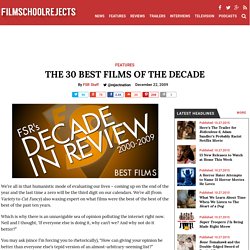 We're all (from Variety to Cat Fancy) also waxing expert on what films were the best of the best of the best of the past ten years. Which is why there is an unnavigable sea of opinion polluting the internet right now. Neil and I thought, 'If everyone else is doing it, why can't we? The 50 Greatest Cult Movies of All Time. It's midnight somewhere.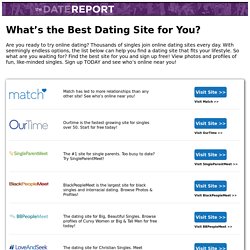 By Phil Nugent and Andrew Osborne "Cult movie" is a hard thing to pin down. For the purposes of this list — celebrating the tenth anniversary of Donnie Darko — we've put a premium on the intensity and selectiveness of a movie's appeal. Quentin Tarantino's Top 10 Films of 2013 - SO FAR - The Quentin Tarantino Archives. You might remember Quentin's list of favorites of 2010 and 2011, and so many of you have mailed us and asked about last year.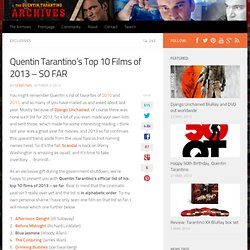 Mostly because of Django Unchained, of course there was none such list for 2012. So a lot of you even made your own lists and sent those, which made for some interesting reading. I think last year was a great year for movies, and 2013 so far continues this upward trend, aside from the usual fiascos (not naming names here). So it's the fall, Scandal is back on (Kerry Washington is amazing as usual), and it's time to take inventory…. drumroll… 25 Spectacular Movies You (Probably) Haven't Seen. Midnight in Paris Woody Allen's latest places starving writer Owen Wilson in Paris with his fiancée, Rachel McAdams.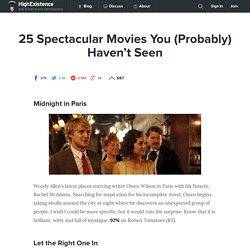 Searching for inspiration for his incomplete novel, Owen begins taking strolls around the city at night where he discovers an unexpected group of people. I wish I could be more specific, but it would ruin the surprise. Know that it is brilliant, witty and full of mystique. 92% on Rotten Tomatoes (RT). The 50 Best Movies on Netflix. We love the convenience of streaming movies on Netflix Instant, but we don't always love the navigating through the countless films in the service's ever-expanding catalog to find something to watch. So we've compiled our list of recommended titles for you—whether you love classics, comedies, documentaries or just good ol' fashioned kung-fu.
The genres vary greatly here—and range in age from brand new to 87-years-old—but all 50 of these films come with the Paste stamp of approval. The list is up to date as of February 2013, but we'll continue to update the list from time to time as Netflix Instant changes its offerings. 50. In the LoopYear: 2009Director: Armando Iannucci If clever verbal humor were easy, we'd have more comedies like In the Loop.
---