Movies
AVIAddXSubs. Add XSUB subtitles in avi files. Create idx/sub for any video file. PLEASE NOTE!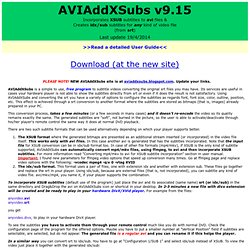 NEW AVIAddXSubs site is at aviaddxsubs.blogspot.com. Update your links. AVIAddXSubs is a simple to use, free program to subtitle videos converting the original srt files you may have. Its services are useful in cases your hardware player is not able to show the subtitles directly from srt or even if it does the result is not satisfactory. Using AVIAddXSubs and converting the srt you have a variety of options to configure the subtitles as regards font, font size, color, outline, position, etc. Torrents Search. Kickass Torrents. Pirate Bay. Movie Database. LEGENDAS.TV -
Legendas - baixe legendas DivX do maior banco de dados aberto de legendas. Download de Legendas para Filmes DivX.
Covers
---