Movies & TV
Wtime : Home. Channel :: TV Listings :: Daily Schedule. All times et/pt Thursday April 10 FBI: Criminal Pursuit (Season 2) Stolen Innocence Eight-year-old Sandra Cantu is playing outside her mobile home in Tracy, California when she vanishes into thin air.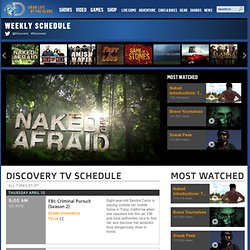 FBI and local authorities race to find her and discover her abductor lives dangerously close to home. TLC Videos. Postvak IN - johan.hessels - Gmail. TV Underground. StreamIT - tv rewwwolution. TVBLOB.
---
gilmore74 Mar 30 2013

Thanks. I love movies and looking forward to exploring the Pearltree site from time to time.

krr48 Mar 30 2013

This is cute I hope to get a lot of friends here!
---