Movies lists
Top 250
The scene was not unlike 12 Angry Men (or, in this case, 3 Shlubby Men, 1 Exasperated Woman, And A Dude On Speaker Phone From Arkansas): Armed with lists of their favorite movies of the decade, the five core A.V. Club film writers spent days sequestered in a stuffy, un-air-conditioned room—okay, it was actually just a few hours, and we were comfortable—in an effort to forge consensus on the Top 50 films of the '00s.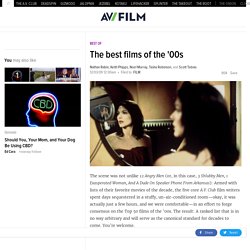 The best films of the '00s | Film
For better or worse, 2011 will go down as the Year of the Showrunner. It all began with Chuck Lorre becoming a household name for all the wrong reasons.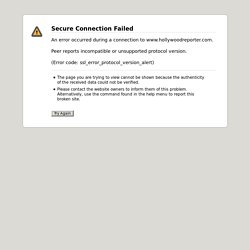 Top 50 Power Showrunners 2011
El árbol genealógico de las películas de Steven Spielberg – Cine – Noticias, última hora, vídeos y fotos de Cine en lainformacion
Filmography 2011
The 15 Best Upcoming Movies Based On Books: Pics, Videos, Links, News
Best Movies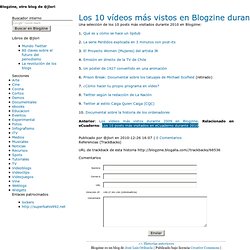 Blogzine, el videoblog de @jlori
Blogzine, otro blog de @jlori Buscador interno Libros de @jlori Secciones ArteCineCocinaCortosDemosDocumentalesebooksEducacionEventosExperimentalFotosInfográficosiTVMediosMusicalesNoticiasRecursosSpotsTutorialesTVVideoblogsVideoclipsVideojuegosVineWeblogsWidgets Enlaces patrocinados
Empire's 500 Greatest Movies Of All Time
Empire Features - StumbleUpon
Greatest Films - The Best Movies in Cinematic History
Great Films (1970-1979) - a list by KMairowitz
Europa Film Treasures
Best French films of the 2000s
Coup de rétroviseur sur les déjà lointaines années 90. Pourquoi pas, à l'heure où fleurissent sur internet les listes les plus incongrues.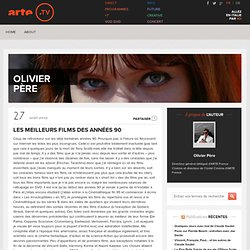 Les meilleurs films des années 90 | Olivier Père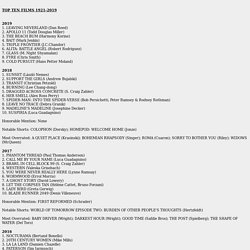 Top Ten Films 1930-2011
2013 1. BLUE JASMINE (Woody Allen) 2. BEFORE MIDNIGHT (Richard Linklater) 3. THE CONJURING (James Wan) 4. UPSTREAM COLOR (Shane Carruth) 5. THE WORLD'S END (Edgar Wright) 6.
Top Ten Films 1930-2009
It's midnight somewhere. By Phil Nugent and Andrew Osborne "Cult movie" is a hard thing to pin down. For the purposes of this list — celebrating the tenth anniversary of Donnie Darko — we've put a premium on the intensity and selectiveness of a movie's appeal. We've also limited each director to one film.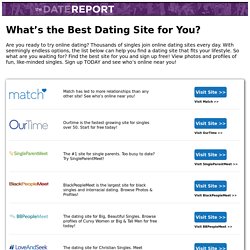 The 50 Greatest Cult Movies of All Time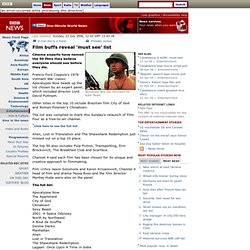 Entertainment | Film buffs reveal 'must see' list
Cinema experts have named the 50 films they believe everyone should see before they die. Francis Ford Coppola's 1979 Vietnam War classic Apocalypse Now heads up the list chosen by an expert panel, which included director Lord David Puttnam. Other titles in the top 10 include Brazilian film City of God and Roman Polanski's Chinatown.
The 100 Best Films Of World Cinema | 100. Night Watch | Empire | www.empireonline.com - StumbleUpon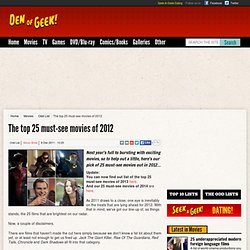 The top 25 must-see movies of 2012 - Den of Geek - StumbleUpon
Update: You can now find out list of the top 25 must-see movies of 2013 here.And our 25 must-see movies of 2014 are here. As 2011 draws to a close, one eye is inevitably on the treats that are lying ahead for 2012. With that in mind, we've got our line-up of, as things stands, the 25 films that are brightest on our radar. Now, a couple of disclaimers. There are films that haven't made the cut here simply because we don't know a fat lot about them yet, or at least not enough to get us fired up.
Personally, I thought the first year of the new decade to be rather lacklustre as far as cinema goes. The sheer volume of reckless, morally inept comedies and action films was overwhelming. Fellow author Adam Fay said it best last year when, in his piece on Christopher Nolan's Inception stated, "While there is no doubt that this is a standout film, the over-the-top gushing of praise strikes me to be less about the strength of the actual film and more about the pitiful films it shares multiplex space with."
2010 - The Year In Film | GritFX T-Shirts Magazine - StumbleUpon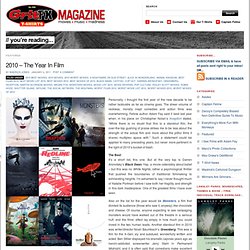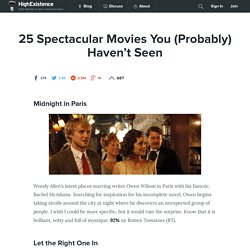 25 Spectacular Movies You (Probably) Haven't Seen
Midnight in Paris Woody Allen's latest places starving writer Owen Wilson in Paris with his fiancée, Rachel McAdams. Searching for inspiration for his incomplete novel, Owen begins taking strolls around the city at night where he discovers an unexpected group of people. I wish I could be more specific, but it would ruin the surprise. Know that it is brilliant, witty and full of mystique. on Rotten Tomatoes (RT).
The best teen movies reflect modern youth culture and alter it—they transform the vernacular, fashion, and the trajectory of the genre itself. They are original and smart (even mid-dick joke). Some are raunchy comedies, some are stark dramas, some defy classification, but all are unflinchingly honest (even mid-dick joke). Though they very seldom win awards, the best teen movies usually compel repeat viewings and somehow seem to intuit the needs and tastes of generations to come. Here are 15 of the decade's most memorable explorations of all the intrinsic charms and traumas of teendom. Most likely to influence future filmmakers: Brick (2005)
The Lost Generation: A Decade of Teen Movies
List of lost films
Films may go missing for a number of reasons. One major contributing factor is the common use of nitrate film until the early 1950s. This type of film is highly flammable, and there have been several devastating fires, such as the 1937 Fox Pictures storage vault fire and the 1967 MGM Vault fire.[1] Black-and-white film prints judged to be otherwise worthless were sometimes incinerated to salvage the meager scrap value of the silver image particles in their emulsions.[2] Films have disappeared when production companies went bankrupt.[2] Occasionally, a studio would remake a film and destroy the earlier version.[2] Silent films in particular were once seen as having no further commercial value and were simply junked to clear out expensive storage space.[3]
10 Best Movies of 2011
The 50 Best Movies of 2011
Page 1 of 5 From the smallest art films to the biggest blockbusters, documentaries and narratives from more than a dozen different countries, we present the 50 best movies of 2011. 50.
The 50 Greatest Cult Movies of All Time
My 100 Must-See Movies - a list by taniasalinas8 - StumbleUpon
The best movies evoke tears, laughter, terror, reminiscence, and/or mystery in a truly personal way. Anything less (AKA, around 98% of all movies) serves no purpose other than to shove mindless, forgettable fodder in our face and line Hollywood's pockets (Be afraid Michael Bay, be VERY afraid). This is that other, sacred 2%—the Holy Grail of cinema. Note: "Memorable Moments" may contain spoilers. 100. Pirates of the Caribbean: The Curse of the Black Pearl (2003)
Top 100: Best Movies (of All-Time) | Lifed - StumbleUpon
The 50 Most Controversial Films - Sky Movies HD
Greatest Films - The Best Movies in Cinematic History
What are some movies that people thought would be awful, but actually weren't
You Missed It: Most Unfairly Overlooked Movies Of The Decade
33 Movies To Watch When You're Sad, Glum Or Bummed Out
Independent Comedy Movies and Films - Indie Comedies
The 20 Best Cartoons Of The 90's