Lists | Ranking | classification tests (+/-successful^^)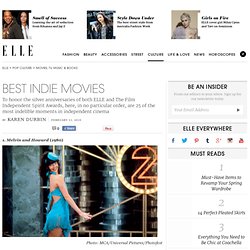 Best Independent Films – 25 Best Independent Movies of All Time – ELLE
1. Melvin and Howard (1980) Photo: MCA/Universal Pictures/Photofest Mary Steenburgen plays a sassy stripper in Jonathan Demme's early comedy. When her jealous mate incites her boss to fire her, she whips off her costume and sashays out of the room in nothing but heels. 2.
100 Best Movie Soundtracks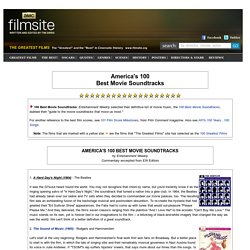 1. A Hard Day's Night (1964) - The Beatles It was the G7sus4 heard 'round the world.
Top 15 Indie Films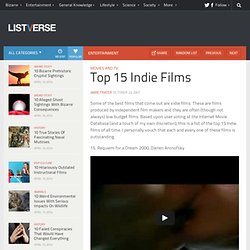 Movies and TV Some of the best films that come out are indie films. These are films produced by independent film makers and they are often (though not always) low budget films.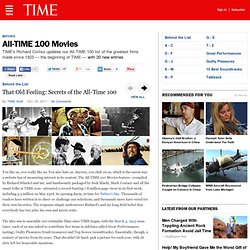 You like us, you really like us.
ALL-TIME 100 Movies - TIME
The Best 1,000 Movies Ever Made - Reviews - Movies
The best films of the '00s | Film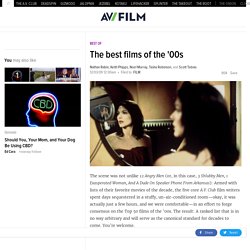 The scene was not unlike 12 Angry Men (or, in this case, 3 Shlubby Men, 1 Exasperated Woman, And A Dude On Speaker Phone From Arkansas): Armed with lists of their favorite movies of the decade, the five core A.V. Club film writers spent days sequestered in a stuffy, un-air-conditioned room—okay, it was actually just a few hours, and we were comfortable—in an effort to forge consensus on the Top 50 films of the '00s. The result: A ranked list that is in no way arbitrary and will serve as the canonical standard for decades to come. You're welcome.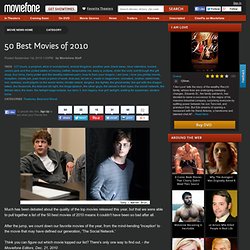 50 Best Movies of 2010
Much has been debated about the quality of the top movies released this year, but that we were able to pull together a list of the 50 best movies of 2010 means it couldn't have been so bad after all. After the jump, we count down our favorite movies of the year, from the mind-bending 'Inception' to the movie that may have defined our generation, 'The Social Network.' Think you can figure out which movie topped our list?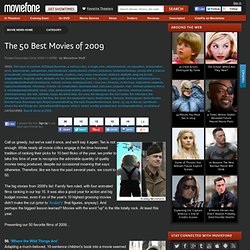 The 50 Best Movies of 2009
Call us greedy, but we've said it once, and we'll say it again: Ten is not enough. While nearly all movie critics engage in the time-honored tradition of ranking their picks for 10 best flicks of the year, we prefer to take this time of year to recognize the admirable quantity of quality movies being produced, despite our occasional moaning that says otherwise. Therefore, like we have the past several years, we count to 50.
The 100 Best Movies of the Noughties: the best films released in the UK from 2000-2009
The 50 Best Movies of the Decade (2000-2009)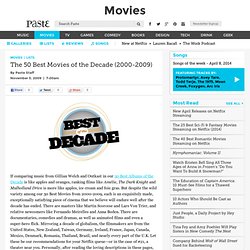 Page 1 of 5
Most movie critics make it an annual tradition to rank their top 10 films of the year. We think that's way too limiting -- what with instantly classic superhero flicks ('The Dark Knight,' 'Iron Man'), top-notch comedies ('Tropic Thunder,' 'Role Models'), fantastic family fare ('WALL-E,' 'Kung Fu Panda') and must-see Oscar contenders ('Milk,' 'Slumdog Millionaire') all in the running. Believe it or not, we've got 42 more where those came from ... Presenting our third annual list of the year's 50 best movies. 50. 'Indiana Jones and the Kingdom of the Crystal Skull' The alien-themed plot (not to mention that scene where Shia LaBeouf channels Tarzan) incurred the wrath of some diehard Indy fans -- and earned the flick a hilariously controversial send-up courtesy of 'South Park.'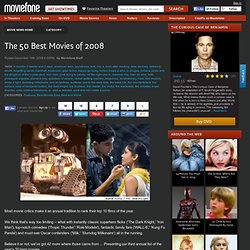 The 50 Best Movies of 2008