Motorcycles
Barsnake.com ©2010 Barsnake LLC. What do the FI Codes in dealer mode mean. 2008 Suzuki SV650 Parts, 2008 Suzuki SV650 OEM Parts. Motorbike Reviews | Motorbike News | Motorcycle Forums. 5 things no-one told you about becoming a biker - Features. The Kneeslider — Motorcycle News for Positive People. Kickboxer Diesel and All Wheel Drive. Kickboxer diesel motorcycle concept by Ian McElroy Remember Ian McElroy's Kickboxer?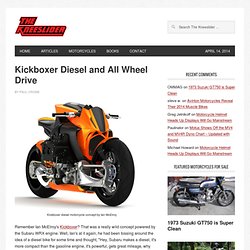 That was a really wild concept powered by the Subaru WRX engine. Well, Ian's at it again, he had been tossing around the idea of a diesel bike for some time and thought, "Hey, Subaru makes a diesel, it's more compact than the gasoline engine, it's powerful, gets great mileage, why not? " So he sat down and got to work. Suzuki SV650 Forum: SV650, SV1000, Gladius Forums. On Your Bike! - SV650.org - SV650 & Gladius 650 Forum. TPS Adjustment Step-by-Step Pictorial Guide - SV650.org - SV650 & Gladius 650 Forum. ThrottlePositionSensor (TPS) Adjustment Step-By–Step Guide **Before undertaking this modification, I strongly recommend that you read the instructions through from start to finish & have them to hand during the process** You will need: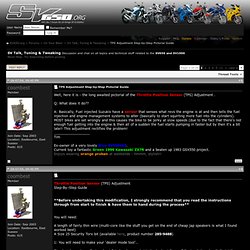 Motorcyclenewsdotcom's Channel. Paddock Stands (Rear) Motorcycle Rear Swingarm Paddock Stand.
---