Mentors
http://michaelhyatt.com/life-plan
BRENDON BURCHARD is the #1 New York Times bestselling author of The Millionaire Messenger and The Charge: Activating the 10 Human Drives that Make You Feel Alive. He is founder of High Performance Academy, the record-setting online video series on personal development, and Experts Academy, the legendary marketing training for authors, speakers, coaches, and online thought leaders. For these works, Brendon has become the highest-paid trainer in the world on the topics of both motivation and marketing, and Anderson Cooper calls him "one of the top business trainers in the world." Brendon was blessed to receive life's golden ticket -- a second chance -- after surviving a car accident in a developing country. His first novel, Life's Golden Ticket, was inspired by his personal transformation and has now been translated into over a dozen languages. Brendon's books, videos, newsletters, products, and appearances inspire two million people a month worldwide.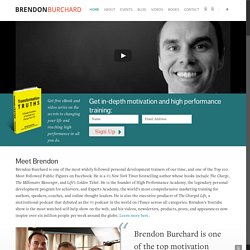 Brendon Burchard, Author The Millionaire Messenger
Rita Emmett - Speaker - Consultant - Facilitator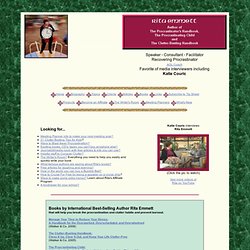 Keep in Touch... Subscribe to Rita Emmett's Anticrastination Tip Sheet Join now and get Rita's Free monthly SHORT email with quick tips and ideas to help you break your procrastination habit. You will receive a free Special Report on "Sure Fire Ways To Eliminate Paper Clutter" that includes "11 Tips To Conquer Paper Clutter".
Trump Organization: Donald J Trump Hotel Collection Resorts Real Estate Casinos Golf Clubs Entertainment Restaurants Merchandise Corporation Company Publications
Nightingale Conant: World Leader in Success, Personal Development and Motivation.
The Courage to Take Action by: Brian Tracy The future belongs to the risk takers, not the security seekers. The more you seek security, the less of it you will have — and the more you pursue opportunity, the more security you will achieve. Read More How to Ask for What You Want … and Get it!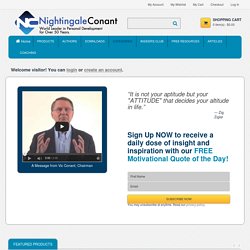 BrianTracy.com | Achieve All Your Goals and Be Successful
Modern Free and Accepted Masons of the World: Home Page
Welcome to our Website Modern Free and Accepted Masons of the World, Inc. Ancient and Accepted Scottish Rite Freemasonry Offers a glimpse into the true nature of the Universe and our place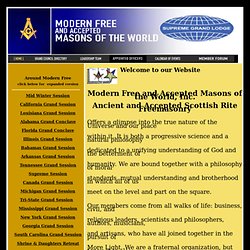 Wisdom from the World Learning Center Pleasing Personality embraces visible traits, not hidden or interior ones. As children model what their parents do rather than what they say, so too people watch those in positions of power to see if they do what they say should be done. The saying "action speaks louder than words" is applicable here since people in the public eye are watched for what they do. "Do" is the operative word.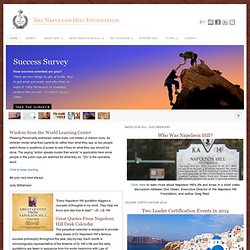 The Official site for Denis Waitley
.:: Les Brown - The World's Leading Motivational Speaker ::.
Millionaire Next Door Research For over 30 years, Dr. Stanley has been studying the affluent in America.
Thomas J. Stanley | Official Website and Blog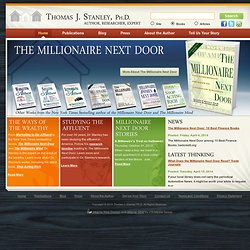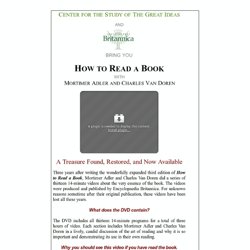 Center for the Study of The Great Ideas and bring you
How to Read A Book Video Programs on DVD