Motivation
How To Restore Your Faith In Humanity
The Biological Advantage of Being Awestruck [Video]
2601 People Wrote This Song
10 hours of "What is love" (Jim Carrey, v.1)
TEDxSydney - Sam Simmons - Being Silly
The Perks of Being a Wallflower (Official Trailer)
August 12th it feels like days dont start. and days dont end. there is no sense of time. it feels like bring dropped into a dark void. completely dark. and all the darkness has weight, a thickness. not liquid. not a solid. something else. and youre trapped. and the longer you are there you know the black is just growing and growing and growing. and theres nothing you can do. the hole would just be bigger to dig out of with every passing hour. but you cant even do that. watching a pane of glass sllllooowwwwlllllyyyyyyyy have a crack weasel through it. but you dont know when it will lose its stability.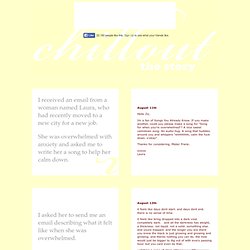 The American Who Quit Money To Live In A Cave on Vimeo
Peter Diamandis says too much focus is placed on negative newsHe says the truth is that the world is poised for abundance through innovationDiamandis: Social changes have vastly increased wealth, reduced disease and violenceHe says smart phones put knowledge, tools in the hands of billions around the world Editor's note: Peter Diamandis is an expert on innovation, the author of "Abundance," and founder and chief executive of the X PRIZE Foundation, a nonprofit focused on creating large incentive prizes to drive breakthroughs. He spoke at the TED2012 conference in February.
The future is brighter than you think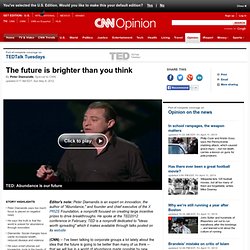 Famous Failures
golden balls. the weirdest split or steal ever!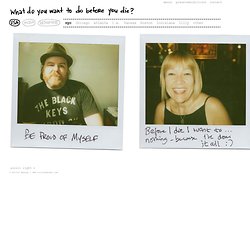 Before I die I want to pay it forward Before I die I want to establish a school! Before I die, I want to pay off the debts of my parents. Before I die, I want to see my photos in the Human Rights Protocol.
Best Things About Being Blind
Ik heb een heel zwaar leven
The Future is Ours - Video Dailymotion
I Know It Is Possible To Live With Zero Money, Abundantly (Living Without Money)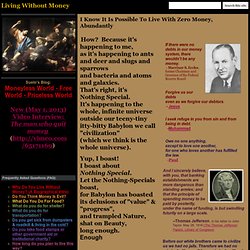 and bacteria and atoms and galaxies. Nothing Special. (which we think is the whole universe). Yup, I boast! I boast about Nothing Special. Let the Nothing-Specials boast,
Bill Gates on 11 things no one will teach or learn at school - What they don't teach in the classroom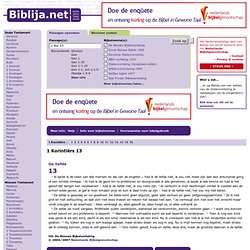 1 Kor 13 - Biblija.net - Nederlands Bijbelgenootschap
De liefde 1 Al sprak ik de talen van alle mensen en die van de engelen – had ik de liefde niet, ik zou niet meer zijn dan een dreunende gong of een schelle cimbaal. 2 Al had ik de gave om te profeteren en doorgrondde ik alle geheimen, al bezat ik alle kennis en had ik het geloof dat bergen kan verplaatsen – had ik de liefde niet, ik zou niets zijn. 3 Al verkocht ik mijn bezittingen omdat ik voedsel aan de armen wilde geven, al gaf ik mijn lichaam prijs en kon ik daar trots op zijn – had ik de liefde niet, het zou mij niet baten. 4 De liefde is geduldig en vol goedheid. De liefde kent geen afgunst, geen ijdel vertoon en geen zelfgenoegzaamheid. 5 Ze is niet grof en niet zelfzuchtig, ze laat zich niet boos maken en rekent het kwaad niet aan, 6 ze verheugt zich niet over het onrecht maar vindt vreugde in de waarheid. 7 Alles verdraagt ze, alles gelooft ze, alles hoopt ze, in alles volhardt ze.
Baby Hippo Monifa takes her first swim
Amazing video, i have ever seen
"FREE WILL" in Bruce ALMIGHTY
Across the Universe - I Want You (She's So Heavy)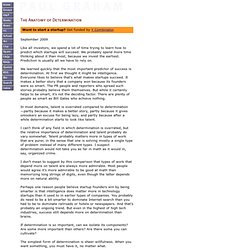 September 2009 Like all investors, we spend a lot of time trying to learn how to predict which startups will succeed. We probably spend more time thinking about it than most, because we invest the earliest. Prediction is usually all we have to rely on. We learned quickly that the most important predictor of success is determination. At first we thought it might be intelligence.
The Anatomy of Determination
This Is Water - David Foster Wallace - Part 1
Fires in the Sky - CollegeHumor video
The Sweetness
Nerd Girl Love - Original Song
A bit of Fry and Laurie - Kickin' Ass
Love Letter From God
Shame
Proof That Cats Are Better Than Dogs