Motivation
Renkema TV - WeerMix. Why the Best Designers Don't Specialize in Any One Thing | Design. Mustafahacalaki/Getty The digital world is at an inflection point, and the implications demand that organizations—from big companies to startups to marketing agencies—hire designers who are smart generalists.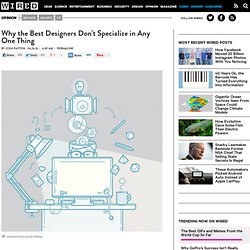 Think about the moment we're in: mobile, big data and personalization are converging to drive truly novel user experiences across countless new channels and in real life. In this post-screen world, the lines between the physical and the digital blur, and everything from your heartbeat to your thermostat connects to everything else. It's a world of experiences, less and less dependent on any one platform, device, interface or technology. The best designers for this new environment are those who can confidently navigate change by adapting, not those who cling to whatever specialty in which they were formally trained or have the most experience.
Mathijs1988 : @sugru @bitsoffreedom @doctorow ... Jenga Cat. Are you ever ready to jump? by Mathijs Meerkerk. There I stood thirty meter above the Tziget festival in Budapest Hungary.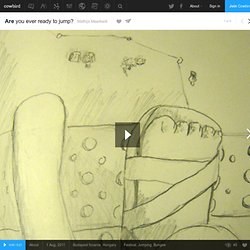 The day before I promised my friend I would bungee jump. I had been fearing this moment the whole day. I was so frightened I could not eat or relax. We were atop of the portable crane. The view was stunning, and I could enjoy the band playing on the main stage. WeTransfuse - Body Transplantation - Cyberspace Clinic. You're invited to Join Kiva. YouTube. Vidéos mises en ligne de Ed Baars. Loesje - Photos du journal. Baby Laughing Hysterically at Ripping Paper (Original) The Dandy Warhols - Bohemian Like You. How To Restore Your Faith In Humanity.
The Biological Advantage of Being Awestruck. TEDxSydney - Sam Simmons - Being Silly. Death Buy Lemonade. Kevin Smith - Explaining the meaning of life as an artist. The Perks of Being a Wallflower (Official Trailer) Science Saved My Soul. Just how small is an atom? Chillout song :: zefrank. August 12th it feels like days dont start. and days dont end. there is no sense of time. it feels like bring dropped into a dark void. completely dark. and all the darkness has weight, a thickness. not liquid. not a solid. something else. and youre trapped. and the longer you are there you know the black is just growing and growing and growing. and theres nothing you can do. the hole would just be bigger to dig out of with every passing hour. but you cant even do that. watching a pane of glass sllllooowwwwlllllyyyyyyyy have a crack weasel through it. but you dont know when it will lose its stability.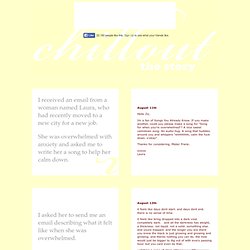 Facebook. The American Who Quit Money To Live In A Cave. Dad builds a backyard roller coaster for his daughter - The Feed Blog. (CBS News) Yesterday we showed you an amazing video of an innovative father who upgraded a drivable toy car into so much more.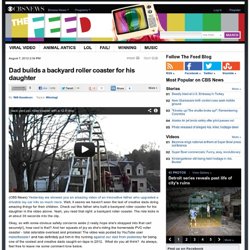 Well, it seems we haven't seen the last of creative dads doing amazing things for their children. Check out this father who built a backyard roller coaster for his daughter in the video above. Yeah, you read that right: a backyard roller coaster. The ride kicks in at about 30 seconds into the clip. Okay, so with some obvious safety concerns aside (I really hope she's strapped into that cart securely!) The Holstee Manifesto: Lifecycle Video. The future is brighter than you think. Peter Diamandis says too much focus is placed on negative newsHe says the truth is that the world is poised for abundance through innovationDiamandis: Social changes have vastly increased wealth, reduced disease and violenceHe says smart phones put knowledge, tools in the hands of billions around the world Editor's note: Peter Diamandis is an expert on innovation, the author of "Abundance," and founder and chief executive of the X PRIZE Foundation, a nonprofit focused on creating large incentive prizes to drive breakthroughs.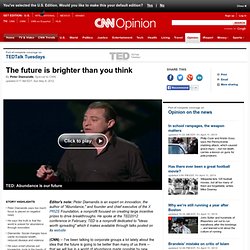 He spoke at the TED2012 conference in February. Ramsey Nasr - 'mi have een droom' Famous Failures. Golden balls. the weirdest split or steal ever! Facebook.
BEFORE I DIE I WANT TO... a polaroid project by nicole kenney and ks rives. Symphony of Science - Onward to the Edge! Facebook. Rowan Atkinson in Hell - WITH SUBTITLES. Broadcast Yourself. Best Things About Being Blind. The Most Astounding Fact (Neil deGrasse Tyson, HD) Micha Wertheim - Meepraten. The Art of Creative Coding | Off Book | PBS. TMB Panyee FC short film. You Are Not Special Commencement Speech from Wellesley High School.
Slow Life. 77 Inspiring Reflections of Creativity. The Future is Ours. Tony Robbins: Why we do what we do, and how we can do it better. This Is Water - David Foster Wallace - Part 1. RSA Animate - Drive: The surprising truth about what motivates us.
Modernism vs. Zen Aesthetic by Zoe Y. Zheng. I Know It Is Possible To Live With Zero Money, Abundantly (Living Without Money) And bacteria and atoms and galaxies.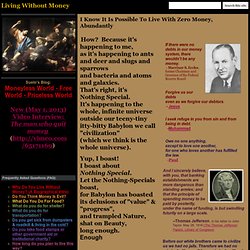 Nothing Special. (which we think is the whole universe). Yup, I boast! I boast about Nothing Special. Let the Nothing-Specials boast, HERE IS TODAY. Musings of Carl Sagan ... "Before we found our way" TEDxHouston - Brené Brown. I F***ing Love Science (Uncensored) Neil deGrasse Tyson On Climate Change. Entrepreneurs can change the world. Bill Gates on 11 things no one will teach or learn at school - What they don't teach in the classroom. Tim's Place Albuquerque: Service With A Smile | You've Got.
1 Kor 13 - Biblija.net - Nederlands Bijbelgenootschap. De liefde 1 Al sprak ik de talen van alle mensen en die van de engelen – had ik de liefde niet, ik zou niet meer zijn dan een dreunende gong of een schelle cimbaal. 2 Al had ik de gave om te profeteren en doorgrondde ik alle geheimen, al bezat ik alle kennis en had ik het geloof dat bergen kan verplaatsen – had ik de liefde niet, ik zou niets zijn. 3 Al verkocht ik mijn bezittingen omdat ik voedsel aan de armen wilde geven, al gaf ik mijn lichaam prijs en kon ik daar trots op zijn – had ik de liefde niet, het zou mij niet baten. 4 De liefde is geduldig en vol goedheid.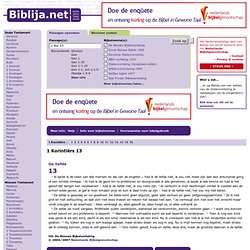 De liefde kent geen afgunst, geen ijdel vertoon en geen zelfgenoegzaamheid. 5 Ze is niet grof en niet zelfzuchtig, ze laat zich niet boos maken en rekent het kwaad niet aan, 6 ze verheugt zich niet over het onrecht maar vindt vreugde in de waarheid. 7 Alles verdraagt ze, alles gelooft ze, alles hoopt ze, in alles volhardt ze. Speech van Charlie Chaplin in 'The Great Dictator' (Nederlands ondertiteld) Isaac Asimov - The Last Question. KIDS REACT TO WALKMANS (Portable Cassette Players) Facebook. Wall Photos. 99% Invisible | A Tiny Radio Show About Design with Roman Mars. Facebook. Caine's Arcade. Baby Hippo Monifa takes her first swim. ISS HD Earth Viewing Experiment on USTREAM: The High Definition Earth Viewing (HDEV) experiment aboard the International Space Station (ISS) was activated. Ustream © Search Log in / Sign up With Facebook (faster) Log in or sign up with Facebook See what your friends like and watch, get awesome recommendations Instant login, no passwords.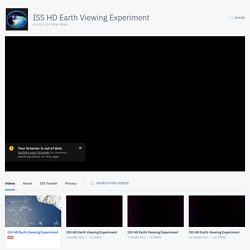 Peter Diamandis - The best way to predict the future. The Mindscape of Alan Moore. Amazing video, i have ever seen. "FREE WILL" in Bruce ALMIGHTY. Across the Universe - I Want You (She's So Heavy) The Anatomy of Determination. September 2009 Like all investors, we spend a lot of time trying to learn how to predict which startups will succeed.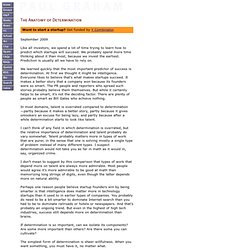 We probably spend more time thinking about it than most, because we invest the earliest. Prediction is usually all we have to rely on. We learned quickly that the most important predictor of success is determination. At first we thought it might be intelligence. Renkema TV - That's The Question. Mathijs1988 : You know you are a nerd when... Hugh Herr: The new bionics that let us run, climb and dance.
Wall Photos. Randy Pausch Last Lecture: Achieving Your Childhood Dreams. Fires in the Sky - CollegeHumor video. The Sweetness. The magic button — Make Everything OK. The Nicest Place on the Internet. Facebook. Love Letter to Food. SAMUEL BECKETT: Ever tried. Ever failed. Love Letter From God. Shame. Proof That Cats Are Better Than Dogs.
---