BI
ApatarForge - Apatar Open Source Data Integration Community
Open Source Business Intelligence Tools Written in Java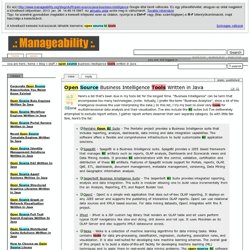 Document Actions Here's a list that's been due in my todo list for the longest time. "Business Intelligence" can be term that encompasses too many technologies. (note: Actually, I prefer the term "Business Analytics", since a lot of the intelligence involves the user interpreting the data.) In this list, I try my best to cover only tools for multidimensional data analysis and their visualization.
JMagallanes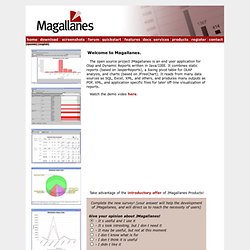 Welcome to Magallanes. The open source project JMagallanes is an end user application for Olap and Dynamic Reports written in Java/J2EE. It combines static reports (based on JasperReports), a Swing pivot table for OLAP analysis, and charts (based on JFreeChart). It reads from many data sources as SQL, Excel, XML, and others, and produces many outputs as PDF, XML, and application specific files for later off-line visualization of reports.
Open Source Business Intelligence
Nem keresheti fel ezt az oldalt a következők miatt: egy elavult könyvjelző/kedvenc egy keresőmotor, melynek erre a webhelyre mutató elavult tétele van egy elgépelt cím nem férhet hozzá ehhez az oldalhoz Az Ön által kért erőforrás nem található. Hiba történt a kérése feldolgozása során.
Talend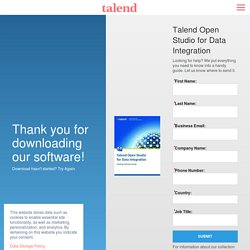 Talend Open Studio for Data Integration helps you get your data to the right place, in the right form, at the right time. The leading open source ETL solution for data warehousing and business intelligence, Talend Open Studio for Data Integration is: Powerful and versatile. Transform, move, and synchronize data across all your heterogeneous sources and targets. Easy to use. Start productive work right away with an intuitive interface rich in modeling tools, job-building components, and more than 400 data connectors.
Open Studio: Improve Data Integration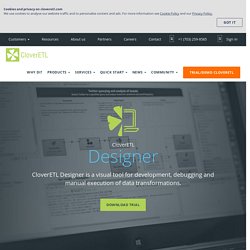 Visualize data flows Place a sequence of components into the transformation graph and connect them with edges that channel data from one component to another. Variety of flexible components Choose from a variety of highly configurable components to build your transformations.
Data Integration Software | CloverETL Designer Overview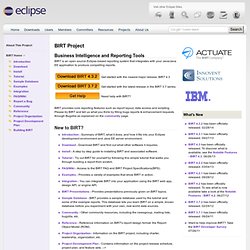 BIRT is an open source Eclipse-based reporting system that integrates with your Java/Java EE application to produce compelling reports. BIRT provides core reporting features such as report layout, data access and scripting. Please try BIRT and tell us what you think by filling bugs reports & enhancement requests through Bugzilla as explained on the community page. New to BIRT? Introduction - Summary of BIRT, what it does, and how it fits into your Eclipse development environment and Java EE server environment.
tech | File Reader and variable
Hi everyone, When I use the reader nodes (text, csv, SDF, etc...) More and more I have to use the path or the name of the input file.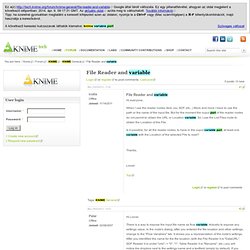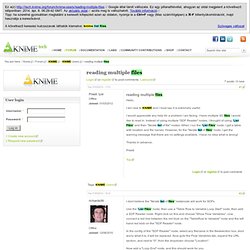 tech | reading multiple files
Hello, I am new to KNIME and I must say it is extremely useful. I would appreciate any help for a problem I am facing. I have multiple SD files I would like to read in. Instead of using multiple "SDF Reader" nodes, I thought of using " List Files " and then "Iterate list of file" nodes.
Hi all, I am trying to read multiple files, extraxt some data and write SD files. I first use the nodes List Files and Iterate List of Files, then do the desired modifications. This works fine.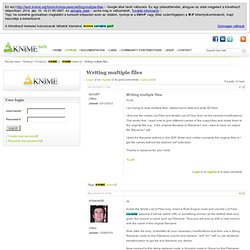 tech | Writing multiple files
Big Data is usually defined in terms of Volume, Variety and Velocity (the so called 3 Vs). Volume implies breadth and depth, while variety is simply the nature of the beast: on-line transactions, tweets, text, video, sound, ... Velocity, on the other hand, implies that data is being produced amazingly fast (according to IBM, 90% of the data that exists today was generated in the last 2 years), but that it also gets old pretty fast.
Predictive Analytics: When Big Data and Predictive Analytics Collide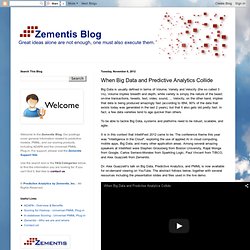 Category: 2 - DMR - Data Mining and Reporting
tech | automate reading csv files
openBIS KNIME Nodes - openBIS Documentation - D-BSSE Wiki
KNIME is a powerful workflow system. It allows to import data from some sources and process them in a workflow graphically designed by the user. There are three special openBIS KNIME nodes to import data from openBIS. KNIME version 2.7.2 or higher is required. Exit KNIME application. Download 'Clients and APIs' from the Download Site Extract ch.systemsx.cisd.openbis.knime-13.03.0.jar into <KNIME folder>/plugins where <KNIME folder> is the folder where KNIME has been installed.