Mormonism and Homosexuality
Get flash to fully experience Pearltrees
The following is a comment I wrote in response to Well-Behaved Mormon Woman's post "Gay and Mormon: Is it Safe Yet? " I wanted to post it here as well. I hope that every faithful member, same-sex attracted or otherwise, soberly considers the weight of the church's expectations for same-sex attracted members. For opposite-sex attracted members, the expectations focus on marriage and family. Yes, it is absolutely true that these members are expected to remain chaste.
LOUISVILLE, KY—At first glance, high school senior Lucas Faber, 18, seems like any ordinary gay teen. He's a member of his school's swing choir, enjoys shopping at the mall, and has sex with other males his age. But lately, a growing worry has begun to plague this young gay man. A gnawing feeling that, deep down, he may be a fundamentalist, right-wing Christian. "I don't know what's happening to me," Faber admitted to reporters Monday.
On Thursday, September 23 at 7 pm, William Bradshaw, Emeritus Professor in the Department of Microbiology and Molecular Biology, spoke to students, faculty, friends of the BYU community, and interested persons about the evidence for biological origins for homosexuality. The event was held by permission of the department and the College of Life Sciences, but without the sponsorship of BYU, the College, or the Department. The lecture hall, with some 200 seats, was filled almost to capacity.
I've read stories from people who say they always knew they were attracted to the same sex, or that they figured it out at a young age. I'm not one of them. I had practically no idea until one night in my sophomore year of high school. I was at a basketball game, and the guys around me started pointing out cheerleaders from the other team they thought were hot.
My straight boyfriend and I say things like "I love you" to each other. It's serious. But in a no homo/go homo way, you know? It's 2011, so I hope we've all realized that straight men are not the enemy – stupidity is. Meet my straight boyfriend D, who is: wicked smart, handsome, queer friendly, a good poet (his day job is publishing, since I know "poet" means about as much as "tooth fairy" to most of you) and well, my straight boyfriend.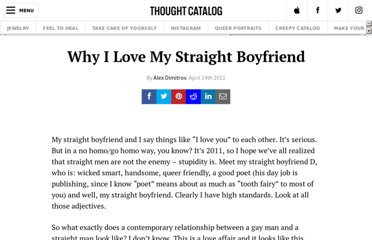 Barred from military service by Defense Department regulations and threatened with investigation, interrogation and discharge, gay men and lesbians in the Armed Forces lead desperate, furtive lives reminiscent of those led by homosexuals throughout the country a generation ago. The few who have openly confronted the military ban on homosexuals were severely disappointed by a recent Supreme Court decision not to hear their challenge, and some advocates say they will press to have the ban overturned in Congress. But for thousands of others who seek only to get by undetected, secrecy remains their creed. ''This is not a life you'd choose for your worst enemy,'' said a 31-year-old officer at the Miramar Naval Air Station here, who has guarded the secret of his homosexuality since his enlistment eight years ago. ''But gays are very good at camouflage. Society puts us in that role from the first moment we discover our sexuality.''