Moodle Resources
Learning to Moodle – Basics for Teachers (an open course for Moodle training) 
Welcome to Moodlenews.com A resource site for all Moodle-related news, tutorials, video, course content information and original resources. If you're new here, you may want to subscribe: RSS feed| Weekly Email Newsletter | Moodle News Twitter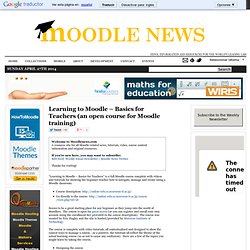 Richard NZ Net
Portland Public Schools
ORVSD Training | Cloud Resources for Oregon Educators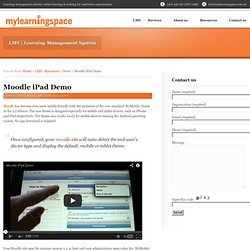 Moodle iPad Demo | My Mobile Theme |
Moodle has become even more mobile friendly with the inclusion of the new standard 'MyMobile' theme in the 2.2 release. The new theme is designed especially for mobile and tablet devices, such as iPhone and iPad respectively.
"What is Moodle" explained with Lego (short version) on Vimeo
Online Professional Development: Login to the site
December sees the release of Moodle 2.2 which is now under code freeze and being put through the rigours of the Moodle QA process to iron out those last niggling issues prior to official launch. The beta is already available on the Moodle Downloads page and the team are encouraging people to download and test it and feed back any issues found. The beta release is also a good opportunity to have a play around with the new features.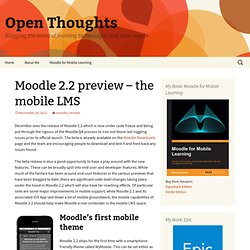 Moodle 2.2 preview – the mobile LMS | Open Thoughts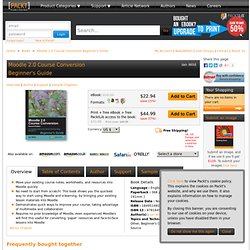 Moodle 2.0 Course Conversion Beginner's Guide
eBook: $26.99 Formats:
Moodle2 Workshop
AUB Moodle
Leeds City College Moodle
Moodle in NZ Schools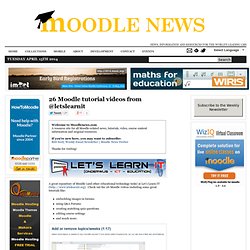 26 Moodle tutorial videos from @letslearnit 
Welcome to Moodlenews.com A resource site for all Moodle-related news, tutorials, video, course content information and original resources. If you're new here, you may want to subscribe: RSS feed| Weekly Email Newsletter | Moodle News Twitter
Course: About iMoot
2 Minute Moodles on Vimeo
Tutorials | Moodle 2 Essential Training for Teachers
Moodle Tutorials | Essential Training for Teachers
Moodle Tutorials
Oregon Virtual School District | Teaching just got easier.
Course: Moodle Tutorials Archive