Moodle Resources
Learning to Moodle – Basics for Teachers (an open course for Moodle training) 
Welcome to Moodlenews.com A resource site for all Moodle-related news, tutorials, video, course content information and original resources. If you're new here, you may want to subscribe: RSS feed| Weekly Email Newsletter | Moodle News Twitter Thanks for visiting!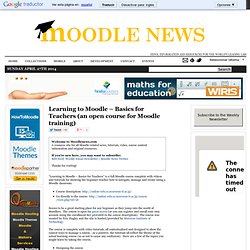 Welcome to the personal space of Richard Jones (@richardnz) writer, blogger, eLearning Specialist and Moodle Guru. Here you can find additional information about me, mostly likely more than you need. I'm currently looking for work on a permanent or contract basis, please see my Linked In profile for past employment details. I blog here as well. I maintain a Moodle site here where you can find courses as diverse as Moodle 101, Moodle Design, Middle School ICT and IB Computer Science. The site also contains support for various publications such as the IB Computer Science text book and Managing the Moodle 2.5 School (published by Smashwords and available in the iBook store as well).
Richard NZ Net
Welcome to the PPS Virtual Learning Environment This site offers a unique approach to interactive learning. Our goal is to provide a highly usable site to connect students, parents, and teachers. In practical terms, our hope is to have an individual web page for each district teacher, providing a place to share their daily schedule and current teaching assignment, along with classroom, course, and contact information. In addition, students, parents, and teachers can participate in web-based forums, review assignments, and post and search questions/answers. Teachers may use this space for information sharing, two way communication, curriculum development, and even full course instruction with tools like evaluation and reporting.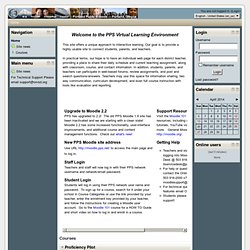 Portland Public Schools
ORVSD Training | Cloud Resources for Oregon Educators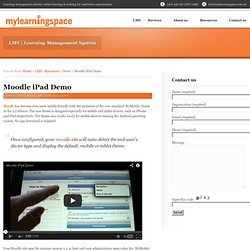 Moodle iPad Demo | My Mobile Theme |
Moodle has become even more mobile friendly with the inclusion of the new standard 'MyMobile' theme in the 2.2 release. The new theme is designed especially for mobile and tablet devices, such as iPhone and iPad respectively. The theme also works nicely for mobile devices running the Android operating system. No app download is required. Once configured, your moodle site will auto-detect the end-user's device type and display the default, mobile or tablet theme. Your Moodle site must be running version 2.2 or later and your administrator must select the 'MyMobile' theme for 'mobile' and 'tablet' via Settings block > Site administration > Appearance > Themes > Theme selector.
"What is Moodle" explained with Lego (short version) on Vimeo
Hi! For full access to courses you'll need to take a minute to create a new account for yourself on this web site. Each of the individual courses may also have a one-time "enrollment key", which you won't need until later.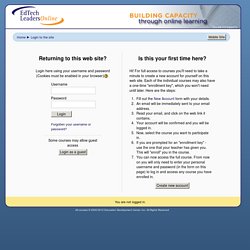 Online Professional Development: Login to the site
December sees the release of Moodle 2.2 which is now under code freeze and being put through the rigours of the Moodle QA process to iron out those last niggling issues prior to official launch. The beta is already available on the Moodle Downloads page and the team are encouraging people to download and test it and feed back any issues found. The beta release is also a good opportunity to have a play around with the new features.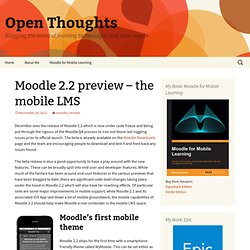 Moodle 2.2 preview – the mobile LMS | Open Thoughts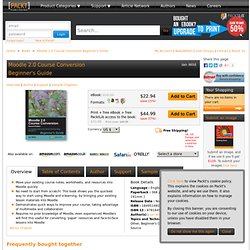 Moodle 2.0 Course Conversion Beginner's Guide
eBook: $26.99 Formats: $22.94 save 15%! Print + free eBook + free PacktLib access to the book: $71.98 Print cover: $44.99 $44.99 save 37%!
Moodle2 Workshop
AUB Moodle
Leeds City College Moodle
Boot Camp Provides Design and Enterprise Opportunities Young people with an active interest in design and enterprise have the opportunity to attend a free boot camp next month. Fab Lab Airedale is running a Design and Enterprise Boot Camp for 16-18 years in conjunction with leading medical supplier DePuy Synthes, which is also offering accompanying work placements. The camp, running from April 7-11th, features a week-long series of activities aimed at inspiring students to be innovative and develop skills in design, product development, and engineering. They will also get involved in business and enterprise activities, accessing the Fab Lab's wide range of equipment including 3D printers, laser cutters and CNC routers.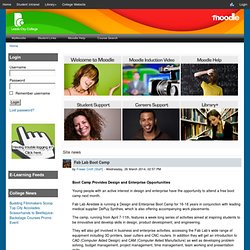 Moodle in NZ Schools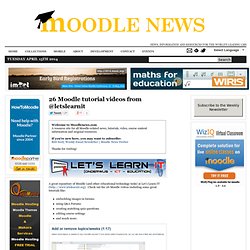 26 Moodle tutorial videos from @letslearnit 
Welcome to Moodlenews.com A resource site for all Moodle-related news, tutorials, video, course content information and original resources. If you're new here, you may want to subscribe: RSS feed| Weekly Email Newsletter | Moodle News Twitter Thanks for visiting!
Course: About iMoot
2 Minute Moodles on Vimeo
Tutorials | Moodle 2 Essential Training for Teachers
Moodle Tutorials | Essential Training for Teachers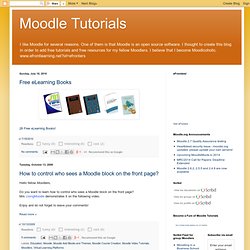 Moodle Tutorials
In my personal opinion, Moodle is one of the best options for an open source Learning Management Systems (LMS). However, Moodle is not the only open source LMS. Here is the list of 11 Oper Source LMS with a brief description. I highly encourage you to visit each LMS site and explore its capabilities pros and cons. eFront Easily extended with modules available from the site.
Because putting tools and resources at your fingertips enhances learning and helps you save time so you can concentrate on what you do best—teaching. The resources and training you'll find here will help you aid students in practicing, meeting and exceeding Oregon's Technology Standards. Eighth grade students are expected to be proficient in these standards. Concrete thinkers in elementary school are best introduced to concepts such as online safety and digital citizenship.
Oregon Virtual School District | Teaching just got easier.
Course: Moodle Tutorials Archive