Money managment
Get Clients Now!: A 28-day Marketing Program for Professionals, Consultants ... - C. J. Hayden. 29 Resources for Freelance Designers Operating on a Tight Budget. Get the FlatPix UI Kit for only $7 - Learn More or Buy Now There are plenty of highly-useful resources and web apps that have been created with freelance designers and developers in mind.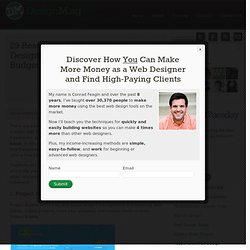 But for many freelancers, especially those who are just getting started, pricing can be an issue. In this post we'll feature 29 resources that are not only very useful fore freelancers, but also extremely affordable. Rich Dad - Welcome to Rich Dad! Money management. Money management the process of managing money which includes investment, budgeting, banking and taxes.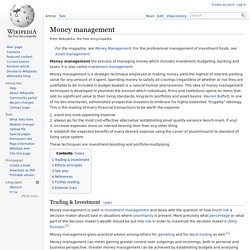 It is also called investment management. Money management is a strategic technique employed at making money yield the highest of interest-yielding value for any amount of it spent. Spending money to satisfy all cravings (regardless of whether or not they are justifiable to be included in budget basket) is a natural human phenomenon. The idea of money management techniques is developed to plummet the amount which individuals, firms and institutions spend on items that add no significant value to their living standards, long-term portfolios and asset-basins.
Money ebooks - A comprehensive directory of money and investment ebooks from WISDOMebooks. Forex eBook - Read and Learn (Opens in a new window.)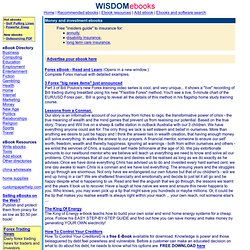 Complete Forex manual with detailed examples. 3 Forex "big news items" just announced Part 3 of Bill Poulos's new Forex training video series is cool, and very unique... it shows a "live" recording of Bill trading during breakfast using his new "Flexible Forex" method. You'll see a live, 5-minute chart of the EUR/USD Forex pair... Ebook Prudential Liquidity Requirements and Bank Behavior - Free PDF Ebooks Files @AcrobatPlanet.Com.
Long before the recent subprime crisis became a global crisis, regulatory authorities, under the influence of the Basel Committee for Banking Supervision, spent much effort on designing, harmonizing and implementing quantitative rules for prudential capital adequacy , but spent little effort on doing the same for liquidity.
The crisis has changed this and has revived interest in liquidity regulations as a complement to solvency regulations (Rochet 2008), especially since high-capitalized banks may also suffer from funding liquidity strains in times of market turmoil. In a recent paper, the Basel Committee for Banking Supervision has outlined principles for sound liquidity risk management and supervision (Basel Committee 2008a).
---