Cck (module[3] drupal[2])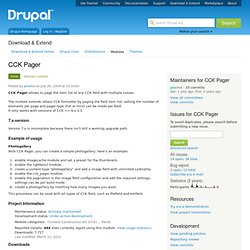 CCK Pager allows to page the item list of any CCK field with multiple values.
CCK Pager
This module adds a CCK table field type that lets you add a table display to any content type without having to manually enter HTML. It currently parses text data to form the header and row content. The output is generated by the theme system, so you don't have to worry about formatting valid HTML or adding all those little classes yourself.
CCK Table Field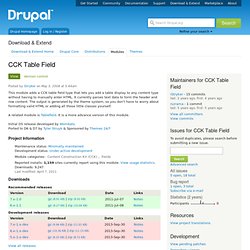 CCK Select Other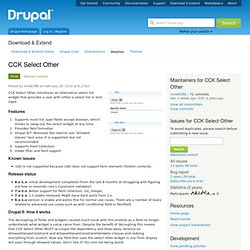 CCK Select Other introduces an alternative select list widget that provides a user with either a select list or text input. Features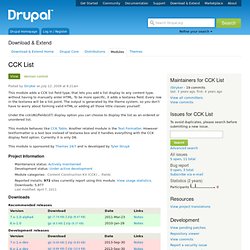 This module adds a CCK list field type, that lets you add a list display to any content type, without having to manually enter HTML. To be more specific, it adds a textarea field.
CCK List
CCK et Views, un tuto de David Newkerk | Je m'empale avec Drupal™
CCK, pour enrichir vos contenus - Modules D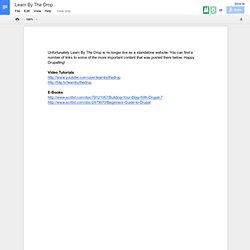 CCK Module Basics
Content Construction Kit (CCK) is one the most important and at the same time most mystifying features of the Drupal platform. In this drop I'll provide a high level overview explanation of CCK and why you might want to use it on your site. What is CCK? CCK is a contributed module that allows you to: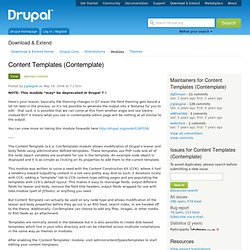 Content Templates (Contemplate)
NOTE: This module *may* be deprecated in Drupal 7 ! Here's your reason, basically the theming changes in D7 mean the field theming gets bound a lot lot later in the process, so it's not possible to generate the output into a Textarea for you to edit - that said, it is possible that we can come at this from another angle and use tokens instead BUT it means what you see in contemplate admin page will be nothing at all similar to the output.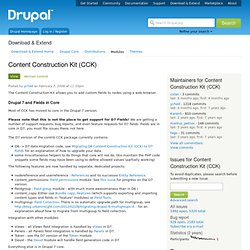 The Content Construction Kit allows you to add custom fields to nodes using a web browser. Drupal 7 and Fields in Core