Calendar (module[3] drupal[2])
Upcoming Events List (module[3] drupal[2])
French overview | localize.drupal.org. FullCalendar - Full-sized Calendar jQuery Plugin. FullCalendar. Provides a Views display, style and row plugin for displaying nodes using Adam Shaw's FullCalendar jQuery plugin.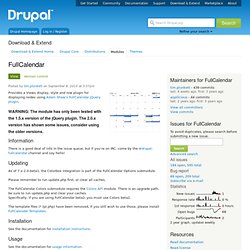 WARNING: The module has only been tested with the 1.5.x version of the jQuery plugin. The 2.0.x version has shown some issues, consider using the older versions. Information. Files/issues/date-7.x-2.x-1103790-1.patch. D7 date + calendar 7.x-2.x-dev giving error messages. Getting malformed calendar entries | drupal.org. I am "reimplementing" a D6 site in D7 rather than upgrade it.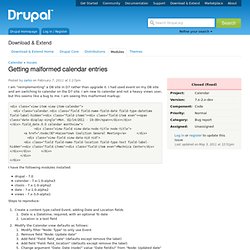 I had used event on my D6 site and am switching to calendar on the D7 site. I am new to calendar and not a heavy views user, but this seems like a bug to me. I am seeing this malformed markup: Undefined property: stdClass::$nid in calendar_get_node_link() Files/issues/calendar-7.x-2.x-dev-1087528-1.patch. Integer date field. Found 91271 results containing the words: Multiple Dates. Skip to main content Skip to search Drupal Search form Found 118653 results containing the words: Multiple Dates Multiplicity- Collaborative e-mail responding Posted by dsnopek on November 25, 2012 at 3:32am in development!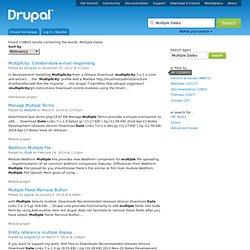 Calendar. Requires Views and the Date API (packaged with the Date module).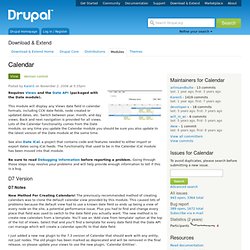 This module will display any Views date field in calendar formats, including CCK date fields, node created or updated dates, etc. Switch between year, month, and day views. Back and next navigation is provided for all views. Lots of the Calendar functionality comes from the Date module, so any time you update the Calendar module you should be sure you also update to the latest version of the Date module at the same time.
Date. This package contains both a flexible date/time field type Date field and a Date API that other modules can use.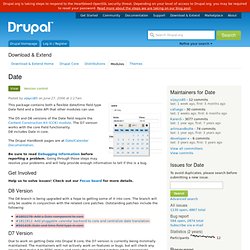 The D5 and D6 versions of the Date field require the Content Construction Kit (CCK) module. The D7 version works with the core Field functionality. D8 includes Date in core.
---