Mods
Mod: Add Koi to Minecraft with this Mod (1.8.1) | Mods for Minecraft. This Minecraft mod adds koi mobs to the game.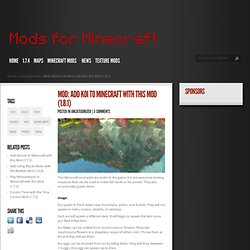 Koi are awesome looking creatures that can be used to make fish tanks or koi ponds. They also occasionally spawn items. Usage: [V1.8.1] Risugami's Mods - Everything Updated. Everything updated for 1.6.2.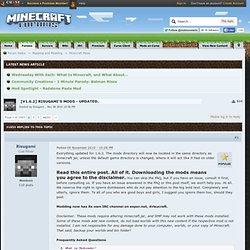 The mods directory will now be located in the same directory as minecraft jar, unless the default game directory is changed, where it will act like it had on older versions. Read this entire post. All of it. Downloading the mods means you agree to the disclaimer. You can skip the FAQ, but if you have an issue, consult it first, before consulting us. Steam-Craft. 8.1] erosion mod [v2.4] Waterfalls in minecraft look very epic the first time you see them.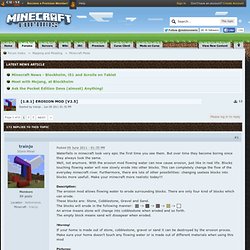 But over time they become boring since they always look the same. Well, not anymore. With the erosion mod flowing water can now cause erosion, just like in real life. Texture Packs. 8.1] ControlPack - AutoSneak/Run,SmartFurnace,LOOKBEHIND+Lots More! [V4.0] Minecraft ControlPack v5.10 This is a Minecraft client mod that requires nothing from the server.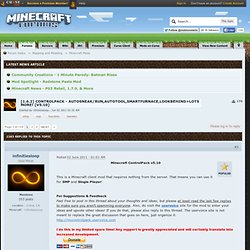 That means you can use it for SMP and Single Player! For Suggestions & FeedbackFeel free to post in this thread about your thoughts and ideas, but please at least read the last few replies to make sure you aren't spamming everyone. [V1.7.2] Convenient Inventory [1.9] 1.July. 8.1] Stargate mod v1.01. The stargate mod adds stargate related stuff and mobs to the game.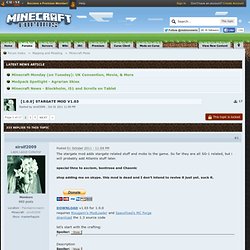 So far they are all SG-1 related, but i will probably add Atlantis stuff later. special thnx to axciom, bontrose and Chaonic stop adding me on skype. this mod is dead and I don't intend to revive it just yet. suck it. DOWNLOAD v1.03 for 1.0.0 requires Risugami's ModLoader and SpaceToad's MC Forgedownload the 1.3 source code let's start with the crafting:
[FUN] BomberCraft v0.2 - Bomberman for minecraft [1000. Minecraft Mods.
---