DesignPatterns4MobileandStrategy
Haier introduces Zing, a waterproof smartphone with Alibaba's Aliyun OS
Zing is right, because you probably didn't see this one coming.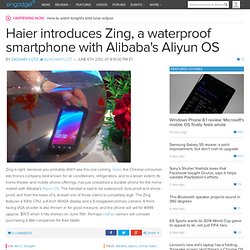 What It'll Take For Tablets to Replace PCs
What Microsoft Can Learn From Android's Mistakes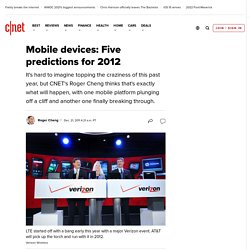 Mobile devices: Five predictions for 2012 | Mobile
LTE started off with a bang early this year with a major Verizon event. AT&T will pick up the torch and run with it in 2012.
Until now, iPad app Hitpad has concentrated on presenting the latest news in an easy-to-digest way. Now its developers have taken the same approach to Facebook.
Hitpad Fights Facebook Information Overload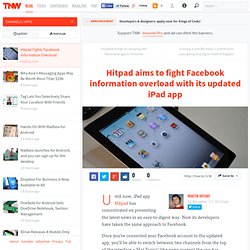 Melinda Krueger | December 2, 2011 | 1 Comment When both my young niece and my not-so-young husband enthusiastically praised ESPN's push notifications in the same week, I took notice. These are regular people, a teacher and an architect, not marketers or techies.
ESPN: A Mobile Example to Emulate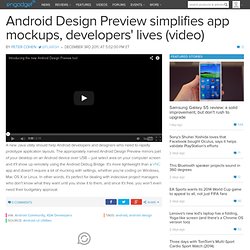 Android Design Preview simplifies app mockups, developers' lives (video)
A new Java utility should help Android developers and designers who need to rapidly prototype application layouts.
Knowing Your Demographics: Who Should Mobile Devs Be Building For?
There have been a lot of stats thrown at developers this week. The Pew Internet and American Life Project said that 50% of all U.S. adults have apps on their cellphones either coming from downloads or pre-loads by the carriers. Nielsen says that 43% of all U.S. adults have smartphones and that 62% of adults aged 25-44 have smartphones. This all brings us to a question all mobile developers should be asking themselves: Who are you developing for? Coders have a habit of focusing on functionality. They see that something can be done in the environment they are working in and then go about connecting the codes, SDKs and APIs to create a dynamic app.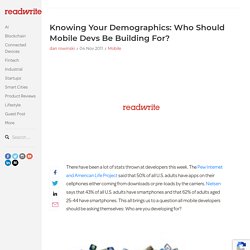 For nearly 30 years, Adobe Systems has made the lion's share of its revenue by selling multimedia and creativity software for desktop computers.
Flash who? Adobe gets serious about mobile, cloud & HTML5