DesignPatterns4MobileandStrategy
Haier introduces Zing, a waterproof smartphone with Alibaba's Aliyun OS. Zing is right, because you probably didn't see this one coming.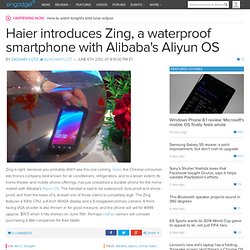 Haier, the Chinese consumer electronics company best known for air conditioners, refrigerators, and to a lesser extent, its home theater and mobile phone offerings, has just unleashed a durable phone for the home market with Alibaba's Aliyun OS. The handset is said to be waterproof, dust-proof and shock-proof, and from the looks of it, at least one of those claims is completely legit.
The Zing features a 1GHz CPU, a 4-inch WVGA display and a 5-megapixel primary camera. A front-facing VGA shooter is also thrown in for good measure, and the phone will sell for ¥999 (approx. $157) when it hits shelves on June 15th. What It'll Take For Tablets to Replace PCs. What Microsoft Can Learn From Android's Mistakes. Mobile devices: Five predictions for 2012 | Mobile.
It's been a whirlwind year for the mobile-devices business, and next year promises to be even more exciting.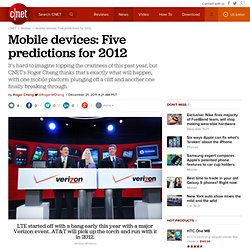 Just as 2011 saw the rise in dominance of Android, Apple basically opening fire on every Android device through lawsuits, and a flood of tablets and 4G devices, 2012 should see similar shake-ups in the industry. Below are five predictions for what will happen next year. Hitpad Fights Facebook Information Overload. Until now, iPad app Hitpad has concentrated on presenting the latest news in an easy-to-digest way.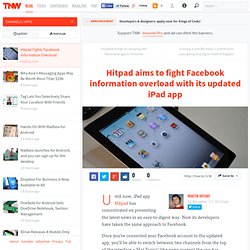 Now its developers have taken the same approach to Facebook. Once you've connected your Facebook account to the updated app, you'll be able to switch between two channels from the top of the interface – 'Hot Topics' (the news content the app has always provided) and 'Facebook', which presents content shared on the social network by your friends and the Pages you're subscribed to in a fresh way.
Links, videos, photos and statuses each have a separate column, and you can expand any piece of content for a closer look, allowing you to 'like' and comment from within the app. You can also post new status messages, making it a simple but effective way of interacting with Facebook. ESPN: A Mobile Example to Emulate. Melinda Krueger | December 2, 2011 | 1 Comment When both my young niece and my not-so-young husband enthusiastically praised ESPN's push notifications in the same week, I took notice.
These are regular people, a teacher and an architect, not marketers or techies. Android Design Preview simplifies app mockups, developers' lives (video) A new Java utility should help Android developers and designers who need to rapidly prototype application layouts.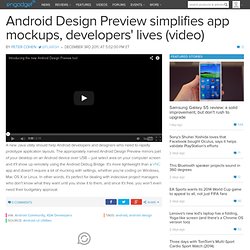 The appropriately named Android Design Preview mirrors part of your desktop on an Android device over USB -- just select area on your computer screen and it'll show up remotely using the Android Debug Bridge. It's more lightweight than a VNC app and doesn't require a lot of mucking with settings, whether you're coding on Windows, Mac OS X or Linux. In other words, it's perfect for dealing with indecisive project managers who don't know what they want until you show it to them, and since it's free, you won't even need their budgetary approval. Comments. Knowing Your Demographics: Who Should Mobile Devs Be Building For? There have been a lot of stats thrown at developers this week.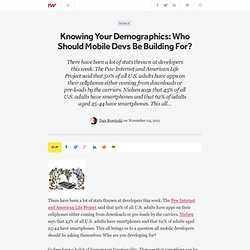 The Pew Internet and American Life Project said that 50% of all U.S. adults have apps on their cellphones either coming from downloads or pre-loads by the carriers. Nielsen says that 43% of all U.S. adults have smartphones and that 62% of adults aged 25-44 have smartphones. This all brings us to a question all mobile developers should be asking themselves: Who are you developing for? Flash who? Adobe gets serious about mobile, cloud & HTML5. For nearly 30 years, Adobe Systems has made the lion's share of its revenue by selling multimedia and creativity software for desktop computers.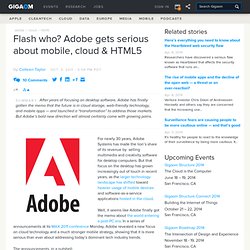 But that focus on the desktop has grown increasingly out of touch in recent years, as the larger technology landscape has shifted toward heavier usage of mobile devices and software-as-a-service applications hosted in the cloud. Well, it seems like Adobe finally got the memo about the world entering a post-PC era. In a series of announcements at its MAX 2011 conference Monday, Adobe revealed a new focus on cloud technology and a much stronger mobile strategy, showing that it is more serious than ever about addressing today's dominant tech industry trends. The announcements, in a nutshell:
---