HealthcareMobile
How to quit smoking using your smartphone. Why Tablets Are The Future Of Electronic Medical Records [REPORT] The adoption of Electronic Medical Records (EMR) by doctor practices and hospitals is one of the most exciting developments in health - and the iPad is playing a big part.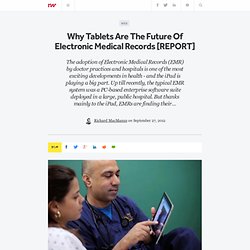 Up till recently, the typical EMR system was a PC-based enterprise software suite deployed in a large, public hospital. But thanks mainly to the iPad, EMRs are finding their way into tens of thousands of small to medium medical practices. Today, EMR vendor drchrono is releasing a report about EMR adoption and impact. In a phone interview, I discussed the findings with drchrono CEO Michael Nusimow and COO Daniel Kivatonos. The 2012 EMR Impact Report from drchrono surveys the usage and impact of EMRs in practices of 25 physicians or less. iPhone Is Best Mobile Advertising Platform, Says Opera Software [Report.
The iPhone is the top performer in the mobile ad monetization performance space, according to a new report from Opera Software.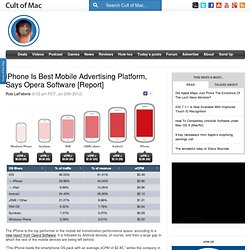 It is followed by Android devices, of course, and then a large gap in which the rest of the mobile devices are being left behind. "The iPhone leads the smartphone OS pack with an average eCPM of $2.85," writes the company in their first State of Mobile Advertising report. "Though it is closely followed by Android devices (at $2.10). The rest of the mobile phone field is significantly behind." Opera Software claims to be the world's leading mobile ad publishing platform, with more than 9000 global customers, over 35 billion ad impressions per month and driving over $240 million of ad revenue dollars to mobile app publishers in the 2011. Why Aren't We Downloading Health Apps? Phone Therapy Successful in Treating Depression [STUDY] Text4Baby Mobile Services Gives New Moms Health Updates.
What every mother wants for Mother's Day: healthy children.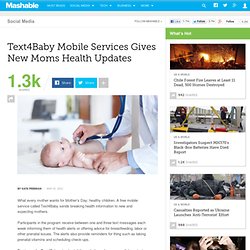 A free mobile service called Text4Baby sends breaking health information to new and expecting mothers. Participants in the program receive between one and three text messages each week informing them of health alerts or offering advice for breastfeeding, labor or other prenatal issues. Patients control hospital environment with iPad-based suite. The iPad's other life: medical device extraordinaire — Apple News, Tips and Reviews. Study: European doctors getting iPad fever | iPad Atlas. According to a new study by Manhattan Research, which surveyed more than 1,200 physicians across Europe, 26 percent of doctors claim they own an Apple iPad and spend more than 25 percent of their professional time using it.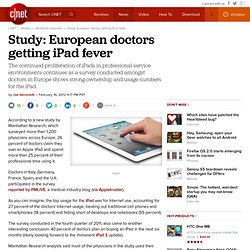 Doctors in Italy, Germany, France, Spain, and the U.K. participated in the survey reported by PMLiVE, a medical industry blog (via AppleInsider). As you can imagine, the top usage for the iPad was for Internet use, accounting for 27 percent of the doctors' Internet usage, beating out traditional cell phones and smartphones (18 percent) and falling short of desktops and notebooks (55 percent). Young African Invents Touch Screen Medical Tablet.
---