"Showrooming"
Commerce Weekly: Target doesn't want to be the showroom for online retailers. Here are a few things going on in the world of online commerce this week.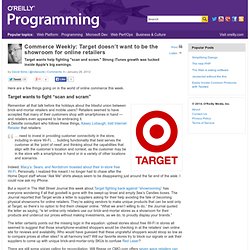 Target wants to fight "scan and scram" Remember all that talk before the holidays about the blissful union between brick-and-mortar retailers and mobile users? Target Sends Letter Vendors Asking for Help to Combat 'Showrooming' Comparison Shopping. Today Amazon Will Give You $15 To Use PriceCheck and Screw Local Retailers. Today, December 10th, Amazon is offering a very special deal you're going to love and your local brick-and-mortar retailer is going to hate.
Use its PriceCheck mobile app and get 5% off your purchase, up to $5 at a time, as many as 3 times. Why the discounts to use PriceCheck? The app is designed to get you to visit local shops, try out a product, submit valuable pricing data to Amazon, leave without buying anything, and make your purchase on Amazon instead. Actually scanning an in-store item isn't technically required to get the discount, though Amazon doesn't make this clear at first. The webpage for the deal states "Get a 5% discount just by checking a price", but you can check a price by typing in a product's name from home without submitting a local price. Amazon Price Check Discount Has Competitors Crying Foul. Amazon is giving comparison shoppers a quick-and-easy way to earn up to $15 in discounts, but the promotion is rubbing the online retailer's competitors and even some lawmakers in Washington the wrong way.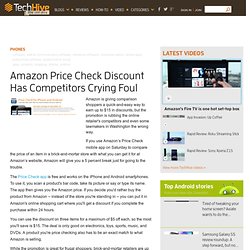 If you use Amazon's Price Check mobile app on Saturday to compare the price of an item in a brick-and-mortar store with what you can get it for at Amazon's website, Amazon will give you a 5 percent break just for going to the trouble. The Price Check app is free and works on the iPhone and Android smartphones. To use it, you scan a product's bar code, take its picture or say or type its name. The app then gives you the Amazon price. If you decide you'd rather buy the product from Amazon -- instead of the store you're standing in -- you can put it in Amazon's online shopping cart where you'll get a discount if you complete the purchase within 24 hours.
Retailers Fight Back Against Price Apps. Amazon Will Pay Shoppers $5 to Walk Out of Stores Empty-Handed - Tricia Duryee - Commerce. Amazon is offering consumers up to $5 off on purchases if they compare prices using the online giant's mobile phone application in a store.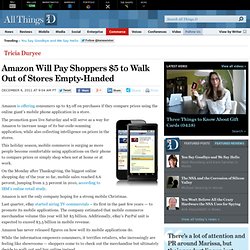 The promotion goes live Saturday and will serve as a way for Amazon to increase usage of its bar-code-scanning application, while also collecting intelligence on prices in the stores. This holiday season, mobile commerce is surging as more people become comfortable using applications on their phone to compare prices or simply shop when not at home or at work. Everyone except grandma is comparison shopping via mobile, study finds. Grandma and grandpa may not be doing it, but the rest of us are — and quite frequently at that.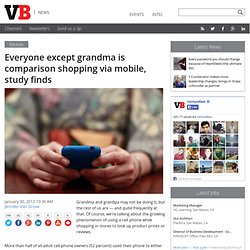 Of course, we're talking about the growing phenomenon of using a cell phone while shopping in stores to look up product prices or reviews. More than half of all adult cell-phone owners (52 percent) used their phone to either phone a friend, look up product reviews online, or comparison price shop during a 30-day holiday shopping period, according to Pew Research Center, a highly respected nonprofit center that studies the impact of the Internet on people and the world at large. Pew conducted telephone interviews with a nationally representative sample of 1,000 adults in the U.S., and detailed its findings in a report on how Americans used their phones to help them shop this past holiday season. Shop O' Lot Offers 'Scan & Scram' Solution | US startup, Shop O' Lot, has raised $500,000 (£312,000) to develop a retail mobile shopping app to help retailers keep their customers in the store shopping.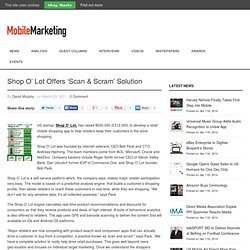 Shop O' Lot was founded by internet veterans, CEO Bob Pack and CTO Andreas Hjelming. The team members come from AOL, Microsoft, Oracle and NetZero. Company backers include Roger Smith former CEO of Silicon Valley Bank, Dan Udoutch former EVP of Commerce One, and Shop O' Lot founder, Bob Pack. Shop O' Lot is a self-service platform which, the company says, makes major retailer participation very easy. The model is based on a predictive analysis engine, that builds a customer's shopping profile, then allows retailers to reach these customers in real-time, while they are shopping.
Mobile Commerce: How to Maximize it for You | Digital. Amazon app promo uses stores as 'showrooms,' say retailers. Retail groups are up in arms over an Amazon promotion that offers customers up to $5 off a purchase for using its new Price Check app to compare prices, saying it encourages consumers to use brick-and-mortar retailers as a "showroom.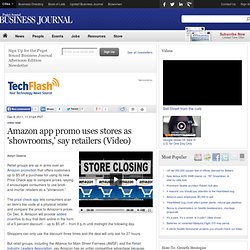 " The price check app lets consumers scan an item's bar code at a physical retailer and compare the price to Amazon's prices. On Dec. 9, Amazon will provide added incentive to buy that item online in the form of a 5 percent discount -- up to $5 off -- from 9 p.m until midnight the following day. Shoppers can only use the discount three times and the deal will only last for 27 hours. But retail groups, including the Alliance for Main Street Fairness (AMSF) and the Retail Industry Leaders Association, say Amazon has an unfair competitive advantage because, as we all know, it doesn't collect sales taxes on most goods sold.
This means Amazon can undercut brick-and-mortar retailers who must collect sales tax, say retailers.
---