"Showrooming"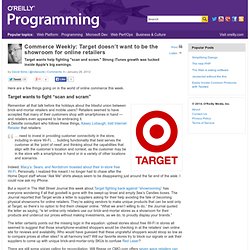 Here are a few things going on in the world of online commerce this week. Target wants to fight "scan and scram" Remember all that talk before the holidays about the blissful union between brick-and-mortar retailers and mobile users?
Commerce Weekly: Target doesn't want to be the showroom for online retailers
Target Sends Letter Vendors Asking for Help to Combat 'Showrooming' Comparison Shopping
Today Amazon Will Give You $15 To Use PriceCheck and Screw Local Retailers
Today, December 10th, Amazon is offering a very special deal you're going to love and your local brick-and-mortar retailer is going to hate. Use its PriceCheck mobile app and get 5% off your purchase, up to $5 at a time, as many as 3 times.
Amazon Price Check Discount Has Competitors Crying Foul
Retailers Fight Back Against Price Apps
The Evil of Amazon Showrooming: A Response - White Horse
Amazon Will Pay Shoppers $5 to Walk Out of Stores Empty-Handed - Tricia Duryee - Commerce
Amazon is offering consumers up to $5 off on purchases if they compare prices using the online giant's mobile phone application in a store. The promotion goes live Saturday and will serve as a way for Amazon to increase usage of its bar-code-scanning application, while also collecting intelligence on prices in the stores. This holiday season, mobile commerce is surging as more people become comfortable using applications on their phone to compare prices or simply shop when not at home or at work.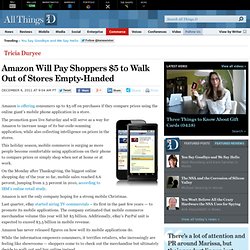 Grandma and grandpa may not be doing it, but the rest of us are — and quite frequently at that.
Everyone except grandma is comparison shopping via mobile, study finds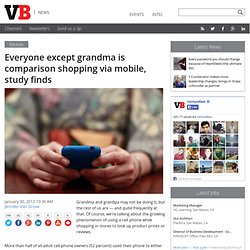 Shop O' Lot Offers 'Scan & Scram' Solution |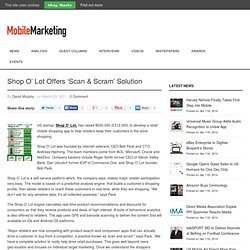 US startup, Shop O' Lot, has raised $500,000 (£312,000) to develop a retail mobile shopping app to help retailers keep their customers in the store shopping. Shop O' Lot was founded by internet veterans, CEO Bob Pack and CTO Andreas Hjelming.
PayPal conducted a national study with Ipsos and found that 46% of those surveyed said they plan to make holiday purchases with a mobile device this year.
Mobile Commerce: How to Maximize it for You | Digital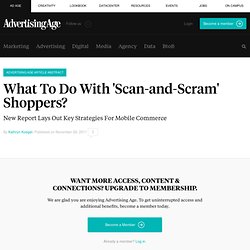 Amazon app promo uses stores as 'showrooms,' say retailers
Retail groups are up in arms over an Amazon promotion that offers customers up to $5 off a purchase for using its new Price Check app to compare prices, saying it encourages consumers to use brick-and-mortar retailers as a "showroom." The price check app lets consumers scan an item's bar code at a physical retailer and compare the price to Amazon's prices.