NFC
Mobile Augmented Reality Advertising | blippar.com. In MasterCard's Future, You Can Buy Things by Waving at Your TV. If a prototype from MasterCard ever becomes a commercial product, you'll be able to order and pay for a pizza by waving at your TV from the couch.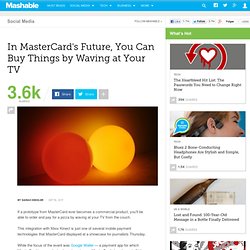 This integration with Xbox Kinect is just one of several mobile payment technologies that MasterCard displayed at a showcase for journalists Thursday. While the focus of the event was Google Wallet — a payment app for which MasterCard is an exclusive launch partner — MasterCard also showed off ideas it has for mobile payments in the future. BlackBerry Bold 9900 Gets the MasterCard Mobile Payment Nod. Two BlackBerry models — the Bold 9900 and the Curve 9360 — have been approved for MasterCard near field communications payments.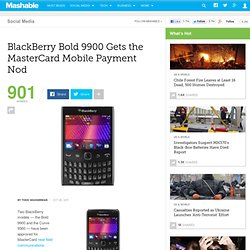 The two devices join the Samsung Nexus S 4G as the only mobile phones that interact with the platform. However BlackBerry maker Research In Motion claims that the two phones are the world's first SIM-based smartphones to receive such certification. If you have any of the phones and are approved by MasterCard, you can make a payment by merely waving it before a PayPass reader. PayPass is now available in 350,000 locations including McDonald's, CVS, Macy's and Walgreens, but MasterCard hopes one day to integrate the technology into Microsoft's Kinect so you can wave your smartphone in front of your TV to buy things. SEE ALSO: Near Field Communication: A Quick Guide to the Future of Mobile. Near Field Communication: The Quick and Dirty Guide. Before it became a hot topic sometime early last year, few civilians had come across the term "near field communication" (NFC).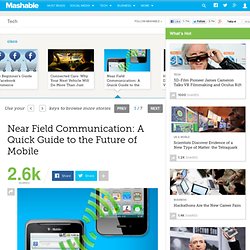 Corporations, however, had been excited about the technology's potential since at least 2004 — when Nokia, Sony and Royal Philips Electronics founded the NFC Forum. Samsung, Motorola, Microsoft and more than 140 other organizations all joined the party shortly after.
---