Signal-Range-Boost
GPS Antenna - How to Improve Your Navigation with a GPS Antenna. Most GPS receivers have an antenna built in to them.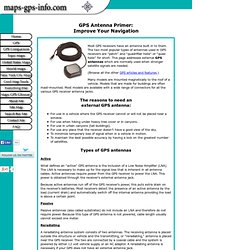 The two most popular types of antennas used in GPS receivers are "patch" and "quadrifilar helix" or "quad helix" for short. This page addresses external GPS antennas which are normally used when stronger satellite signals are needed. Wilson Mobile Amplifiers & Repeaters. Signal Boosters Including Cell Phone Antenna Adapters, Antennas. External Antenna - Page 5 - Droid Forum - Verizon Droid & the Mo. How-To: Add your own external GPS antenna.
GPS is a nifty piece of technology.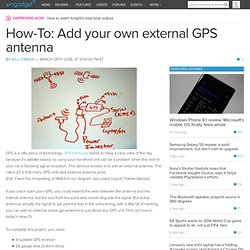 GPS hardware needs to have a clear view of the sky because it's satellite based, so using your handheld unit can be a problem when the roof of your car is blocking signal reception. The obvious answer is to add an external antenna. The catch-22 is that many GPS units lack external antenna jacks. [Edit: Fixed the misspelling of NMEA in our diagram. (accursed nyquil) Thanks fabrizio]
---