Mobile Learning
Mobile is one of the hottest trends in learning today, but deciding whether it's right for you — and how to get started if so — is not so simple. Here's how to make the call.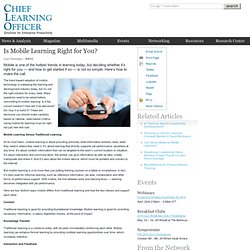 Is Mobile Learning Right for You?
Tour bus drivers in Iceland are using our mobile learning to improve their English language skills. I had the huge privilege of a trip to Reykjavik to meet some of our mobile learners. I loved it.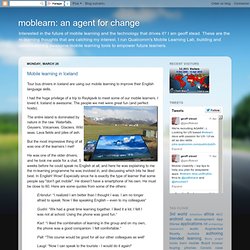 an agent for change: Mobile learning in Iceland
guides.educa.ch/sites/default/files/mobileslernen_f_1.pdf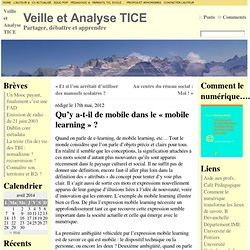 Quand on parle de e-learning, de mobile learning, etc… Tout le monde considère que l'on parle d'objets précis et clairs pour tous.
Qu'y a-t-il de mobile dans le « mobile learning »
Les outils mobiles dans la classe
L'utilisation des outils nomades avec les élèves pose de nombreux problèmes, non seulement d'intégration dans l'établissement, mais encore de choix de matériels et d'applications. Pourtant, des enseignants les utilisent vraiment avec leurs élèves.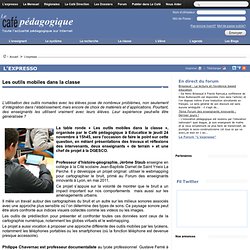 M-Learning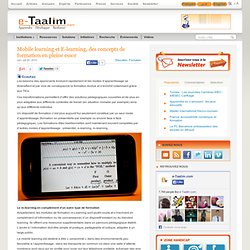 Les besoins des apprenants évoluent rapidement et les modes d'apprentissage se diversifient et par voie de conséquence la formation évolue et s'enrichit notamment grâce aux TICs.
Mobile learning et E-learning, des concepts de formation en pleine essor 
La formation en ligne : révolution ou démolition? | Patrick Grégoire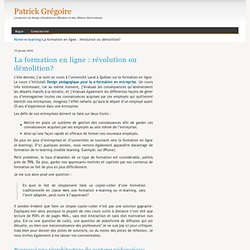 L'été dernier, j'ai suivi un cours à l'université Laval à Québec sur la formation en ligne.