iPhone
Restoring a device with iTunes removes the jailbreak.[6][7][8] Reasons for jailbreaking[edit] Use of third-party apps[edit] One of the reasons for jailbreaking is to expand the feature set limited by Apple and its App Store.[9][dubious ] Apple checks apps for compliance with its iOS Developer Program License Agreement before accepting them for distribution in the App Store.[10] However, their reasons for banning apps are not limited to safety and security and may be construed as arbitrary and capricious.[11] As the list of banned apps continues to grow,[12] users rely on jailbreaking to circumvent Apple's censorship of content and features. Jailbreaking permits the downloading of programs not approved by Apple,[13] such as customization apps used to change the User Interface.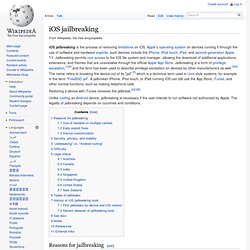 iOS jailbreaking
Fuck you, Apple
Hey kids! it's nearly time for another great event and YES! Chronic-Dev will dominate!
Greenpois0n.com
How to restore or update your iPod/iPhone/iPad: After downloading the desired firmware below, you can shift-click (PC) or option-click (Mac) the Restore or Update buttons in iTunes. A file dialog will open and let you choose the downloaded ipsw-file. Note: Your browser may change the ipsw-file into a zip-file.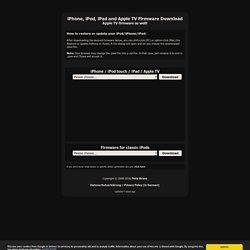 iPod, iPhone and iPad Firmware Download
Today we're pleased to release redsn0w version 0.9.15b1, with significant new features supporting restoring to older firmware no longer being signed by Apple. For brevity, we'll list most of the new features in bullet form. For more details, please feel free to drop by our comments section, or check out any upcoming guides on tutorial sites like http://iclarified.com First, the high-level new feature list: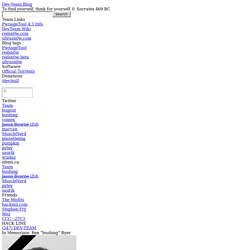 Dev-Team Blog