iPhone
iOS jailbreaking. Restoring a device with iTunes removes the jailbreak.[6][7][8] Reasons for jailbreaking[edit] One of the reasons for jailbreaking is to expand the feature set limited by Apple and its App Store.[9][dubious ] Apple checks apps for compliance with its iOS Developer Program License Agreement before accepting them for distribution in the App Store.[10] However, their reasons for banning apps are not limited to safety and security and may be construed as arbitrary and capricious.[11] To access the list of banned apps,[12] users rely on jailbreaking to circumvent Apple's censorship of content and features.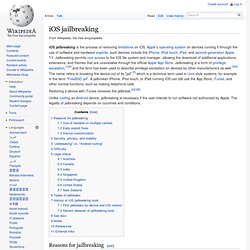 Jailbreaking permits the downloading of programs not approved by Apple,[13] such as customization apps used to change the User Interface. Fuck you, Apple. Greenpois0n.com. iPod, iPhone and iPad Firmware Download. How to restore or update your iPod/iPhone/iPad: After downloading the desired firmware below, you can shift-click (PC) or option-click (Mac) the Restore or Update buttons in iTunes.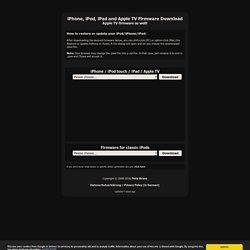 A file dialog will open and let you choose the downloaded ipsw-file. Note: Your browser may change the ipsw-file into a zip-file. Dev-Team Blog.
---