iPhone
Disastrous Implications of New Apple Patent for Blocking Cellphone Video - storify.com
An Apple patent describes a system for allowing venue owners to override compliant cameras.
Apple patents mobile camera that other people can shut off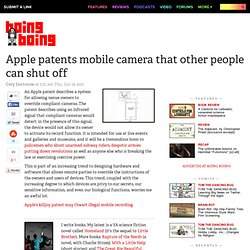 Apple's Jobs confirms iPhone 'kill switch'
Mr Jobs also announced that in the month since the iPhone 3G was released and the Application Store launched, around 60 million applications had been downloaded for the iPhone and iPod touch.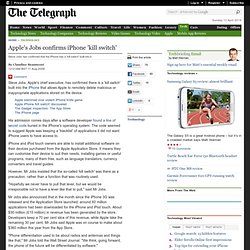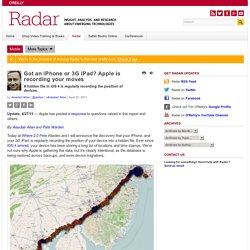 Update, 4/27/11 — Apple has posted a response to questions raised in this report and others.
Apple's iPhone saves every detail of your movements to a file on the device. Photograph: Linda Nylind for the Guardian Security researchers have discovered that Apple 's iPhone keeps track of where you go – and saves every detail of it to a secret file on the device which is then copied to the owner's computer when the two are synchronised.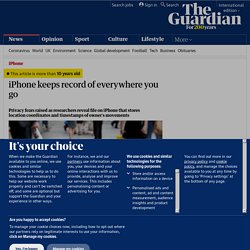 iPhone keeps record of everywhere you go | Technology
Tous les utilisateurs d'iPhone sont pistés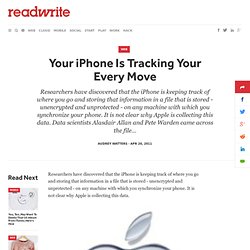 Researchers have discovered that the iPhone is keeping track of where you go and storing that information in a file that is stored - unencrypted and unprotected - on any machine with which you synchronize your phone. It is not clear why Apple is collecting this data. Data scientists Alasdair Allan and Pete Warden came across the file - "consolidated.db" - while they were thinking about the potential trove of mobile data stored on a cellphone and thinking about ways to visualize this data.
Your iPhone Is Tracking Your Every Move
Press Info - Apple Q&A on Location Data
Apple HumancentiPad - South Park
Apple aims to – finally – set the record straight about the gathering and use of location information by iOS devices.
Apple Responds To Location Tracking Kerfuffle, Says It's Innocent, Blames Bugs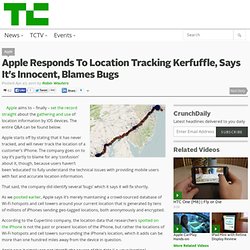 CUPERTINO, Calif.--( BUSINESS WIRE )--Apple would like to respond to the questions we have recently received about the gathering and use of location information by our devices. 1.
Apple Q&A on Location Data