MMOs in development
Neverwinter. Faxion. Dragon Nest SEA: Apply for Closed Beta Game Account. Abydos Online. Legendary Champions - Free MMORPG at Aeria Games. Warhammer. ::::: Kabod Online ::::: Guild Wars 2. Black Prophecy: Home. King of Kings III The weekly maintenance will end soon and you will be able to get back into fight.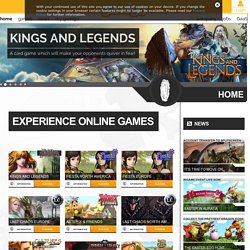 A short overview on today's changes can be found in our forum.German Patchnotes English PatchnotesYour King of Kings ... Loong Hello Loongorians,We're glad to tell you that we've finally found the issue why the master system wasn't working anymore and have resolved this bug. From now on, every master information are getting ...
MMOs with montly fee
PERPETUUM. TERA - The Next Generation MMO. Rift: Planes of Telara - Home.
---