Mlearning
www.tirfonline.org/wp-content/uploads/2013/11/TIRF_MALL_Papers_Traxler.pdf
7 June 2013 Last updated at 10:28 ET Teachers say they have never seen such a dramatic turnaround in pupils A new way of using tablet computers in schools could change how children are taught in Wales, says Education Minister Leighton Andrews. It follows a project using the computers developed at Casllwchwr Primary in Swansea. When tested at another primary, Year Six children saw average reading ages leap from nine to 13. Mr Andrews wants the teaching profession to see how the tailored learning programme could help others.
Swansea tablet computer project boosts pupils' reading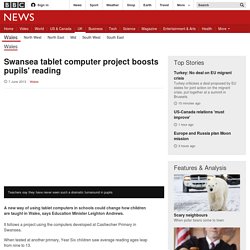 Internet Catalogue
Award Winning Leadership in Mobile Teaching and Learning! | Learning Services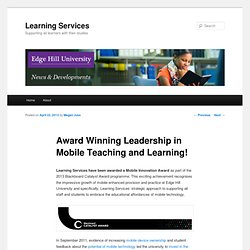 Learning Services have been awarded a Mobile Innovation Award as part of the 2013 Blackboard Catalyst Award programme. This exciting achievement recognises the impressive growth of mobile enhanced provision and practice at Edge Hill University and specifically, Learning Services' strategic approach to supporting all staff and students to embrace the educational affordances of mobile technology. In September 2011, evidence of increasing mobile device ownership and student feedback about the potential of mobile technology led the university to invest in the Blackboard Mobile Learn app and our journey to mobility began!
Whether you call it BYOT or BYOD (technology vs device), it's clear that as people become more attached to their mobile devices and as mobile devices become more customized and an extension of their owners, more schools and employers are permitting and even encouraging students and employees to bring their own devices to work. Devices may include laptops, tablets, smartphones and more. As a result, many educators are scrambling to get a handle on the issues surrounding the "bring your own device" trend.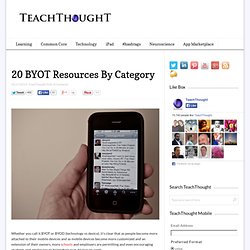 Making a Case for Mobile Learning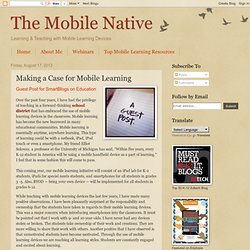 Guest Post for SmartBlogs on Education Over the past four years, I have had the privilege of teaching in a forward-thinking school district that has embraced the use of mobile learning devices in the classroom. Mobile learning has become the new buzzword in many educational communities. Mobile learning is essentially anytime, anywhere learning. This type of learning could be with a netbook, iPad, iPod touch or even a smartphone. My friend Elliot Soloway, a professor at the University of Michigan has said, "Within five years, every K-12 student in America will be using a mobile handheld device as a part of learning."
Enhancing Information Language Learning with Mobile Technology - Does it Work? - | YazikOpen
More middle- and secondary-school teachers are using digital tools in their classrooms and professional lives, a new report says. A study by Pew Research Center's Internet and American Life Project released Thursday delves into teachers' increasing technology use, but also expresses educators' concerns about the digital divide. The study surveyed Advance Placement and National Writing Project teachers across the United States, and 92% say the Internet has a "major impact" on their ability to access content, resources and materials for teaching. Teachers are becoming advanced tech users, according to Kristen Purcell, Pew's associate director for research.
73% of Teachers Use Cellphones for Classroom Activities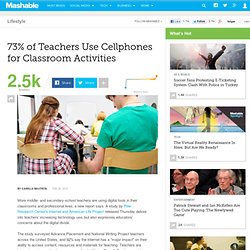 Course materials can be downloaded on to mobile devices and accessed by students wherever they are. Photograph: Mike Harrington/Lifesize Students on the University of Leicester's new distance learning MSc in security, conflict and international development face more challenges than the average distance learner. For example, some students might spend weeks with no access to an internet connection, working in a refugee camp in post-conflict countries.
Technology brings classroom experience to distance learners | Education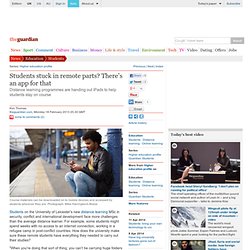 A Roadmap For Successful Education App Development
This is Sartre. This is me scratching an itch. Although there are plenty of statistics that suggest people have scanned QR codes out and about, used Blippar watching television and Aurasma whilst reading their sportsday match programmes, I'm a bit of a sceptic. Virgin's provision of free WiFi on the London Underground, the service notably being free to use on Vodafone and EE, has led many to ponder how this will impact on marketing and advertising in the subterranean rat race. Some have claimed augmented reality (AR) will start to take off as the technology matures along with marketers, and there's a signal to enable web content for QR codes/ RFID and the like.
Five reasons why QR and AR won't take off on the London Underground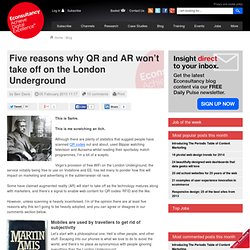 Mobile technology is making explosive growth into our schools and classrooms.There is now a growing trend towards taking advantage of mobile devices to inspire learning and promote students engagement, but the problem is that school districts can not cover the costs of these devices and to provide every student with a gadget would be out of their affordability particularly with the shrinking budgets being allocated for high tech materials.However, several initiatives have been taken to counter this financial block facing the implementation of mobile technology in classroom and one of these initiatives is called BYOD ( Bring Your Own Device). BYOD is all about students bringing their Mobile gadgets from home ( like smartphones, tablets. laptops etc ) and use them for educational purposes inside the classroom. In this way students will be learning using the technology they are already familiar with and the shortage of mobile technology will be covered.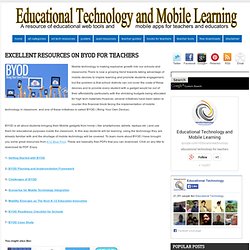 English on Mobile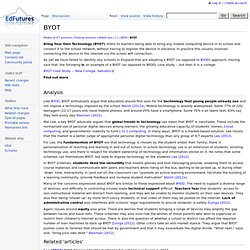 From EdFutures Models of ICT provision | Desktop provision | Mobile loan | 1:1 | BYOD | BYOT Bring Your Own Technology (BYOT) refers to learners being able to bring any mobile computing device in to school and connect it to the school network, without having to register the device in advance.
BYOT - EdFutures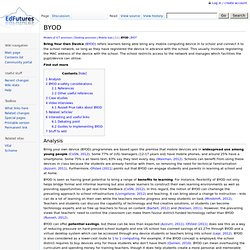 BYOD - EdFutures
From EdFutures Models of ICT provision | Desktop provision | Mobile loan | 1:1 | BYOD | BYOT Bring Your Own Device (BYOD) refers learners being able bring any mobile computing device in to school and connect it to the school network, so long as they have registered the device in advance with the school. This usually involves registering the MAC address of the device with the school.
Articles - Educational Technology - ICT in Education
Smart Phones and Language Learning
Semaine de l'apprentissage nomade de l'UNESCO 2013
L'UNESCO lance la deuxième Semaine de l'apprentissage nomade (MLW). Elle se déroulera au Siège de l'Organisation, à Paris, du 18 au 22 février 2013. L'événement a pour objectif d'examiner la contribution particulière et substantielle de l'apprentissage mobile à la réalisation des objectifs de l'Éducation pour tous (EPT) :élargir l'accès à l'éducation, améliorer la qualité des enseignements et rehausser les niveaux d'égalité. La Semaine de l'apprentissage nomade 2013 se focalisera sur trois objectifs spécifiques de l'EPT car ils sont en rapport avec l'apprentissage mobile :
Reforming Foreign Language Studies in Serbia - Calendar - E-learning symposium 2013
The eighth e-learning symposium will be held on 24th and 25th January 2013. This conference is organized by the Centre for Languages, Linguistics and Area Studies (LLAS) at the University of Southampton who are our partners on the REFLESS project. As the organisers have put it: "the aim of the symposium is to seek to bridge the gap between the 'techie' and the teacher, giving educators ideas to help them integrate e-learning into their practice but also to inspire them to see where the online future could lead."
January 2012
Mobile Learning and the Future of Learning: An HETL Interview with Dr. Agnes Kukulska-Hulme | Higher Education Teaching and Learning Portal
February 28, 2012 in Volume 2 HETL Note: Dr. Agnes Kukulska-Hulme has written and edited several books on mobile learning, among them, Mobile learning: A handbook for educators and trainers, Routledge, 2005 (co-edited with John Traxler), and Researching mobile learning: frameworks, tools and research designs, Peter Lang, 2009 (co-edited with Giasemi Vavoula and Norbert Pachler). In her personal statement on the Open University Web site Dr. Kukulska-Hulme explains that she is interested in a broad spectrum of topics related to the use of mobile technologies, including learner and teacher perspectives on mobile learning, impact on second language teaching and learning, sharing and dissemination of good practice, and connecting policy and practice. HETL interviewed Dr.
Mobile Devices for Enhancing Memory Encoding and Recall
nextstepv2
What Does a Good Mobile Learning Strategy Look Like?
Smart phones driving lecture capture growth
Dokkiri Hand Case for iPhone 4 (Kid's Hand)
Portables dans les écoles: une pub téléphonée pour Chatel
GLMPS iPhone App Brings Motion to Photo Sharing
100 Mobile Tools for Teachers | Cellphones.org