Related Sites
Event Planning | Event Planner – Information, Ideas and Resources for Planning Parties, Weddings, Special Events and Meetings.
Using Social Media in Your Events Business With new social media sites popping up every couple of months it is important that you know the ones... Why Event Planning Internships are so Important Internships are a nice bridge between the world of education and the working world. By participating in an internship,... How to Find an Event Planning Job (5 Tips) While finding a job can be difficult at times, it is important that you stay persistent and keep submitting... Super Bowl 2013 in New Orleans Planning Grand Celebration! New Orleans, which will play host to Super Bowl XLVII on February 3rd, is planning more than just hosting...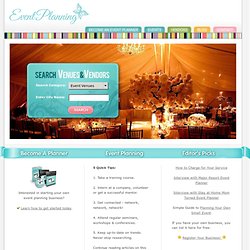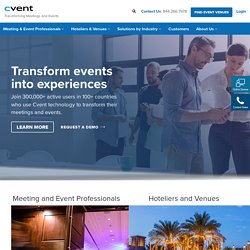 skip navigation Online Solutionsfor Events & Surveys Find an event venue Choose Location Choose Location-- United States--Entire USNortheast USSoutheast USMidwest USSouthwest USWestern US------------------AK - AnchorageAK - FairbanksAL - BirminghamAL - DothanAL - HuntsvilleAL - MobileAL - Auburn / MontgomeryAL - TuscaloosaAR - Ft.