The spiritual link and the sacred space
Get flash to fully experience Pearltrees
1.1 La fascination pour l'Orient Ex oriente lux: c'est de l'Orient que vient la lumière. Cet adage en vogue chez les alchimistes et les théosophes durant la Renaissance, illustre bien la fascination exercée par le mysticisme oriental sur les mentalités occidentales[1]. Cette fascination se trouve pour une large part à la racine du mouvement gnostique, aussi bien dans son expression antique qu'à notre époque. On la trouve déjà présente au VIe siècle avant Jesus-Christ, avec les théogonies élaborées sous l'influence des doctrines orphiques (du nom du personnage mythologique Orphée, dont elles prétendaient tirer leurs sources). Ces théogonies, ou récits mythiques de la naissance des dieux, s'écartent sensiblement de celle d'Hésiode, lequel organisa et classifia le panthéon de la mythologie grecque au VIIIe siècle avant Jésus-Christ.
Interruption-free space is sacred. Yet, in the digital era we live in, we are losing hold of the few sacred spaces that remain untouched by email, the internet, people, and other forms of distraction. Our cars now have mobile phone integration and a thousand satellite radio stations.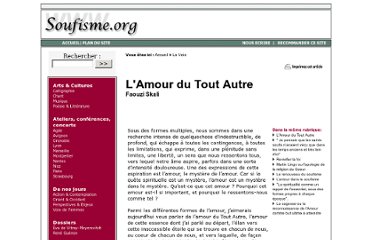 Sous des formes multiples, nous sommes dans une recherche intense de quelquechose d'indestructible, de profond, qui échappe à toutes les contingences, à toutes les limitations, qui exprime, dans une plénitude sans limites, une liberté, un sens que nous ressentons tous, vers lequel notre âme aspire, parfois dans une sorte d'intensité douloureuse. Une des expressions de cette aspiration est l'amour, le mystère de l'amour. Car si la quête spirituelle est un mystère, l'amour est un mystère dans le mystère. Qu'est-ce que cet amour ? Pourquoi cet amour est-il si important, et pourquoi le ressentons-nous comme tel ? Parmi les différentes formes de l'amour, j'aimerais aujourd'hui vous parler de l'amour du Tout Autre, l'amour de cette essence dont j'ai parlé au départ, l'élan vers cette inaccessible étoile qui se trouve en chacun de nous, au coeur de chacun de nous, et vers laquelle, de façon consciente ou inconsciente, tout notre être aspire.