Mods
Programación de robots sin utilizar codigo
Shaded water adds a lot of realism. | CraftHub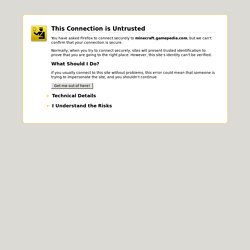 An example of a world generator mod (custom Indev map generator) Mods (short for modifications ) are anything that changes Minecraft's game content from what it originally was. Mods are getting increasingly popular and in-depth, adding whole new experiences and goals to the game.
Everything updated for 1.5.1. Read this entire post. All of it. Downloading the mods means you agree to the disclaimer. You can skip the FAQ, but if you have an issue, consult it first, before consulting us. If you have an issue answered in the FAQ or this post itself, we won't help you.
I love your mods man, they are useful, simple, and easy to use. I love the minimalist design of them. I'm currently using the teleport mod (for building purposes for tutorials and such), the daytime meter mod, and the minimap mod thanks mate EDIT: I was going to be using the daytime meter and the teleport mod.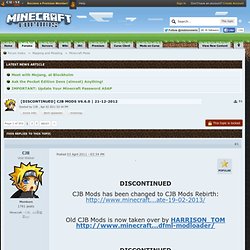 [V1.6.6] CJB Mods v4.2.2 - Minimap changes
[V1.6.6] WDMods - Creepers, sneak and chat.
"Nekos - Cats in Minecraft by KodaichiZero" on A Place for Zombies
Current Version: 0.5.4 Since this mod has stopped being run by me, a continuation project by 0xC6607Eo1 can be found here Please be sure to install ModLoader BEFORE Steamcraft. Otherwise, a few items will not work correctly. After installing this mod, you should start a new world.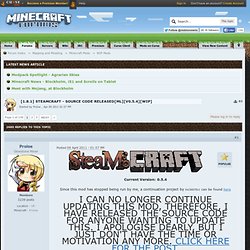 5_01] SteamCraft - Now with ModLoader Patch[v0.1][WIP] - Minecraft Forums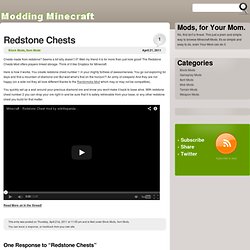 Redstone Chests « Modding Minecraft
Chests made from redstone? Seems a bit silly doesn't it? Well my friend it is for more than just look good! The Redstone Chests Mod offers players linked storage. Think of it like Dropbox for Minecraft.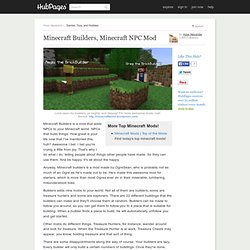 Minecraft Builders is a mod that adds NPCs to your Minecraft world. NPCs that build things. How great is your life now that I've mentioned this, huh?
Minecraft Builders, Minecraft NPC Mod
Like my Facebook page to get the latest updates about my mod Note that the content pack file structure has changed for the 1.5.1 update and all packs will need to be re-downloaded once they have been updated. To content pack makers : You need to move the contents of "icons" to "textures/items" or "textures/blocks" as appropriate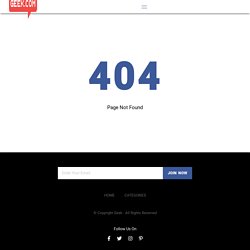 There are two very hot hacking properties in the gaming world at the moment. The first is Microsoft's Kinect controller which is being used in new ways all the time, and way beyond what Microsoft intended it for. The second is Minecraft , which avid gamers and builders are using to create everything from Bioshock's Rapture to a 16-bit working computer model. Now the inevitable has happened, and Kinect is being used to create in Minecraft . The project has been developed over a two week period by Nathan Viniconis. The goal is stated as:
Kinect can now be used to create Minecraft model data – Video Games Reviews, Cheats
I'm Kingbdogz Quote Hey guys! If anyone wants to come discuss the Aether mod, you can come over to the IRC channel #aethermod on esper.net. _303, Kodaichi and Shockah will also be there. If you do not have an IRC client here is how to join the channel with your web browser: 1.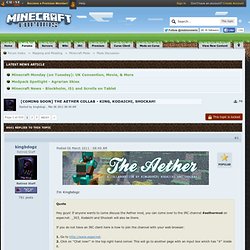 [Coming Soon] The Aether Collab - King, Kodaichi, Shockah! - Minecraft Forums