Mindmanager
Presentation Mindjet Mind Manager 2012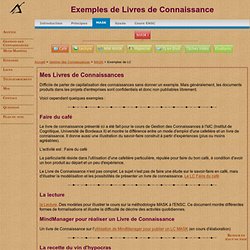 Gestion des Connaissances
Difficile de parler de capitalisation des connaissances sans donner un exemple. Mais généralement, les documents produits dans les projets d'entreprises sont confidentiels et donc non publiables librement. Voici cependant quelques exemples :
Applications of MindManager - A range of ways to use MindManager for business and pleasure
MindManager for Mac – What's New
MindManager 9 accompagné d'applications iOS en juin
MindManager [8 – US – Mac OS X 10.5 – 179 € HT / Demo ] est un outil de création de cartes heuristiques.