Mindmanager
Presentation Mindjet Mind Manager 2012. Gestion des Connaissances. Difficile de parler de capitalisation des connaissances sans donner un exemple.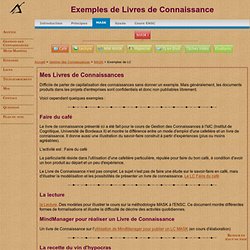 Mais généralement, les documents produits dans les projets d'entreprises sont confidentiels et donc non publiables librement. Voici cependant quelques exemples : Applications of MindManager - A range of ways to use MindManager for business and pleasure. Solutions de productivité personnelle et de collaboration permettant de connecter visuellement les idées, les informations et les individus.
MindManager for Mac – What's New. MindManager 9 accompagné d'applications iOS en juin. MindManager [8 – US – Mac OS X 10.5 – 179 € HT / Demo] est un outil de création de cartes heuristiques.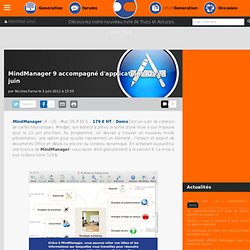 Mindjet, son éditeur a prévu la sortie d'une mise à jour majeure pour le 23 juin prochain. Au programme, on devrait y trouver un nouveau mode présentation, une option pour ajouter rapidement un élément , l'import et export de documents Office et iWork ou encore du contenu dynamique.
---