Mindmanager
Presentation Mindjet Mind Manager 2012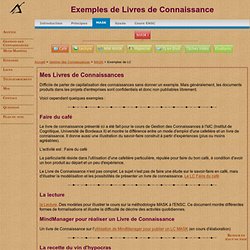 Gestion des Connaissances
Difficile de parler de capitalisation des connaissances sans donner un exemple. Mais généralement, les documents produits dans les projets d'entreprises sont confidentiels et donc non publiables librement. Voici cependant quelques exemples :
Stop reading this if you are a Mindjet Web, Mac or Mobile user, it's applicable for Windows users only. Since MindManager 2002 you have been able to write macros to speed up your use of MindManager. I use them for tasks I do repeatedly which are not easily accomplished using select and the Ribbon or right-click Context Menu tools.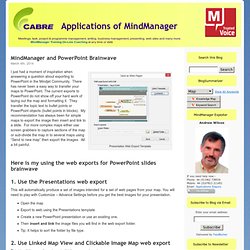 Applications of MindManager - A range of ways to use MindManager for business and pleasure
The Best CompaniesInnovate With Mindjet. 300 Startups Enter Competition Close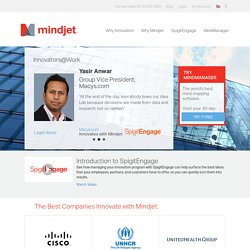 MindManager for Mac – What's New
MindManager 9 accompagné d'applications iOS en juin
MindManager [8 – US – Mac OS X 10.5 – 179 € HT / Demo] est un outil de création de cartes heuristiques. Mindjet, son éditeur a prévu la sortie d'une mise à jour majeure pour le 23 juin prochain. Au programme, on devrait y trouver un nouveau mode présentation, une option pour ajouter rapidement un élément , l'import et export de documents Office et iWork ou encore du contenu dynamique.