Religion and the Lack of It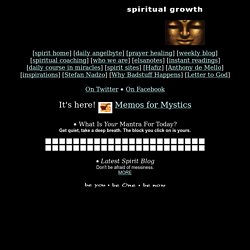 [spirit home] [daily angelbyte] [prayer healing] [weekly blog] [spiritual coaching] [who we are] [elsanotes] [instant readings] [daily course in miracles] [spirit sites] [Hafiz] [Anthony de Mello] [inspirations] [Stefan Nadzo] [Why Badstuff Happens] [Letter to God] On Twitter On Facebook Nothing you can do can change Eternal Love. What Is Your Mantra For Today?
The God and Goddess The God and Goddess represent the balance of the universe, the world as a whole, no one part complete without the other. They are not, however, dichotomies - they are not opposites.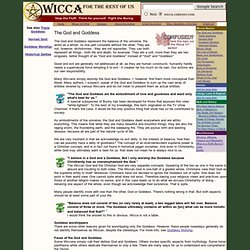 Wicca: For the Rest of Us -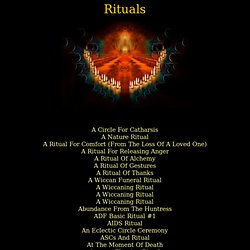 Rituals
The Invisible Pink Unicorn (IPU) is the goddess of a parody religion used to satirize theistic beliefs, taking the form of a unicorn that is paradoxically both invisible and pink.[1] She is a rhetorical illustration used by atheists and other religious skeptics as a contemporary version of Russell's teapot, sometimes mentioned in conjunction with the Flying Spaghetti Monster.[2] The IPU is used to argue that supernatural beliefs are arbitrary by, for example, replacing the word God in any theistic statement with Invisible Pink Unicorn.[3] The mutually exclusive attributes of pinkness and invisibility, coupled with the inability to disprove the IPU's existence, satirize properties that some theists attribute to a theistic deity.[4] History[edit] The Invisible Pink Unicorn logo used to depict atheism